Taoiseach Enda Kenny has said his party will engage fully with other parties, groups and independent deputies to ensure the establishment of a government.
In a statement released following the first Cabinet meeting after the General Election, Mr Kenny said the party will formulate a set of principles that will take account of the concerns and issues raised by the public during the election campaign and also guide the party's participation in a future government.
Earlier, a former Fine Gael TD for Cork East, who lost his seat last weekend, called Mr Kenny to "gracefully step aside".
Tom Barry said both the Taoiseach and Fine Gael General Secretary Tom Curran should take responsibility for the party's poor performance in the General Election.
He compared the Taoiseach's position to that of a football manager - "if they don't deliver, then they have to be held to account".
Mr Barry is one of four Fine Gael TDs in Co Cork who failed to hold onto their seats.
The others were Jerry Buttimer, Noel Harrington and Aine Collins.
Minister for Agriculture Simon Coveney has said Fine Gael recognises that the proposition it had put to people in the election was rejected and the party now needs to now change tack and reflect what the electorate has voted for which is a new type of politics and a new shape of government.
Speaking on RTÉ's Prime Time, Minister Coveney said Fine Gael wants to try to put a coherent and sensible government in place and that the party is willing to change.
He said Fine Gael needs to take on board within reason what other parties are looking for and that it needs to be a party that is willing to do things that it has not been willing to do before. 
He said he did not think going into Government with Sinn Féin was an option.
Asked if the price of going into Government with Fianna Fáil was giving up on water charges, he said they would certainly be willing to talk about water because it is a big issue.
He denied Fine Gael was doing a U-turn on water charges, but said the party was "talking about trying to reflect what people want in Ireland.  Some people agree with water charges, other people don't". 
No discussion of government formation at Cabinet meeting
The formation of the government was not discussed at a Cabinet meeting this afternoon.
However, it has been confirmed that there will be a curtailed travel programme for ministers taking part in St Patrick's Day celebrations around the world and ministers who lost their seats will not be travelling.
The Taoiseach will be going to Washington and a Government spokesperson said the programme will be normal and will include the White House.
A Labour government spokesperson also said the indications were that the party would support Enda Kenny's nomination for Taoiseach when the Dáil returns on 10 March.
Meanwhile, a government spokesman was asked if speaking rights for smaller parties, which may include the Labour Party if Willie Penrose fails to retain his seat in Longford-Westmeath, would be raised in negotiations about Dáil reform.
Fianna Fáil leader Micheál Martin said Dáil reform had to be addressed first.
A Government spokesman said the Taoiseach had made no calls yet.
Meanwhile, Fianna Fáil's Willie O'Dea, who topped the poll in Limerick City, has said it is absolutely his position that Fianna Fáil will not form a government with Fine Gael.
Speaking on RTÉ's Six One, he said when the Dáil resumes on 10 March, Fianna Fáil will be putting forward Mr Martin as Taoiseach.
However, he said he does not believe a Taoiseach will be elected on that occasion.
He said a priority for Fianna Fáil is that the Dáil be reformed.
He said his party still believes in abolishing Irish Water, adding that water charges will only apply when water quality is brought up to scratch.
A new poll, carried out by Amárach Research for RTÉ's Claire Byrne Live, found more people would prefer to see Mr Martin become Taoiseach rather than Mr Kenny.
37% of respondents to the poll for last night's programme supported Mr Martin becoming the next Taoiseach, compared to 23% for Mr Kenny. 
Members of the Independent Alliance met informally today following the election of six TDs, including first-timers Sean Canney and Kevin 'Boxer' Moran.
In a statement, IA said is is open to discussions with political parties prepared to implement its 'Charter for Change' and commit to a full programme of Dáil reform.
Penrose last hope for Labour after Ó Ríordáin loss
Mr Penrose is the Labour Party's final chance of securing full speaking rights in the Dáil, after Aodhán Ó Ríordáin lost his seat in Dublin Bay North.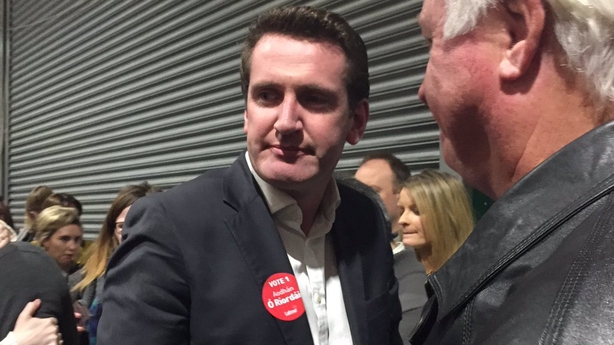 The party has six seats but is still one short of the crucial seven it needs to get full speaking rights.
In Dublin Bay North, Independent Tommy Broughan, Sinn Féin's Denise Mitchell and Finian McGrath of the Independent Alliance took the final seats in the constituency this afternoon.
Mr Ó Ríordáin said the last few days have been hard but he is extremely proud of the campaign that was run and of what the Labour Party has achieved over the last five years.
Speaking on RTÉ's News at One, the outgoing minister of state said: "The tide went out for the Labour Party in this election."
He accepted that "the people had made a clear decision that they didn't want the government returned" but added that he was "not sure what decision they had made about what government they wanted".
Asked whether Labour should go back into government, he said the country's position was that they should not.
He said he "always felt their role was in government", and would have liked to see Labour returned to government - but added that "the people had spoken" and it was their decision.
He said he would not take some time out, adding that he did not get into politics to further his own needs.
Speaking after her election, Ms Mitchell said her campaign was based on a mandate to scrap water charges and that will be a key priority for her in the Dáil.
She said: "Sinn Féin stood in this election on a platform to abolish water charges.  
"The Fine Gael/Labour Government has been defeated and water charges should leave the stage with them.
"My election is based on a mandate for the abolition of water charges and that will be a key priority for me in the Dáil."
Denise Mitchell Sinn Fein elected. pic.twitter.com/RNz7LbBwew

— RTEDublinBayNorth (@RTEDublinBayNth) March 1, 2016
That's it from us in the RDS. Thanks for all the fun.

We can neither confirm nor deny that we will back to explain the PRSTV of Eurovision.

— RTEDublinBayNorth (@RTEDublinBayNth) March 1, 2016
Two seats remain to be filled in the 32nd Dáil.
A full recount of ballot papers is continuing in the four-seat Longford-Westmeath constituency.
It follows a request by outgoing Fine Gael TD James Bannon.
Fianna Fáil's Robert Troy and Mr Moran have taken the two seats filled in the constituency so far.
Fine Gael's Peter Burke is likely to take the third seat while three candidates, James Bannon, Mr Penrose and Sinn Féin's Paul Hogan, are fighting for the remaining seat. 
In Dublin South Central Bríd Smith (AAA-PBP) has been deemed elected following a recount there.
The result followed a check by count officials of up to 170 invalid votes.
Count officials and legal advisers went through each of the votes with representatives of Catherine Ardagh (FF) and Ms Smith (AAA-PBP) and considered submissions on their validity.
A recount of votes had been carried out at the request of Ms Ardagh who was 35 votes behind Ms Smith for the fourth and final seat.
During this objections were raised about the validity of around 170 votes.
Bríd Smith wins the final seat in Dublin South Central #GE16 pic.twitter.com/9q5KEtL48a

— Micheal Mac Suibhne (@MicMacSuibh) March 1, 2016
FG/FF government not inevitable - Fleming
A Fianna Fáil frontbench spokesperson has said he did not accept the common view that a Fine Gael and Fianna Fáil government was inevitable.
Seán Fleming, who won a seat in Laois, said no single party should dominate the Dáil.
Speaking on RTÉ's Morning Ireland he said: "TDs collectively need to decide how best to run the Dáil and the country for the next number of years, not just who's going to be the winner and who's going to be the government."
He said everyone expects a number of weeks of negotiations to take place after the Dáil returns on 10 March.
On the same programme, Dr Eoin O'Malley from the School of Law and Government at Dublin City University said a Fine Gael minority government supported on an issue-by-issue basis by Fianna Fáil and others is the most likely outcome of this election.
He added that he does not see any way Fianna Fáil will enter a coalition given they are now within touching distance of Fine Gael in terms of seats and will probably overtake them in another election.
Dr O'Malley added that Mr Martin has no interest in being Tánaiste but rather wants to be Taoiseach and it would suit his party to have another election in 16 months or so.
He said this minority model would be more like parliaments in Scandinavian countries and would be a new way of doing business for civil servants and ministers. 
He said this will allow Mr Kenny to be the first Fine Gael Taoiseach to be re-elected but it might not be such a popular idea with other members of the party.
Such a move, he said, could possibly lead to questioning of Mr Kenny's leadership. 
"The other younger leaders who are interested in the medium to long term future of the party mightn't see this as a great idea.  Because the rules of the party stipulate there will have to be a ballot on the leadership you could see some maneuvering over the next ten days."