Former Taoiseach and leader of Fianna Fáil Bertie Ahern has said that forming the next government will not be easy and there is "no way" in his view that this will be resolved before Easter.
Speaking on RTÉ's Today With Seán O'Rourke, Mr Ahern said there is no obvious or easy combination at the moment and that "it is a new game".
He said that the public should "be patient and let this play out the way it has to".
Mr Ahern said that the outgoing Government had been overwhelmingly rejected by the electorate.
He said he did not believe the large percentage of the electorate who voted on Friday had voted for it just to collapse in another few weeks.
He said that Fianna Fáil leader Micheál Martin and Fine Gael leader Enda Kenny will be put forward as Taoiseach on 10 March and both will be rejected.
Mr Ahern also said the outgoing Government should fulfil its St Patrick's Day obligations as it is of huge importance to the Irish economy.
He added there is also huge international attention on Ireland from abroad in relation to the 1916 Commemorations and that this should not be overlooked.
Former Taoiseach Bertie Ahern tells @TodaySOR that he sees "a new kind of Dáil" emerging from #GE16 https://t.co/Ms9iECUnEg

— RTÉ News (@rtenews) February 29, 2016
Mr Ahern said business now had to be done differently and a model more similar to other parliaments in Europe could work.
He said he saw two possible government combinations.
"It'll come down to a combination that there are a group of parties, maybe two parties, but a group of parties who are prepared to support a Taoiseach. I think that will happen. That government will be a minority government clearly because it won't have the numbers but it'll have sufficient support from outside. 
"Or you'll have a group of parties that will come together. I think you could have Independent Alliance going with either Fianna Fáil or you could have Fine Gael going with Fianna Fáil and Independent Alliance. Do I see a position today where it'll just be a simple Fianna Fáil/Fine Gael? I find it very hard to see that," Mr Ahern said. 
He said a grand coalition of Fine Gael and Fianna Fáil was hard to see but they could form a programme for government.
Echoing the remarks of Fine Gael's Charlie Flanagan earlier, Mr Ahern said that some people seem to have run in this election only to be in Opposition and that would have to change.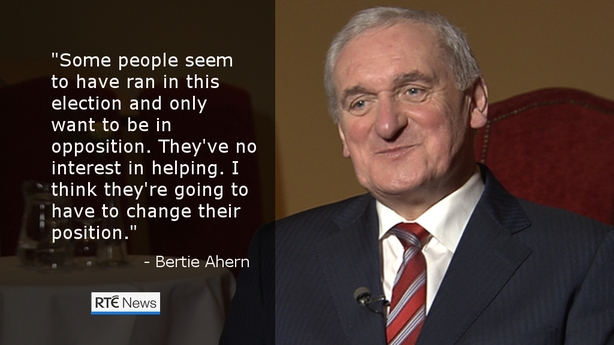 "Some people seem to have ran in this election and only want to be in Opposition. They've no interest in helping. I think they're going to have to change their position. It's an extraordinary thing to run and be allocated seats and not want to have anything to do with the formation of government. That seems to be a very odd position for a party to take," he said.
Mr Ahern added that he commiserated with all those who had lost their seats and he congratulated all of the candidates.
Programme for Dáil needed - Dukes
Former Fine Gael leader Alan Dukes said we are in a new political situation and it will take time for the political system including Independents and Sinn Féin and others to realise what that means.
Speaking on the same programme, he said the outgoing Government did not get a mandate and Fianna Fáil did not get a huge mandate for its programme either. 
He said the only people he thinks who can reasonably claim to have a mandate are the AAA-PBP "who were told yes we agree that you protest about everything" but that is not a basis for making policy.
He said he thinks what we need objectively is not just a programme for government but a programme for a Dáil preferably for a period of two years.
He said we currently do not have any party that can form a government and the country needs clear direction in its approach to the major issues that need to be dealt with.
Mr Dukes said the country needs to get to a point where the Dáil over a period of seven months could negotiate the main aspects of a budget" including taxation etc, then if that happens he said "we'd be on the way to getting the habits of mind that create a programme for a Dáil that can respond honestly to the public needs."
He said in the meantime, we have a country that needs a solid programme to deal with the issues before it and we need in the next couple of months to set up a structure in the Dáil that allows us to do that.