Martin criticises government for 'broken promises'
Tuesday 01 March 2016 22.38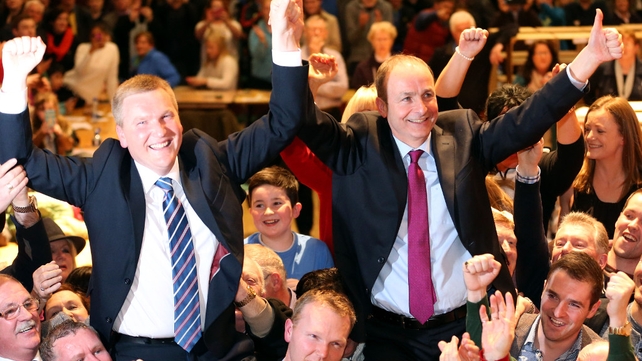 Fianna Fáil leader Micheál Martin has said the failure of Fine Gael and Labour to bring in political reform is "one of the biggest broken promises of the outgoing government".
In a statement released today, Mr Martin said: "During the past five years Fianna Fáil has repeatedly argued that we must change the way that politics is done in our country.
"The failure to implement any meaningful political reform remains one of the biggest broken promises of the outgoing government," he said.
Mr Martin added that Fianna Fáil has won a "substantial mandate" from the people of Ireland.
"We believe that the new Dáil should not represent more business as usual - that it should involve a decisive move towards a reformed politics," he added.
Just six Dáil seats still have to be filled as the counting of votes in the General Election continues.
So far Fine Gael has won 49 seats, Fianna Fáil 43, Sinn Féin 22, Labour six, AAA-PBP has five, Social Democrats have three, the Green Party has two, the Independent Alliance has five and Independents have 16.
Fianna Fáil's Sean Haughey has been elected in Dublin Bay North following the elimination of Averil Power.
In Longford-Westmeath surplus votes following the election of Kevin 'Boxer' Moran are being distributed. It is understood Labour will, for the second time tonight, request a recount. It is understood any potential recount would take place on Saturday.
In Dublin South Central, a decision has still to be reached on disputed votes. However, the recount has been adjourned until tomorrow morning. One seat has yet to be filled there.
Counting was completed in Wexford shortly before 6pm with two Fine Gael candidates Paul Kehoe and Michael D'arcy securing the two final seats.
Speaking on RTÉ's Morning Ireland, outgoing Labour TD in Longford-Westmeath Willie Penrose said there is an outside chance that he might survive and keep his seat.
However, he added that he was fully resigned to not being re-elected and he was honoured to have served in Dáil Eireann for as long as he had. Mr Penrose was first elected in May 2007.
Live: Election 2016 counts and recounts
Yesterday Independent candidate Averil Power was granted a recount in Dublin Bay North.
Just 67 votes separated her from next placed candidate Tommy Broughan however she was eliminated shortly before 11pm tonight, with 'no material difference' found in the recount.
Speaking after her elimination Averil Power said she will continue to work on issues 'close to her heart'https://t.co/dou75muqN7

— RTÉ News (@rtenews) February 29, 2016
Some disputed votes must be adjudicated on in Dublin South Central where Bríd Smith of the AAA-PBP and Fianna Fáil's Catherine Ardagh were in close contest for the final seat.
Meanwhile, Fianna Fail's director of elections Billy Kelleher told RTÉ's Morning Ireland that the party must fulfill the mandate it sought, which was to remove the present Government from office.
Mr Kelleher also insisted Fianna Fáil could form a working majority with Independents and smaller parties.
However, he said the party would not be "contacting or formally requesting" support from Sinn Féin in any form.
Overall though, there is a broad consensus about the outcome of the election.
It was an election where Fianna Fáil gained significantly and will finish very close to Fine Gael in seat terms.
Gains too for Sinn Féin, the Independents and the Anti-Austerity Alliance-People Before Profit group.
There have been big losses for Fine Gael and Labour.
Fine Gael deputy leader James Reilly lost his seat along with junior ministers Jimmy Deenihan and Tom Hayes.
Such are Labour's losses that the party is still one short of the seven TDs required to gain full speaking rights in the Dáil.
The party will hope that it can reach that figure when outgoing TD Aodhan Ó Ríordáin's count in Dublin Bay North concludes.
The AAA-PBP could also reach seven seats if Bríd Smith and John Lyons get elected - Mr Lyons is in contention with Mr Ó Ríordáin and others in Dublin Bay North.
Already General Election 2016 has seen the Green Party return to the Dáil with two seats, the Social Democrats three and the Independent Alliance four.