As the second arduous day of counting continues in a bid to identify which candidates will fill the 158 seats in the 32nd Dáil, here are four things that are still left to find out from this election, writes Conor McMorrow of our political staff.
(1) Can Labour reach the magic number?
Labour's disastrous election sees the party with a current seat tally of six TDs – Joan Burton, Brendan Howlin, Jan O'Sullivan, Brendan Ryan, Alan Kelly and Seán Sherlock.
Under Dáil rules, a party must have seven TDs to be entitled to speaking rights in Leinster House, for example, being allowed to ask the Taoiseach questions during Leaders' Questions in the Dáil.
Aodhán Ó Ríordáin in Dublin Bay North and Willie Penrose in Longford-Westmeath are the two remaining Labour candidates in the race.
Everyone with any interest in the Labour Party's recovery will be hoping that one of the two can hold on.

(2) Or could it be the AAA-PBP?
Anti-Austerity Alliance/People Before Profit candidate John Lyons is still in the race in Dublin Bay North with Labour's Ó Ríordáin.
In Dublin South Central, Bríd Smith of the AAA/PBP grouping is also in the mix for a seat - but votes are being rechecked.
Should Mr Lyons and Ms Smith prevail, then the AAA-PBP will have two seats to add to the five TDs they have already elected – Paul Murphy, Richard Boyd Barrett, Ruth Coppinger, Gino Kenny and Mick Barry. Two more seats and that group will be at the magic number of seven TDs.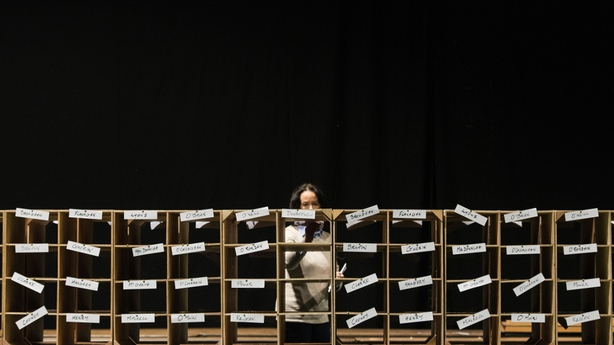 (3) Which count will be the last to finish?
35 of the counts across the 40 constituencies have been completed.
Recounts in Dublin Bay North, Wexford and Dublin South West will take place tomorrow. A recount is currently under way in Longford-Westmeath.  
In Dublin South Central, proceedings have been adjourned for the night. A full recount is now complete following a request by Fianna Fáil. The party's candidate Catherine Ardagh and Bríd Smith from AAA-PBP are adjudicating on disputed votes. Proceedings are to resume in the morning and it is believed that a decision is hoped to be made by afternoon.

(4) How many seats will separate the old Civil War foes?
There was a point this morning when some analysts and party apparatchiks from Fine Gael were suggesting the gap in the number of seats between Fine Gael and Fianna Fáil would be around 15 seats.
Later in the day Fine Gael's director of elections suggested that his party would win 54 seats, which would be ten more than Fianna Fáil.
Fianna Fáil currently has 43 seats against Fine Gael's 47. This will of course change with the six counts left to finish.
But what will be the final difference in seats between the two? Surely if there is only a handful of seats between them then this will affect coalition options?