Do voters want a Fine Gael-Fianna Fáil government? The RTÉ Exit Poll data can shed light on this question as respondents were asked to choose which particular government they would like to see formed after the election.
Analysis by Professor John Garry of the School of Politics, International Study and Philosophy, Queen's University Belfast
Given the emerging election results, many voters will be disappointed that the government they would like to see formed will not be established.
So, the 5% of voters who stated that they wanted the election to result in a single-party Fine Gael government will be unhappy, as will the 21% who wished to see a return of the Fine Gael-Labour alliance or the 9% who held out hope for a Fine Gael-Labour-others government.
Looking at the options including Fianna Fáil, 5% of voters stated that they wanted a Fianna Fáil-Sinn Féin alliance and 14% preferred the option of Fianna Fáil and other parties or independents.
It now appears that a coalition between the old enemies of Fine Gael and Fianna Fáil may be one of the few ways of generating a stable government. This particular option received the support of only 13% of voters.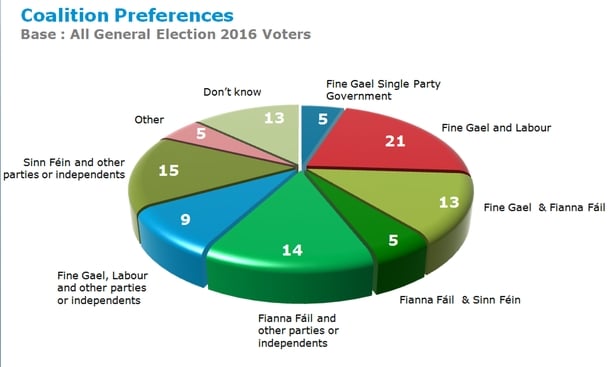 As the Fianna Fáil and Fine Gael leaders contemplate such a historic marriage of necessity, they will be particularly keen to assess not only how much support there is from the general public but also more specifically from their own party voters and hardcore party supporters.
Among Fine Gael voters, support for teaming up with Fianna Fáil in a coalition is the same as for voters as a whole (13%).
In contrast, almost one quarter of Fianna Fáil voters (24%) favour the FG-FF option. These differences are even more clear for hardcore supporters: only 6% of Fine Gael "identifiers" support a coalition with Fianna Fáil, whereas support among Fianna Fáil identifiers is almost exactly as high as for Fianna Fáil voters in general (23%).
This exit poll data was collected when the mathematical implausibility of many of the possible government formation options was not obviously clear.
However, with respect to the FG-FF option there are interesting patterns and these suggest that Micheál Martin might have an easier job selling the idea to his party voters and supporters than Enda Kenny has selling the idea to his.
---