Burton says time for reflection after Labour losses
Sunday 28 February 2016 08.06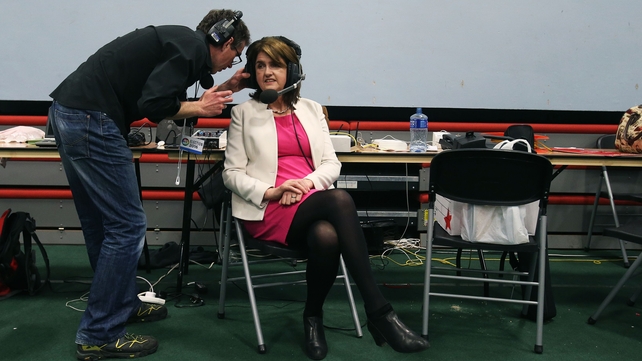 The Labour Party looks set to be the biggest casualty in the General Election with leader Joan Burton saying the election was fought in stormy, rainy weather, a metaphor for the politics of recent years.
The outgoing Tánaiste scraped home in Dublin West, being re-elected on the fifth count without reaching the quota.
She said she is honoured to be returned to the Dáil and a huge amount of progress has been made in her constituency.
Ms Burton said she was very disappointed that so many fine public representatives would not be returned to the Dáil under the Labour banner and had spoken to a number of those who have lost their seats.
Joan Burton: The Labour Party will have to "reflect in the coming days" about what to do after the election resultshttps://t.co/sYdKOuHzrj

— RTÉ News (@rtenews) February 27, 2016
She said that Labour has had difficulties since it went into government and she had worked as hard as possible to bring Labour party values and principles into government since she took over leadership of the party.
Ms Burton said there would be a Cabinet meeting early next week at which there would be a chance to discuss and examine the outcomes of the election.
She added that everyone who has the privilege of being elected is a servant of the people and must work to do whatever is best for the people of the country.
Ms Burton said the party "will continue to fight for social justice in the next Dáil even though our numbers our diminished".
"We will now have a period of reflection in the Labour Party when we establish the final results and the final wishes of the electorate in relation to the next Dáil," she added.
An early Labour casualty was Minister for Communications Alex White who lost his seat in Dublin Rathdown.
Jan O'Sullivan faced a tough battle in Limerick city but was re-elected on the sixth count.
She said there has been a huge anti-government vote and that has particularly gone against Labour.
In Louth, Labour has seen its vote fall from an impressive 19% in 2011 to just over 9% with outgoing junior minister Ged Nash expected to lose out when counting concludes tomorrow.
Speaking on RTÉ Radio, Mr Nash said he was not conceding defeat, but said Fine Gael and Fianna Fáil should get together.
He also said he expected another election within a few months.
Minister for Public Expenditure and Reform Brendan Howlin was re-elected in Wexford.
Joe Costelloe, who was eliminated in Dublin Central, said the party must reflect on the situation and look at all options.
Labour's Deputy Leader Alan Kelly is also under severe pressure to hold on in Tipperary where the count has adjourned for the night.
Ciara Conway, who was the first ever woman TD to represent Waterford for Labour when she was elected in 2011, was eliminated in the seventh count in Waterford.
Ann Phelan, also a Dáil first-timer in 2011, was excluded on the eighth count in Carlow-Kilkenny, while Michael McCarthy was excluded in count two in Cork South-West.
Joanna Tuffy lost out in Dublin Mid West. Following her defeat she said it is time for the party to regroup, but insisted that the party will not be wiped out after the election and will hold a reasonable number of seats.
Other Labour members in trouble are Ciaran Lynch in Cork South Central, Kevin Humphreys in Dublin Bay South and John Lyons in Dublin North West.