The RTÉ Exit Poll suggests the most "dramatic change" in the combined fortunes of Fine Gael and Fianna Fáil in a General Election since the foundation of the State.  
Fine Gael polled 24.8% and Fianna Fáil 21.1% of first preference votes in the poll, as a surge in support for Independents, smaller parties and Sinn Féin diminished support for the traditionally dominant parties.
"I think this is possibly the first General Election since the 1920s where the combined Fine Gael/Fianna Fáíl vote has come in well below 50%," said political scientist and Maynooth University lecturer Adrian Kavanagh.
"That is a dramatic change," he added.
David Farrell, Professor of Politics at University College Dublin said this means "some serious talking has to be done between the two party leaders".
"There has been some musings before the voting day about the possibility of a relationship between Fine Gael and Fianna Fáíl.
"Given the sort of closeness between those two parties now in terms of votes and their common history over a long period, I think now is a time for some serious consideration of a possible coalition of the two parties," he said.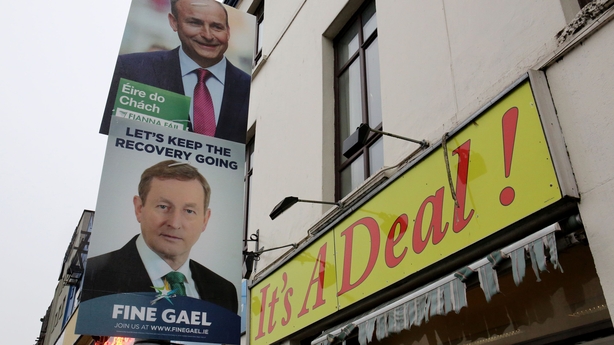 Politics lecturer at Dublin City University Jane Suiter agreed, stating: "It would seem fairly obvious that two centre right Christian Democrat parties would go into coalition given that there is very few policy differences between them."
Political analyst Sean Donnelly said it was conceivable Fianna Fáil could finish the count with more seats than Fine Gael as a result of transfers and the bonus seat system. 
Exit poll: FG return worse than opinion polls suggested
The exit poll made for "mournful" reading for Fine Gael as it suggests the party performed worse in the General Election than in opinion polls during the campaign, according to Michael Marsh, Emeritus Professor at Trinity College Dublin.
At 24.8% in the RTÉ Exit Poll, "Fine Gael is obviously lower than almost any poll done", he said. 
"It puts [Fine Gael] down at a level that with the exception of 2002 we haven't seen them at in recent years," he told RTÉ's Morning Ireland. 
"They have lost a smaller share of the support than Labour," he said, referencing Labour's return of 7.1% in the poll. 
"Labour has lost almost two thirds of its support. Fine Gael has lost a third."
Mr Kavanagh said the Fine Gael numbers are "much lower than what they have been in practically all the polls since November.
"Fine Gael did lose some ground in the campaign but these numbers are coming in even lower than that."
TCD Professor Michael Marsh gives his assessment of the RTÉ Exit Poll #GE16 pic.twitter.com/NK4KG8AgdM

— RTÉ News (@rtenews) February 27, 2016
But many of the other findings are "not far from what we've seen in the polls," he added. 
Fine Gael's worse-than-expected polling could yet benefit Labour, according to Mr Kavanagh where they could "take a Fine Gael seat" in later counts.