Tea and scones as parties make final appeal ahead of moratorium
Thursday 25 February 2016 13.57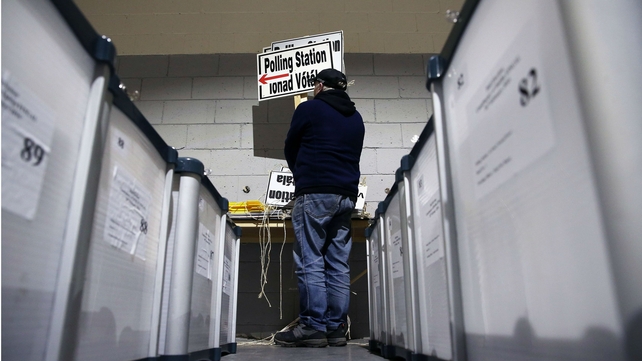 With the broadcast moratorium taking effect from 2pm, the political parties and groups have been holding their last media events and making their last appeals to voters. Both Fine Gael and Fianna Fáil again ruled out going into government together, RTÉ Political Correspondent Martina Fitzgerald reports.
Ahead of polling day, Taoiseach Enda Kenny and Tánaiste Joan Burton took part in their final photocall outside a café in Dublin this morning, sitting down for tea and scones.
Both appealed for a return of the current government and Mr Kenny reiterated that he "had no intention of doing a deal with Micheál Martin" whose party, Fianna Fáil, he said had wrecked this economy.
He also asked Fine Gael supporters to continue their preferences for Labour candidates.
On the current Government's record, Ms Burton said despite their "different backgrounds and different parties ... they had focused relentlessly on trying to restore the country".
The Tánaiste asked people to think twice before they cast their ballots and also asked that Labour supporters would continue their preferences for Fine Gael candidates.
However, Fianna Fáil director of elections Billy Kelleher described the photocall as an act of desperation.
He said a vote for Fianna Fáil was not a vote for a Fianna Fáil-Fine Gael government and he stood by comments he made last November that it was not a credible proposition.
Asked if he would serve in such a FF-FG government given his views, Mr Kelleher said Fianna Fáil is not going into government with Fine Gael.
Meanwhile, the Green Party and the Anti-Austerity Alliance-People Before Profit also held events today as all politicians engage in last-minute canvassing ahead of tomorrow's poll.
A giddy media await Taoiseach @EndaKennyTD and Tanaiste @joanburton for a final hurrah in #GE16 pic.twitter.com/78wGXHNBRu

— Sharon Tobin (@sharontobin) February 25, 2016
Separately, equality, youth, human rights and trade union campaigners will make an appeal later today for voters to cast their ballots.
The election campaign has been unpredictable and the opinion polls show that in terms of share of vote, no party has established momentum over the course of the campaign.
The most recent polls this week also put the number of undecideds at between 7% and 18%.
The destination of their votes will have an impact particularly on the outcome of the final seats with the counts in many constituencies expected to go into next week.
Attention is also turning today to turnout. In the last election, it was 70% and a number of campaigners planned an event this afternoon to encourage people to vote.
Meanwhile, even though Fine Gael and Fianna Fáil parties say they have both ruled out a post-election deal, voters in south Mayo are being urged to put civil war politics aside tomorrow. Posters have been erected in Ballinroe asking people to vote one and two for rival party candidates.
Businesses in the town contend that locals should give a first preference to either Fine Gael's John O'Mahony or Fianna Fáil's Éamon Ó Cuív and then give their second preferences to the other candidate. Posters stating "Support our local TDs" were put up in the town this morning.
Several thousand voters in the south Mayo area will be casting their ballots in the Galway West constituency, following boundary changes since the last election. Outgoing Fine Gael TD O'Mahony has moved from Mayo to Galway West as a result.