They came to deliver the perfect message to voters as the clock ticks down to polling day. Did they succeed? You decide, as Mícheál Lehane looks at what the four party leaders had to say about a wide variety of issues during last night's debate.
---
Micheál Martin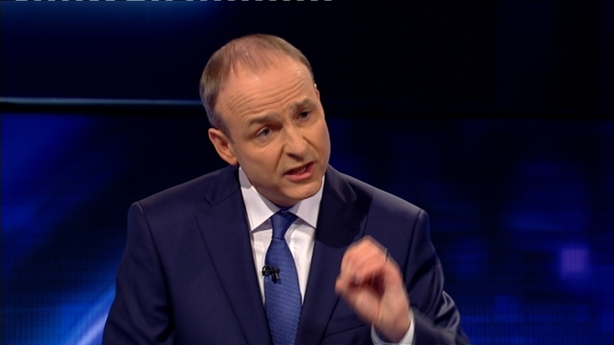 Health: During his time as health minister he said he dramatically reduced waiting lists and waiting times. More people were treated and he introduced screening programmes for breast cancer and progress was made in treatment of heart disease.
First-time buyers: His party would assist first-time buyers with a saving scheme that offered €1 for every €5 saved up to a limit of €20,000.
Minimum Wage: Said he was part of a government that introduced minimum wage and he has learned from the decision later to cut that wage in 2010.
Housing: Would increase rent allowance because the homelessness situation is getting worse.
Cronyism: Defended appointment of Celia Larkin to a State board in 2005 but said change in this area is needed.
Climate Change: Biggest problem is transport. Agri-food sector is critical to regional development so all the options need to be looked at.
Regrets: Should have challenged consensus on economy in Fianna Fáil-led governments.
---
Gerry Adams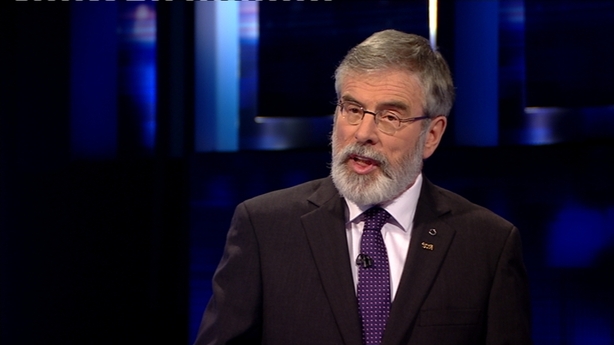 Health: Would transform health system with a ten-year plan to ensure it's free at the point of delivery. Promised a medical card for every child.
Admitted a friend paid for him to travel to America to have an operation that was not available on the island of Ireland at the time.
Tax: Would abolish water charges and property tax. No one earning below €100,000 will have to pay any new taxes.
First-time buyers/Mortgages: Spoke about the benefits to mortgage holders of a cap on variable interest rates. The €9bn held by credit unions could be used to fund housing schemes, he said.
Housing: People have a right to a home and the State should build it. Sinn Féin would invest €5bn to do this and build 36,000 social and affordable homes over five years.
Best Moment: Spotted the taoiseach admitting for the first time that he was the force behind the controversial appointment of John McNulty to the board of the IMMA.
Worst Moment: Asking who is Senator Cahill?
Climate Change: He said climate change was one of the biggest issues facing the planet. He added that this country must follow a green pattern, plant native trees and develop renewable energy sources.
---
Enda Kenny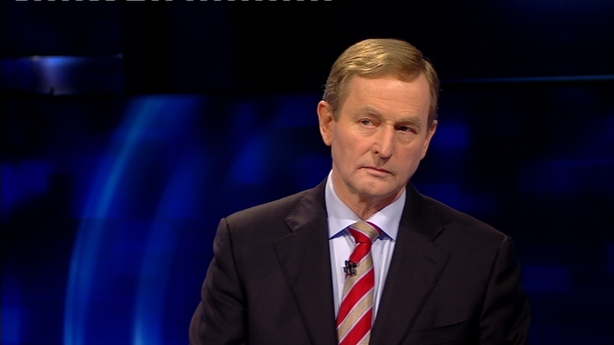 Health: He said Leo Varadkar exposed Micheál Martin because there are 600,000 more people being treated now compared with when he was minister.
But he conceded the situation in health is not as satisfactory as the Government would wish it to be. He pointed out that the Government had ring-fenced €35m annually for mental health services and his party is promising to reduce prescription charges by 30%.
Tax: Every worker will be better off under Fine Gael's tax plan. Country can afford to abolish USC over five years. Workers earning more than €100,000 will pay a 5% clawback.
Would not answer if it was fair that a Fine Gael online calculator suggested a couple earning €40,000 would earn €2,000 more under the party's plan but those on €150,000 stood to gain €6,000.
Social Housing: He said 963 social houses are being built at the moment. Supply is the key issue, the Taoiseach believes.
First-time buyers: Central Bank rules on deposits are very tough and Fine Gael would like the Central Bank to look at what "easement" it can offer young couples.
Intention of the bank was right but the timing was wrong, the Taoiseach said. He went on to say that lower variable interest rates are the key and that requires competition in the banking market.
Cronyism: Everything has changed when it comes to State appointments, the Taoiseach said. Then he admitted for the first time that he appointed John McNulty to the board of the IMMA saying: "I made an appointment that did not need to be made."
Climate Change: Targets aimed at reducing carbon emissions by 2020 to tackle climate change cannot be met by Ireland but they can be met by 2030.
---
Joan Burton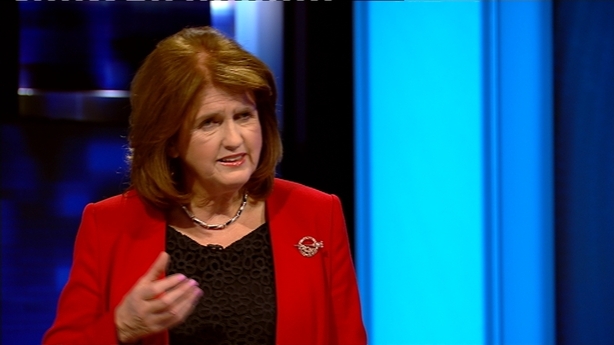 Health: Labour had protected mental health services during its time in Government. The Tánaiste said the Sinn Féin leader should not lecture the Government about the health service here when he had jetted off to America where his friends paid for him to have a special medical procedure.
Rent Supplement: Increases of up to 30% in rent supplement are frequently negotiated through a protocol at the Department of Social Protection, Joan Burton said.
Tax: Labour would cap USC at €72,000 and those earning more than €150,000 annually would get no reduction in their taxes.
This is based on sound economic sense. It's fair tax reform that would benefit low and middle income earners, she said. The Tánaiste said she was the Minister who brought in the legislation to increase the minimum wage.
Social Housing: Over 4,000 social houses came on stream last year. Boarded-up homes were effectively rebuilt. Government has finished and opened up 2,300 so called ghost estates, the Labour Party leader said.
She pledged that her party would spend €4bn on social housing over five years.
First-time Buyers: Labour is proposing a save-to-buy scheme that can see people get up to €6,000. Rent should be taken into account under the Central Bank's deposit requirement rules, the Tánaiste believes.
Cronyism: Justified the appointment of David Begg to the job of overseeing pension funds because of his record on defending workers' rights.
Climate Change: Have to get key reductions in carbon emissions, the Tánaiste said.
Regrets: Regretted slow pace of change in politics.
---
By Mícheál Lehane, RTÉ Political Staff