How did the four leaders perform?
Wednesday 24 February 2016 17.26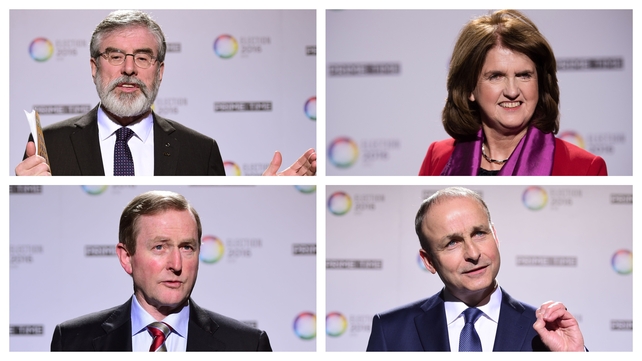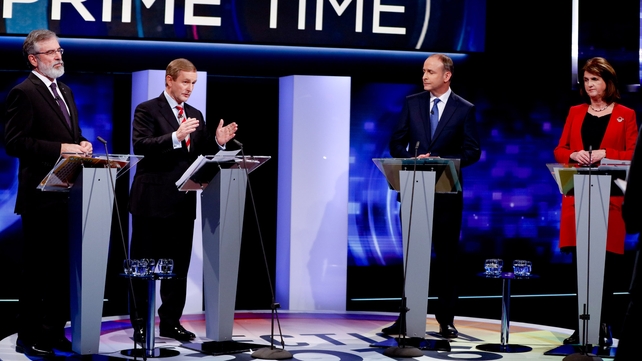 "A bit of theatre, a bit of a circus and a great media hype." That was how Charlie Haughey dismissed televised party leaders' debates in another era.
While the impact of these debates is still questioned decades later, last night's event will have been an important point of political engagement for undecided voters.
So how did the leaders perform? Did any of them land a game changing blow on their opponents? And how will it affect the outcome of Friday's General Election?
The debate was a pretty subdued bit of theatre. This is probably due to fatigue setting in for all the leaders and each of them going in with the intention of not dropping the ball in the final days of the campaign.
Conor McMorrow of RTÉ's Political Staff assesses how the four party leaders performed.
---
Enda Kenny - Fine Gael
We are into the last 72 hours before the polls open in Election 2016 and Taoiseach Enda Kenny will today have to answer questions about accusations of cronyism and the controversy over the appointment of John McNulty to the Irish Museum of Modern Art (IMMA) board.
As Sinn Féin leader Gerry Adams pointed out, Miriam O'Callaghan had "an exclusive" after she questioned if the Taoiseach had "out-Bertied Bertie" with the McNulty appointment.
This was the first time the Taoiseach admitted his involvement in the appointment. Mr Kenny said: "What I did was make an appointment that did not need to be made."
An affair that appeared to have been long put to bed will now resurface at the eleventh hour of this campaign.
Fine Gael will argue that this issue is not a burning election issue and it is correct. It is unlikely to alter the result of the election but it may lead to another uncomfortable day for the Taoiseach - just days after his "whingers" comment.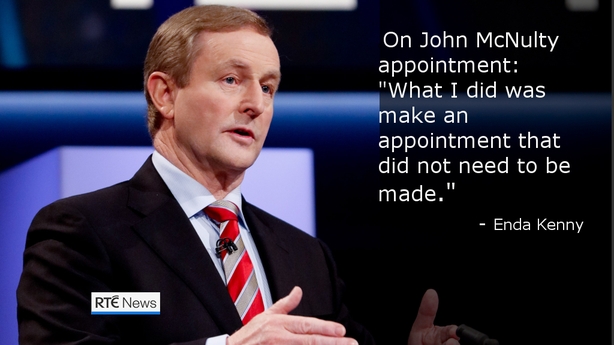 He was asked about that comment again last night and he reiterated that it was a "political challenge against a couple of Fianna Fáil councillors".
He appeared to continually deviate away from the point, instead of giving a succinct answer to questions about why Fine Gael did not deliver on its universal health insurance pledge.
One of the Taoiseach's best contributions came at the end when he was asked what decision he made in political life that he most regretted.
He turned the question on its head and pointed to his achievements in talking to those who were sexually abused in Cloyne; delivering on the same-sex marriage referendum; apologising to the women who were in the Magdalene Laundries and the Priory Hall debacle.
He said that he regretted not being able to deal with these issues sooner.
Overall, last night's performance was like the Taoiseach's overall performance in this campaign – nothing special but no major faux pas ....except for the comments about John McNulty.
---
Joan Burton - Labour
The Tánaiste has been criticised during this campaign for her tendency to get involved in petty spats, being too long-winded in her contributions and talking over her opponents.
Expectations were low going into last night's debate. But she looked more comfortable and generally gave more succinct answers.
Did she do enough to turn the Labour campaign around? Probably not. But none of her opponents offered much by way of a game changer either.
She did launch a few cutting barbs against Gerry Adams. In a reference to Thomas 'Slab' Murphy, she said it was "extraordinary" that he described "a man with bags and bags of money in his hay shed as a good Republican".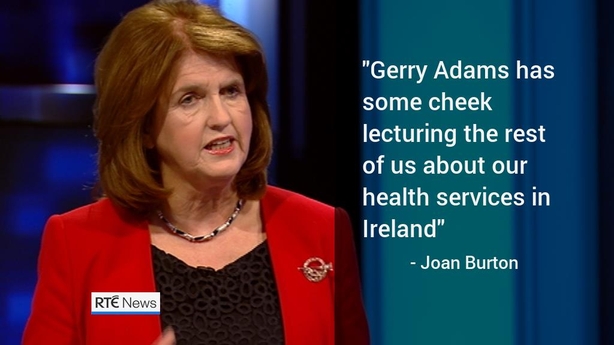 Her clear concise description of Labour's plan to help first-time buyers save for houses will have resonated well.
She appeared to generally speak less, yet say more last night and hit no major stumbling blocks.
But her long-winded defence of the appointment of David Begg, former General Secretary of ICTU, to the board of the Pensions Authority will have irked some viewers during the "cronyism" portion of the debate.
Miriam O'Callaghan interjected at one point here to say: "Joan stop talking please!"
When asked towards the end of the debate what decision she most regretted, she said she regretted the slow pace of change in politics. This is a very valid point. But when she continued to describe how she had cracked down on fraud in the social welfare system her point became more confusing. Overall, this was one of the Tánaiste's better performances in this campaign.
---
Mícheál Martin - Fianna Fáil
"We did make mistakes and we have learned from the mistakes", was one of the first utterances from the Fianna Fáil leader last night.
His ability to distance himself and Fianna Fáil from the not too distant past has been one of the remarkable stories of a pretty unremarkable election campaign.
He performed well in the previous debates, and again last night he looked like the most comfortable participant in a formal debating environment.
He continued to hammer home his party's central message of greater fairness for all, with comments such as "The Taoiseach's priority is not the teachers and gardaí, it's the wealthiest."
He also said that it is "sickening to people who are homeless" that Fine Gael is saying "keep the recovery going".
On the issue of cronyism, and his appointment of Bertie Ahern's former partner Celia Larkin to the board of the National Consumer Association, he was a bit stumped.
He said that "I am not against change ... I believe that we need to change" before proceeding with a further attack on the Fine Gael-Labour government's record in this area.
He also claimed that Sinn Féin and the DUP are operating a "cartel between them" for appointing people to boards in Northern Ireland.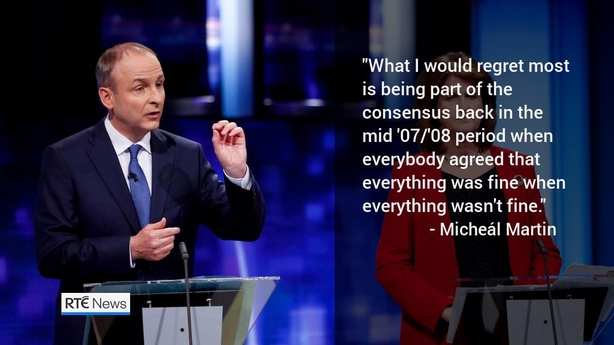 If political atonement for the sins of the past has been one of Fianna Fáil's ambitions in this election, then Mr Martin's response to the question of what he most regrets was right up that street.
He said that his biggest regret was being part of the consensus when everyone agreed everything was fine - "I have learned to challenge consensus."
His final comments repeated Fianna Fáil's ambition to bring about a "fairer and more decent society". Overall, it was another strong performance from the Fianna Fáil leader.
---
Gerry Adams - Sinn Féin
The IRA and Mr Adams' competence with the figures in Sinn Féin's policies came up again last night.
Asked if he was suitable for the highest office in the land, given his links to the IRA, the Sinn Féin leader said: "I have never tried to hide my association with the IRA ... The IRA is now history. It is now gone."
He used the question of his suitability for the office of Taoiseach to attack the Fianna Fáil leader.
Mr Adams said: "Micheál drove the bus over the cliff and now he wants the keys to the bus back again."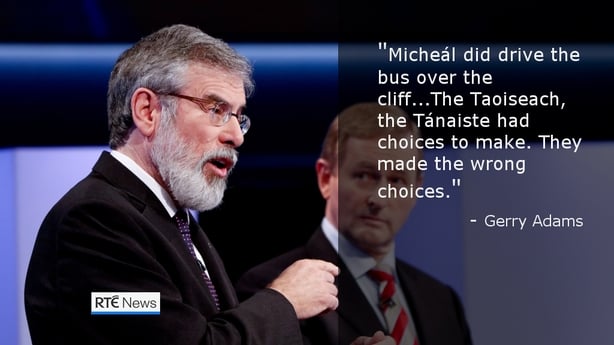 On the issue of his command of figures, he said he is "not at sea" on facts and figures and stressed that people want political leadership at this time, to lead them to "a fair and sustainable society".
Enda Kenny made a charge against the Sinn Féin leader and said: "Gerry here defends Mr Murphy but he won't defend Senator Cahill." In a faux pas, Mr Adams then asked who Senator Cahill was. He is likely to be asked about this today.
Asked if Sinn Féin's taxation policies would deter consultants from working in Ireland, Mr Adams rejected this and added that "if we don't recruit consultants in five years time, let the people sack us".
When asked about his regrets in politics, he said that he regrets that it took so long for the peace process to get traction and reminded everyone that "we are now in a far better place".
He attempted to set Sinn Féin apart from the other parties on several occasions last night.
In his closing remarks he said that his contribution was going to be followed by "The Three Amigos". He said that "it is the centenary of 1916 and we have a chance of a real peaceful rising next Friday".
He urged people to vote for Sinn Féin and "tell the Amigos – adios".
Gerry Adams will have appealed to his party's core support last night. Like the other three leaders, it's difficult to see if he will have garnered or lost much extra support on the back of the debate.
---
Overall assessment
It was 1989 when Charlie Haughey dubbed televised leaders' debates as "a bit of theatre, a bit of a circus and a great media hype".
Last night's debate ticked those three boxes. But it probably won't change the course of this election as nobody landed a killer blow.
By Conor McMorrow of RTÉ's Political Staff