'Creaker' of an RTÉ Leaders' Debate
Wednesday 24 February 2016 00.30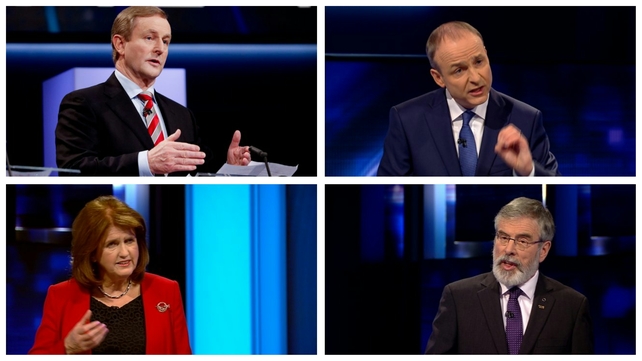 The last debate featuring the four main party leaders - Enda Kenny, Micheál Martin, Joan Burton and Gerry Adams - was a "creaker", er... "squeaker" of a showdown and brought cronyism, climate change and housing to the fore, among other issues.
All four leaders did their best to stand up for their parties' policies, both past and present.
But a creaky part of the set got tongues wagging from the outset.
The squeak is talking over everybody else on #leadersdebate

— Pat McGrath (@patmcgrath) February 23, 2016
But as for the serious issues...
Fianna Fáil Leader Micheál Martin defended himself against criticism regarding his time as health minister, as Mr Adams suggested there was a two-tier health system.
Now @MichealMartinTD asked about past performance in health and on spending. Tactic 1. Talk about present. Tactic 2. Denial. #leadersdebate

— harrymcgee (@harrymcgee) February 23, 2016
Gerry keeps telling us what's wrong but not how to fix it.
Transform, reform, change, vision are words not policies. #leadersdebate

— Elaine Byrne (@ElaineByrne) February 23, 2016
An awkward moment followed between Mr Kenny and Mr Adams, as the Taoiseach made reference to Labour Senator Mairia Cahill.
EK: "Gerry defends Mr Murphy but won't defend Senator Cahill."
GA: "Who's Senator Cahill?"
EK: "Mairia Cahill."
GA: "Oh." #leadersdebate

— Gavan Reilly (@gavreilly) February 23, 2016
The issue of mental health was briefly addressed before attention was diverted by the Tánaiste to Mr Adams. While questioned over the Government's allocation of 6% of the entire health budget expenditure on mental health, Ms Burton implied that Mr Adams' decision to travel to America for a procedure was hypocrital.
Ms Burton then accused Mr Adams of living in "cloud cuckoo land".
A friend of mine paid for an operation which at that time was not available on island of Ireland - Adams #leadersdebate @IrishTimes #ge16

— mary minihan (@minihanmary) February 23, 2016
Figures were key on the subject of the parties' proposals on tax relief.
Enda really struggled on that question there about the fairness of Fine Gael's tax plans #GE16

— Hugh O'Connell (@oconnellhugh) February 23, 2016
.@MiriamOCal says to Micheal martin how can a party that cut the min wage talk about fairness? #ge16 #rtenews #leadrddebate

— Martina Fitzgerald (@MartinaFitzg) February 23, 2016
One of the campaign's recurring issues - the housing crisis - was also brought up.
In defence of the former government, Ms Burton said that "her heart goes out to anyone who is without a home", and said that while she was in government 2,000 ghost estates were re-opened.
Miriam: 'In the 50s and 60s this country was a poor place, but we managed to give people a roof over their heads' #leadersdebate #rtept

— Sunday Business Post (@sundaybusiness) February 23, 2016
But Micheál Martin countered that the ongoing homeless crisis was a 'damning indictment' of the government, while adding that there must be an increase in rent allowance.
Miriam O'Callaghan was quick to point out that despite his criticisms, under Fianna Fáil's watch between 2008 and 2010 the building of social housing more than halved.
With regards to the struggle for young people not being able to afford a deposit for a house, Mr Kenny said that the answer lay in variable mortgage rates, and that there needed to be competition between banks. But Ms Burton offered a suggestion for first-time buyers.
Sensible idea from @joanburton Couples paying rent should have that included in calculations for deposits for buying a house #leadersdebate

— Sunday Business Post (@sundaybusiness) February 23, 2016
Taoiseach was weak on housing & mortgages. Pointing to Central Bank rules won't give much comfort to home buying families #leadersdebate

— Juno McEnroe (@Junomaco) February 23, 2016
The discussion about cronyism left each of the party leaders uncomfortable, as they were challenged on various appointments they had made in recent years.
Regarding the controversial appointment of David Begg to the chair of the Pensions Authority, Ms Burton insisted that she had followed the legal process exactly.
Micheál Martin was quick to backtrack after initially agreeing with Miriam O'Callaghan that his appointment of Celia Larkin - Bertie Ahern's former partner - to the board of the National Consumer Agency was "cronyism at best".
Meanwhile, when queried, Mr Kenny took responsibility for the appointment of John McNulty to the board of the Irish Museum of Modern Art, but insisted that things had now changed.
Miriam says Enda 'outBertied Bertie' on McNulty appointment. It's all changed, replies Taoiseach #leadersdebate

— Juno McEnroe (@Junomaco) February 23, 2016
Mr Adams was quick to address the significance of the Taoiseach's statement.
Adams correct to point out that this is the first time Enda appears to have taken any kind of direct responsibility for McNulty appointment

— Gavan Reilly (@gavreilly) February 23, 2016
No one was left excluded from the discussion on cronyism, as Mr Martin claimed Mr Adams was: "in no position to talk about cronyism anywhere".
The impact of climate change was also brought to the party leaders' attention, with Miriam O'Callaghan saying it was the "biggest issue of our time at the moment".
Joan Burton highlighted that there had to be "key reductions in carbon emmissions", using Moneypoint as an example.
In the final question of the night, each of the party leaders were asked about their biggest regrets. While three party leaders used their answers to highlight achievements, Micheál Martin gave perhaps the most honest answer.
Great Q. What do they all regret? Martin - that I was part of the consensus that all was fine from 2007 onwards #leadersdebate #ge16

— Gavan Reilly (@gavreilly) February 23, 2016