Kenny says instability is last thing country needs
Tuesday 23 February 2016 19.57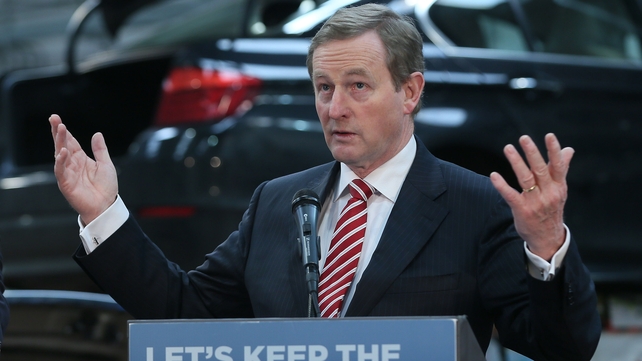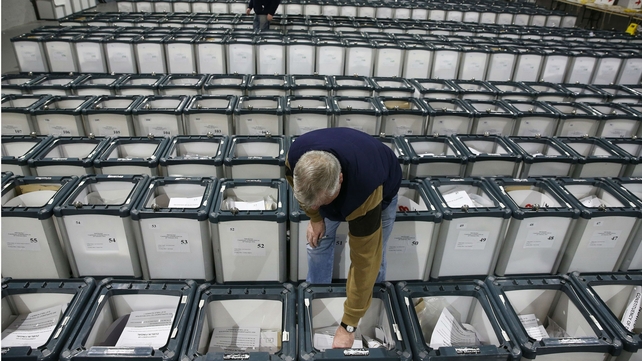 Taoiseach Enda Kenny has said "the people hold the economic recovery in their hands" when they go to the polls while Fianna Fáil has raised the possibility that the party might catch Fine Gael in terms of seats.
Speaking in Dublin, Mr Kenny said "the last thing the country needed was political instability" and a clear decision was needed by an electorate which now held the recovery in its hands.
Mr Kenny was launching Fine Gael's plan to double the number of apprenticeships by 2020.
He made the announcement at a media event in the workshop of the Joe Duffy BMW garage in Finglas, north Dublin.
Mr Kenny attacked Fianna Fáil leader Micheál Martin for being in charge of "the discredited Fás" organisation.He said: "Fine Gael is committed to creating a culture of vocational training as a way into skilled jobs by doubling the number of apprenticeships to 31,000 by 2020."
Watch tonight's RTÉ Prime Time Leaders' Debate at 9.35pm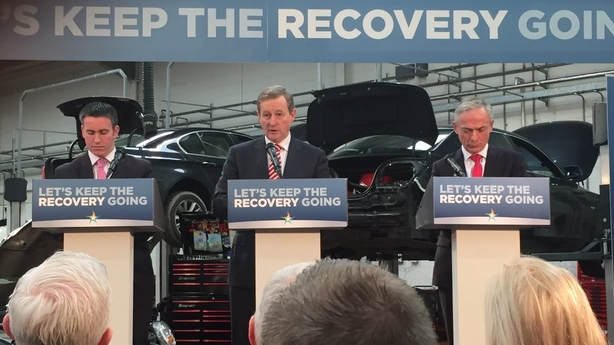 Fine Gael has also pledged to increase the number of on-the-job traineeships to 19,000 in the next term of government "in line with skills strategy".
Fine Gael will benchmark all further education and training boards on their development of career traineeships with local enterprises.
Minister of State Damien English said the recession "cruelly exposed the consequences of not maintaining a viable and dynamic vocational training sector".
He added: "Fine Gael will change that and bring skills training in Ireland into the 21st Century."
The Taoiseach said there is a skills shortage due to the lack of apprenticeships in the recession.
He claimed it is a "fallacy" and "false assumption" to say that the recovery will keep going no matter who is elected on Friday. He warned that "complacency is the enemy".
He said that Fine Gael is the "only party who will keep the recovery going" and stressed that the recovery "has to reach every home".
You definitely need new shocks - Kenny getting some car servicing tips after FG stages event in garage #GE16 pic.twitter.com/aLzBbgVSMK

— Pat McGrath (@patmcgrath) February 23, 2016
He said the office of Taoiseach "requires courage and decisiveness" and that "Micheál Martin and Fianna Fáil cannot be trusted in this regard".
He claimed Fianna Fáil "shamed the country when the troika arrived and gave away our sovereignty".
Mr Kenny said Fine Gael had restored trust and confidence in Ireland.
He said he was looking forward to tonight's RTÉ Prime Time Leaders' Debate as he had "some very important things to say".
The Taoiseach concluded by saying: "On Friday the people will hold the recovery in their hands when they go to vote and I ask them to vote for a team with a proven track record."
He then asked people who vote for Independent candidates to pass on their second preferences to Fine Gael.
---
Catching Fine Gael 'not impossible' - Michael McGrath
Fianna Fáil is launching its policy on pensions with a promise to increase the old-age pension by €30 over five years while TD Michael McGrath has not ruled out overtaking Fine Gael on polling day.
Fianna Fáil also plans to set up a scheme to automatically enrol employees earning over €15,000 into a pension scheme. Mr McGrath explained that "employees will have one window of opportunity a year to opt out" of the scheme.
Michael McGrath says employees will have one 'window of opportunity' a yr to opt out of its planned automatic pension scheme #ge16 #rtenews

— Martina Fitzgerald (@MartinaFitzg) February 23, 2016
The party promised to hold a referendum in the first year of government to prevent private pension schemes being raided by a government
When asked about Conor Lenihan's comments about a "rotating Taoiseach", Mr McGrath said it is "pie in the sky" but added "Conor is always good for innovative ideas".
Mr McGrath went on to point out that although "Micheál Martin has been the stand-out leader ... a range of spokespeople have been out in the media and very active" for his party over the campaign.
Asked about his personal views on the Eighth Amendment, Mr McGrath said he was "in favour of constitutional protection for the unborn".
Seán Fleming raised the possibility of Fianna Fáil going into government with Labour, the Social Democrats and Renua.
Asked about catching up with Fine Gael, Mr McGrath said it is "not impossible".
---
Still all to play for - Adams
Sinn Féin President Gerry Adams has said that he's not concerned by a drop in support for Sinn Féin in recent polls.
Mr Adams also said "it is all to play for" and it is up to his party to "motivate and mobilise the vote" for Sinn Féin on polling day.
He said the next few days will "make all the difference" in terms of getting people out.
Mr Adams is looking forward to tonight's RTÉ debate even though he expects that, like the first debate on TV3, the three others leaders may round on him. He said: "You just have to soak it up".
He was speaking during a visit to a community facility in Darndale in the Dublin Bay North constituency with one of two candidates there, Denise Mitchell.
Meanwhile, Sinn Féin finance spokesperson Pearse Doherty has said the election is "a choice between tax cuts for the wealthy or investment in public services".
Mr Doherty said other parties' tax-cut promises were "reckless" and he said voters faced a choice between what he called the "golden circle politics" of Fine Gael/Fianna Fáil or "the politics of equality".
On their planned USC cut for those earning below €19,572, Mr Doherty said the figure was chosen to correspond with the wages of those on an increased minimum wage and anyone earning above that would benefit from the abolition of water charges and the property tax.
Dublin Mid-West candidate Eoin Ó Broin said Fine Gael was "trying to bribe with tax cuts but voters want investment".
---
Labour launches Sports policy
Minister for New Communities, Culture, Equality and Drugs Strategy Aodhán Ó Ríordáin launched the Labour Party's Sports policy with the help of football pundit Johnny Giles.
Minister Aodhán Ó Ríordáin said: "Sport is at the heart of so many communities right across the country and I am delighted to see that the Labour Party is ensuring it gets discussed during the General Election Campaign."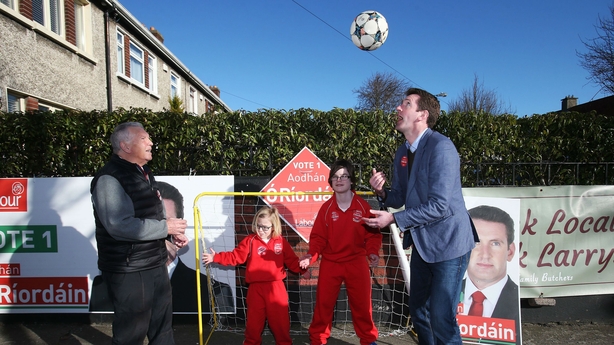 Labour leader Joan Burton has warned voters not to gamble on a "very conservative government" of Fine Gael and Fianna Fáil, or an unstable government made up of independents".
She said: "I would say to people, consider your options very carefully and don't take a risk on an uncertain gamble."
"Don't accidentally turn the switch off and flick us back into a darker place that nobody wants to go back to."
Meanwhile, the Social Democrats have launched their youth manifesto.
The party's Dublin Mid-West candidate Anne-Marie McNally said issues "arising on the doorsteps" include housing, the Eighth Amendment and climate issues.
Ms McNally said her generation is the first that can't aspire to own their own homes and adult children are back living with their parents.
The party claims to have the highest number of young candidates under the age of 40 in the election while McNally said the average age of canvassers on her campaign is 26, many of whom came forward through social media.
The party's candidate in Dublin Central, Gary Gannon, is a former youth worker in Dublin's north inner city.
He said education is "huge" and pointed out that he got a place in Trinity College on the "access programme".
Mr Gannon expressed the importance of investing in access programmes and "widening social democratic participation in education".
He said the SUSI system is not working because students in Dublin receive the lowest level of grants.
He also said mental health is extremely important and "can't be party or political specific".
Elsewhere, the Green Party launched its climate policy in Dublin where it said that "rising sea levels need to be addressed".
#Green Party launches climate policy across from the Dept of Environment in Dublin #GE16 pic.twitter.com/S5d859lpx3

— Ailbhe Conneely (@AilbheConneely) February 23, 2016