Blog: Burton fighting hard to weather storm
Monday 22 February 2016 19.40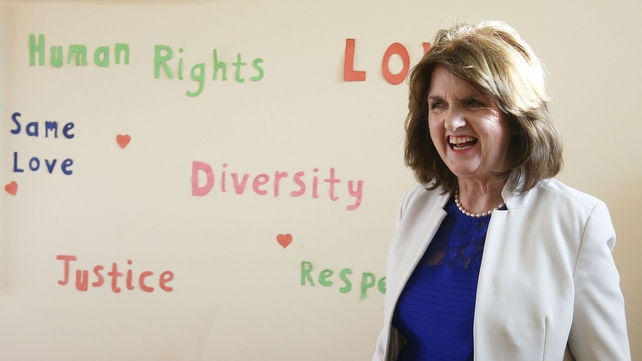 Joan Burton arrived in Shellybanks Educate Together National School in bright sunshine. Her smile was as sunny as the morning, writes RTÉ's Katie Hannon.
By her side Kevin Humphreys looked chilled, shooting the breeze with the dwindling number of reporters still turning up for these carefully choreographed press events.
They perched awkwardly on little yellow chairs to chat with the senior infants who beamed when the Tánaiste told them she had heard they were 'the best senior infant class in the whole world' while the delighted photographers snapped away merrily.
She's good with the kids. Warm and natural. A different persona entirely from the defensive, almost hectoring Joan Burton of the election debates.
The photo opportunity over, Humphreys thanked the teacher effusively for the chair. 'It might be the only seat I'll get this week!'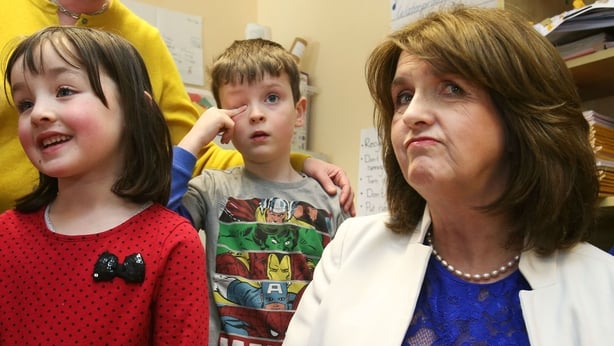 There is a curious air of calm around the Labour campaign. Everyone is busy carrying on regardless. Joan Burton noted that there was 'an incredible diversity in the polls over this weekend'.
Perhaps so. But none of the diverse findings would represent good news to Labour. The weekend polls put them at somewhere between 4% and 8%, with two of them putting the outgoing government party on a very modest 6%.
If Labour support has in fact dropped to that level – below even the 6.5% level attained in the party's disastrous post-coalition election of 1987 –Burton must know that she will have an almighty battle on her hands to keep her seat.
And even if she defies the odds and holds on to her seat, she will go the way of so many former Labour leaders in the party's recent history.
If she cannot pull out of this tail-spin – and such a feat is looking less likely by the day - she will surely not be able to survive as Labour leader.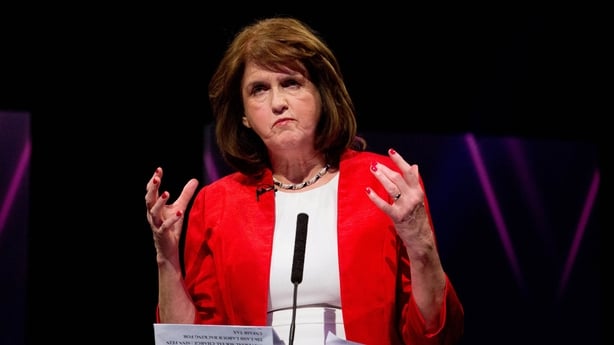 The final debate could not be more crucial, not just for the Labour Party but for Burton personally.
After a poor start to this campaign, she has upped her game. She has modified her tone in her more recent interviews, dropping an argumentative, overly defensive approach in favour of a more reasoned, positive tone.
All through this campaign she has been trying to walk an impossible line – offering Labour up as one half of a stable government option, while trying to somehow distinguish her party's policies and successes from those of Fine Gael.
Fearful of alienating those Fine Gael voters whom she desperately needs to give her candidates transfers, she has largely played a supportive role. She has stood by her man.
Today, she dared to put some space between herself and Enda. Asked about the Taoiseach's by now infamous reference to 'whingers', she declared 'No, I don't agree with that ... It's part of the conversation. It's not a term I would use but I think the important is that the Taoiseach has heard that people have issues and difficulties and an analysis that is not exactly the same as his.'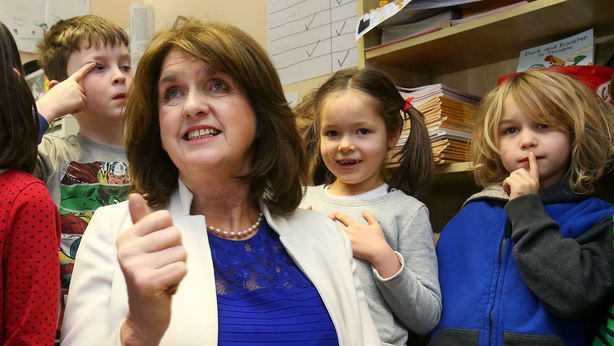 She was in Shellybanks Educate Together 'to outline Labour's plan for equal access to education'. The party's legislation to reform schools admissions policy was published during the last Dáil but went no further.
Asked why Labour did not deliver on such a key element of the Labour Party's education policy when the party controlled the Department of Education for five years, she blamed Fine Gael.
'People had differing views in relation to that and in particular I'm conscious I'm talking her in South East Dublin. South East obviously has a very significant number of private schools and some of the deputies in Fine Gael, who see themselves as very much I suppose attached to and coming from private schools, wanted to have more discussion.'
So there you have it. A key Labour education policy to promote equal access to education was, according to the Tánaiste herself, trumped by some Fine Gael TDs' concerns about the implications for private schools in south Dublin.
If you were casting about for a reason to explain why Labour is struggling in the polls you need look no further. In so many policy areas where the coalition partners clashed, Labour was forced to embrace unpalatable compromises and drive a coach and horses through some of their most high profile pre-election pledges.
Burton said today that the Admission Bill was just delayed. 'We've agreed in principle. We've published the Admissions Bill and if we're elected to government I'm very confident that it will be delivered in the course of the next Dáil.'
Right now, that is looking like a big if.
---
By RTÉ Political Correspondent Katie Hannon