Burton calls on 'progressive voters' to back Labour
Sunday 21 February 2016 22.29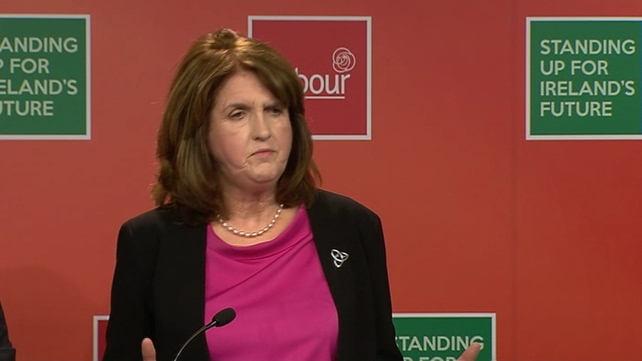 The Labour party has set out in more detail its plan for putting money back in workers' pockets by addressing the issue of income tax and PRSI.
Tánaiste Joan Burton said: "Our proposal has three main elements. We will eliminate USC on the first €72,000 of individual income. We will do this over a five-year period.
"We will change the PRSI system so as to provide relief for workers earning between €18,000 and €36,000 per annum.
"And we will gradually withdraw the benefit of personal tax credits for those earning more than €100,000 so that high earners of more than €120,000 will pay the same tax as they do now."
Stage set for @labour press conference #ge16 @rtenews pic.twitter.com/E2crr8ohmJ

— Conor McMorrow (@ConorMcMorrow) February 21, 2016
Ms Burton said Sinn Féin and the Social Democrats would do little or nothing for workers, while Fianna Fáil's proposals would confer benefit on high earners.
Ms Burton said workers earning between €18,000 and €36,000 per year would be better off with Labour.
"Only Labour treats high earners fairly. Sinn Féin would nail them to the wall," she said.
The Tánaiste pointed out the differences between Labour and Fine Gael this afternoon. She stressed the differences between the Labour and Fine Gael tax packages.
"Fianna Fail would waste scarce resources by giving them relief that they do not need."
"A very large fat zero" - @joanburton says that's what @sinnfeinireland and @SocDems are offering workers #GE16 pic.twitter.com/hmdWkC3cMD

— Sharon Tobin (@sharontobin) February 21, 2016
She criticised Sinn Féin's claims that low-to-middle income workers would be better off with Sinn Féin, labelling the claims as "simply untrue".
"Sinn Féin would do nothing at all for workers earning more than the minimum wage. So the vast majority of workers would gain absolutely nothing – not a red cent in their wage packet if Sinn Féin were in government."
She said that only Labour can provide a fair government, she said: "Our offering is radical and repositioned."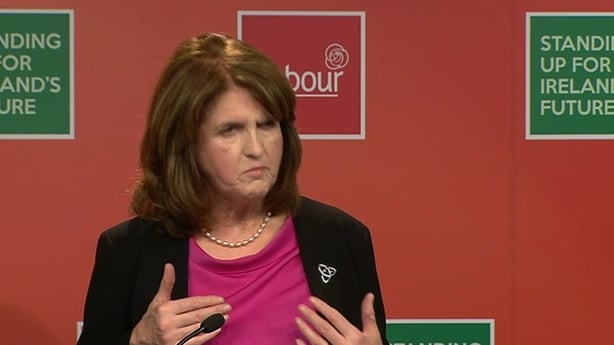 On the recent polls, Ms Burton said it seemed a lot of people had not yet made up their minds.
She said that people need to make a clear decision about the future and focus what is in their best interest for them and their families.
"I was in Kilkenny yesterday and Waterford yesterday. It is obvious that people are thinking very deeply about what will make Ireland better and how we will sustain the recovery."
She said that, "Fianna Fáil reduced weekly social welfare rates for somebody on disability benefit by €16 a week...If people want to see restoration, recovery and fairness they need to think about who they are voting for."
She asked "progressive voters" to think hard and vote Labour.