Busy day of press events and election rallies on final weekend of campaigning
Sunday 21 February 2016 22.30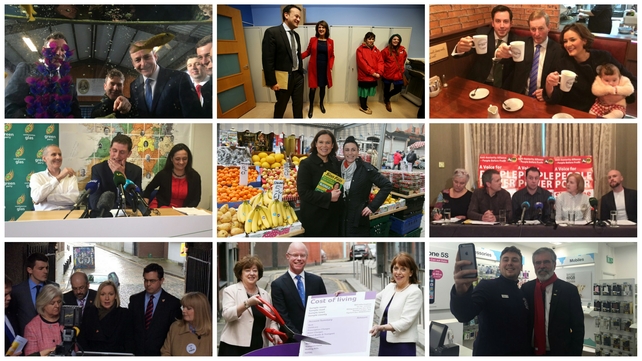 As well as trying to make sense of a glut of opinion poll data from three of today's Sunday newspapers, the parties engaged in a busy day of press events and election rallies today, writes Conor McMorrow of our political staff.
Fine Gael, which appeared to be in choppy waters a few days ago when support fell in two consecutive polls to 26%, has increased in this morning's polls.
In an interesting choice of location, Taoiseach Enda Kenny and the Minister for Transport Paschal Donohoe held a press event at the Loop Head Lighthouse in Clare where they set out Fine Gael's plans to continue to grow the tourism sector and "keep the recovery going".
Mr Kenny then visited the Clare constituency, before travelling to Dublin to address a gathering of Fine Gael supporters.
Tánaiste and Labour leader Joan Burton, along with Minister Aodhán Ó Ríordáin and Labour candidate for Dublin North-West John Lyons, outlined the party's proposals to increase take-home pay for low and middle-income workers at the party's election headquarters.
Fianna Fáil currently has no TDs in the capital and gaining ground in Dublin this Friday will be important.
One of the party's Dublin-Fingal candidates, Darragh O'Brien, unveiled the party's priorities for Dublin at the Fianna Fáil election headquarters.
The Sinn Féin leadership met in Dublin to plan the party's "final election push" for the days ahead.
Party leader Gerry Adams, deputy leader Mary Lou McDonald, Northern Deputy First Minister Martin McGuinness and finance spokesperson Pearse Doherty held a press conference in a Dublin hotel.
Anti-Austerity Alliance candidates highlighted the abuse of workers in the construction sector and the "scandal of forced bogus self-employment in state projects" at the building site of a new Garda station in Dublin.
Social Democrats joint leaders Róisín Shortall, Catherine Murphy and Stephen Donnelly were joined by other candidates and supporters to canvass on Dublin's Grafton Street.
As the final weekend of the election concludes, what the Taoiseach terms a "five-day ground war" commenced today.