Fianna Fáil candidates have stood over party leader Micheál Martin's claim that water charges were Fine Gael's idea, despite Cabinet memos from the 2007-2011 government showing that the Fianna Fáil/Green government had decided to change legislation to pave the way for domestic water charges.
Mr Martin has been asked about his party's position on water charges in a number on interviews in recent days.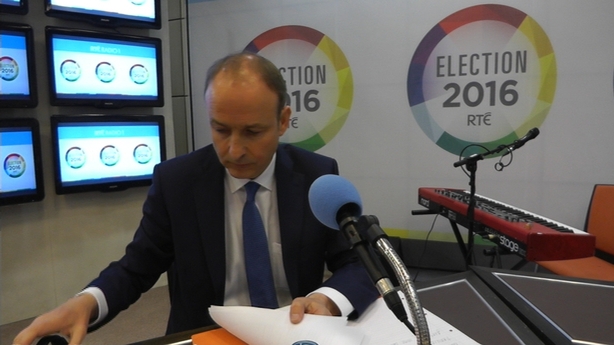 Confidential cabinet documents released to RTÉ's The Week in Politics last October, under the Freedom of Information Act, showed the Fianna Fáil/Green Cabinet agreed on 15 September 2010 to establish a new water agency and draft new legislation allowing for domestic water meters - some two months before Ireland entered the Troika bailout.
Donegal candidate Charlie McConalogue and Meath East candidate Thomas Byrne have both defended Mr Martin, who was at the Cabinet table when the decision was taken.
Micheál Martin says water charges should be scrapped during the lifetime of the next government on @TodaySORhttps://t.co/OchfzylKHg

— RTÉ News (@rtenews) February 19, 2016
Mr Byrne said: "There was no decision made whatsoever about that memorandum. Memos are produced for Cabinet all the time. What Micheál said this morning was that the idea for Irish Water was an idea of Simon Coveney's in June 2009."
"This was their grand plan to essentially, to ultimately, privatise the water system. We opposed that and we made no decisions in relation to any water utility. That never came near the cabinet. There were certainly no decisions about water charges and Micheál Martin made that very clear.
"I wasn't in the Cabinet but there was no decision made and that is on the public record."
He added: "Ministers bring memorandums to Cabinet all the time. As I understand, it was John Gormley who brought this memorandum to Cabinet."
It was put to him that the memorandum did say that the legislation would be changed so that domestic water charges could be introduced.
Mr Byrne replied: "John Gormley was free to make whatever propositions he wanted to make. It went nowhere."
Mr Byrne and Mr McConalogue were speaking as the party outlined its education priorities.
#ge16 @fiannafailparty outlines education priorities & attacks 'Tory' style education policies of FG/Lab @rtenews pic.twitter.com/5pxzNWiysi

— Conor McMorrow (@ConorMcMorrow) February 19, 2016
Mr McConalogue, the party's education spokesperson, attacked the Fine Gael/Labour coalition's record on education.
He said that despite having two Labour ministers at the helm, the government has been "regressive" in its education policy. He said the Government has brought in a series of 'Tory style' education policies.
He said that Fine Gael have promised they will not close any school, but this is "disingenuous" when you look at Fine Gael's record in cutting the numbers of teachers in small schools.
He said that many small rural schools are teetering on the brink and accused the Government of having "disdain for small schools".
Mr McConalogue pledged to employ more teachers, reduce class sizes and freeze third level fees in government.
What does Fianna Fáil's Election 2016 manifesto say about water charges?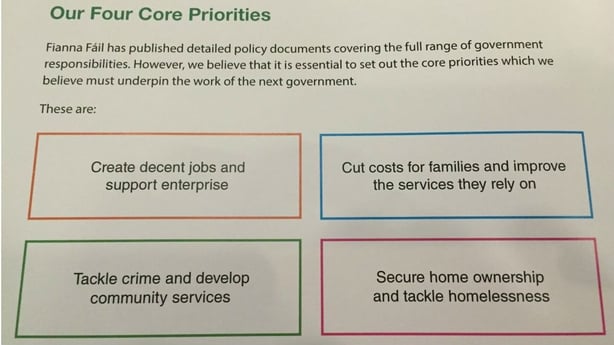 "Irish Water has been a complete failure on the part of the government.
Since it failed the Eurostat test - the very reason it was set up - it is incapable of delivering major investment in our water network. Instead it is imposing a water charges regime where families are paying for a service that does not deliver, operated by a quango that simply is not working.
People should not be expected to pay for a service that is not up to standard. We need a 21st century water system that will attract global business investment, allow businesses and agriculture to expand and provide safe water to homes.
Irish Water has failed to achieve basic public legitimacy, has diverted resources away from the water infrastructure and does not have the capacity to focus on its most important tasks. We will:
- End the failed water charges regime. This will save families €160 per year and allow the better use of state resources.
- Abolish Irish Water and create a new slimmed-down agency to deliver the national water investment programme.
The National Water directorate will develop a nationwide approach while local services will be handed back to democratically elected local authorities with on-the-ground knowledge. According to the Department of the Environment, the net cost of scrapping water charges would be of the order of €210m annually.
This would be replaced by a direct state subvention to the new National Water Directorate, which will be run at an approximate cost of €16.2m per annum.
We would also fully provide for the costs of winding down Irish Water, at a cost of €9.1m and 39 abolish the government's botched Water Conservation grant to save the state €110m."
By Conor McMorrow, RTÉ's Political Staff