Sinn Féin President Gerry Adams has said that he will meet the family of murdered prison officer Brian Stack again after the election and do everything humanly possible to help them.
Mr Adams said that as someone who has been shot and had his office and home bombed, he has been able to embrace those who did that to him and move forward, saying "that's what we all need to do, move forward, everyone should do that".
In an interview with Bryan Dobson on RTÉ's Six One News in which Mr Adams often appeared agitated and avoided directly answering a number of questions, he also said that under Sinn Féin's plan to reduce the tax relief on pensions no one earning under €100,000 would pay an extra penny or lose an extra one.

He said Sinn Féin would return the number of beds and workers in the health service to pre-recession levels by investing an extra €3.3bn in the sector, but he said it was a ten-year plan that would take time to train staff and up the capacity.
Mr Adams said Sinn Féin would overcome the challenge the sector currently faces in attracting more nursing staff by changing their terms and conditions and as the party changed the economy he said better wages may follow.
Mr Adams also said that if his party was in government he would not draw a ministerial salary, just the average wage, and return the balance to the State.
Asked if the party had led by example in the issue of cronyism by appointing supporters to boards in Northern Ireland, Mr Adams said that everyone appointed to those boards comes through a process that has to be signed off by the Executive unlike the system in the Republic.
Sinn Féin 'not misleading' public on water charges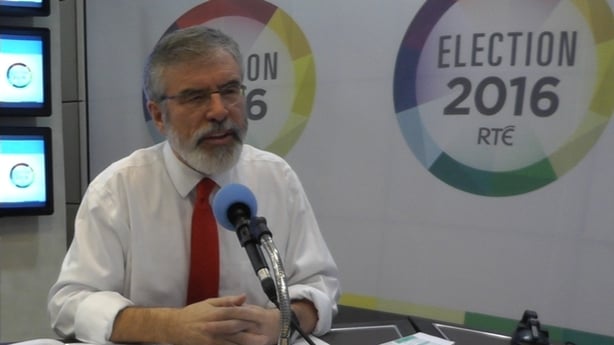 Earlier today, Mr Adams denied that the party is misleading the public about the amount they will save on water charges if Sinn Féin gets into government.
In an interview on RTÉ's Today with Sean O'Rourke, Mr Adams said he changed his position on paying for water on his holiday home in Donegal "in solidarity with people".
SF leader Gerry Adams denies he's misleading public on the amount they will save on water charges #GE16 #todaysorhttps://t.co/jDyycCVI8D

— RTÉ News (@rtenews) February 18, 2016
Mr Adams also explained that he travelled to the US in the past for health treatment because the type of treatment was not available here at the time.
He also said he was grateful that his friend was able to "sort the treatment for him".
He also clarified that Sinn Féin would maintain a tax relief on private health insurance if in government.
"I'm not confused" - Gerry Adams and RTÉ'S Sean O'Rourke thrash out Sinn Féin's taxation policy #GE16 #todaysorhttps://t.co/4C9jMRH4FW

— RTÉ News (@rtenews) February 18, 2016
He said his party has worked out with the department of finance that, should the current rate of growth continue, there will €8.6bn euro available.
Mr Adams claimed that they will add around €2bn to that with some savings and increased taxes, €1.6bn of which will be set aside for a contingency fund and the rest will be invested in public services.
He also clarified that an individual earning over €100,000 a year will pay a marginal rate of tax of 59 cent in the euro.
He said that they had not consulted with IDA Ireland on the implications of plans to introduce mandatory union recognition and bargaining rights on all companies.
Mr Adams added he would remain as leader "as long as his family, his health and the party would allow him to".
'For as long as my family, my health and my party want me...This isn't about me' on being @sinnfeinireland president pic.twitter.com/IdKnABlfWI

— Today Sean O'Rourke (@TodaySOR) February 18, 2016
He also stated that he wants what he termed "stinking, mean spirited little cuts" to be reversed and that people will be "better off under Sinn Féin".
Mr Adams said: "Our people are very decent. They do not complain about paying taxes - but about paying taxes and not receiving services."
Meanwhile, Sinn Féin's finance spokesman has said he would be prepared to step up to lead the party if the position emerged.
Pearse Doherty said leading the party was not something that he had a personal ambition to do right now as the position wasn't vacant.
He said Sinn Fein took decisions as a collective leadership and that policy decisions were taken by the Ard Fheis.
He was launching the party's document on securing long term economic growth.
The party promised the creation of 250,000 jobs over the next five years if elected to government.
Mr Doherty accused Fine Gael and Minister for Finance Michael Noonan of getting their figures wrong on the USC.
He said the cost of abolishing the USC would be €500m more than what the minister laid out in his calculations.
He said Mr Noonan was not taking into account the extra revenue that would be generated from the USC over a five year period.
Listen to Gerry Adams' interview on Today with Sean O'Rourkein full, here...