Hashtag hailstorm: Election 2016 on Twitter
Wednesday 17 February 2016 17.59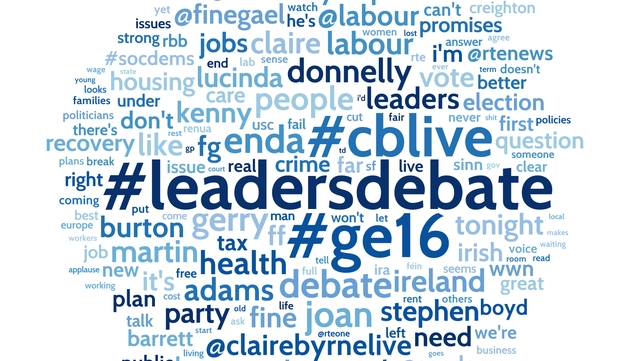 Political analysts say the trend is your friend in polling. But what about social media?
With General Election 2016 just nine days away, Twitter has complied data on the social media platform's conversations around the vote.
We have seen during the two #leadersdebates who the most discussed parties and leaders were, but this doesn't highlight who has been dominating the day by day share of conversation on Twitter.
The graph below shows the percentage share of conversation since the election was called on February 3.
The #leadersdebate gave way to a more level playing field and smaller parties had a bigger share of conversations on Twitter than they have had on any other day.
For instance, @socdems look to be increasing their share of voice on Twitter over time, while @FineGael show a decreased share but are the most talked about party on Twitter every day except for February 10 when @Labour was most talked about.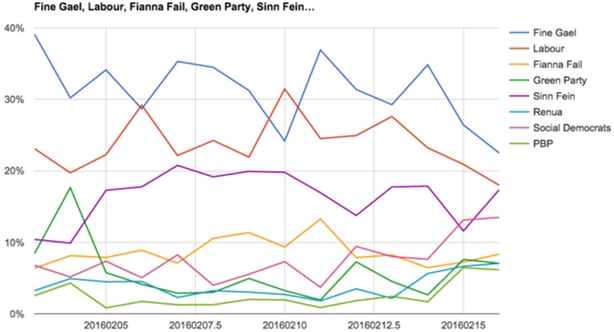 As for the actual issues that are exercising voters's minds, the economy has been the most discussed topic on the microblogging platform since the election was called, with Irish Water and health following close behind.
Below are the top eight topics discussed most on Twitter over the past two weeks in order of most mentions: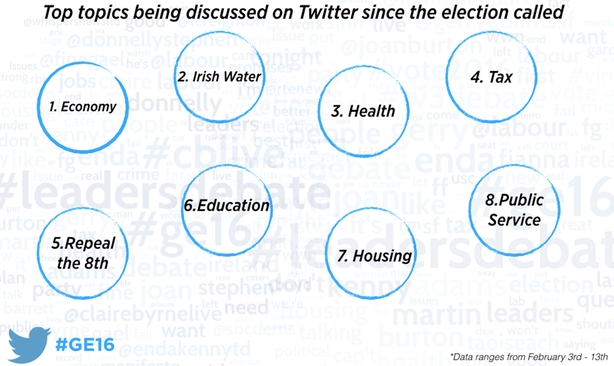 Overall people have been taking to Twitter to discuss the #GE16 on a daily basis, with 210,000 tweets sent in two weeks using #GE16.
But candidates should be careful what they wish for...
But candidates need to be careful with social media – more tweets do not necessarily mean more votes.
In fact, it is difficult to predict the outcome of an election based on the amount of Twitter buzz a candidate gets, according to a study from the Social Science Computer Review.
The study focused on the 2013 German federal election and found that Twitter data was a more accurate measure of the level of interest in candidates rather than the level of support they will receive.
"Negative events, such as political scandals, as well as positively evaluated events, such as accomplishments, can (both) underlie attention for a party or candidate," said the study, published this week.
"The analysis does not support the simple 'more tweets, more votes' formula," the study found.
For example, a video clip of a candidate's campaign gaffe broadcast on the nightly news might lead to a spike in Twitter attention, but likely not result in more overall political support, according to the study.
The data also showed that Twitter users did not necessarily reflect the demographics of the population as a whole.
A Twitter spokesman argued the study was not relevant to this year's US presidential election, citing a Time magazine website report that showed Twitter chatter favoured the winning candidates, Democrat Hillary Clinton and Republican Donald Trump, in the Iowa caucuses this month.
Source: Reuters