Fianna Fáil leader Micheál Martin has described an attack on his record in health by Leo Varadkar as a sad reflection on the Minister for Health personally.
He also said it was an indication of panic within Government ranks that Mr Varadkar had to go back to his appointment 16 years ago in order to try to win the election.
Mr Varadkar attacked Mr Martin's record yesterday, saying that he cannot be trusted and that his record as minister was a disaster.
Speaking on RTÉ's Morning Ireland this morning, Mr Varadkar said Mr Martin had "created a whole fairytale" about his own period as minister for health.
He said he raised Mr Martin's record because of this week's leaders' debate, claiming that Mr Martin "told a number of untruths" in Monday's programme.
"Mr Martin was a good debater but an even better deceiver", Mr Varadkar added.
He said Mr Martin said during the debate that "in 2004 the health service was treating more patients more successfully than before this Government came to power ... by any metric I challenge anyone to go through it".
Mr Varadkar said he is not usually someone who "goes personal" but Mr Martin encouraged such a challenge.
Mr Varadkar said that by his own calculations, the health service had performed better under the Fine Gael/Labour coalition than it had when Mr Martin was at the helm.
"I have gone through it and I got the figures as to where we were in 2004 versus 2014.
"Since then outpatient appointments are up ... from 2.4 or 2.5 million to 3.2 million, medical cards are up from 28% of the population covered to 38% ... the number of ambulance calls that is responded to is gone up by 9.3%.
"The number of surgical day cases done is up 76% and the number of patients treated in our hospitals every year is up by more than 50%."
He said Mr Martin has made "an extraordinary statement" in two debates about health that is "entirely untrue".
"I'm not sure if you know the film Total Recall - there's an Arnold Schwarzenegger character and he manages to have alternative memories planted in his brain.
"It seems to me that that's where we are with Micheál Martin, who has created a whole fairy tale about his period in health and, not dissimilar, his period in foreign affairs when he was partially responsible for the agreement with the Troika and the European Commission that he seems also to have forgotten about ."
Yesterday Mr Varadkar said that Mr Martin seemed "to be suffering from amnesia", adding that the Fianna Fáil leader "is pinning his hopes on an outbreak of collective amnesia".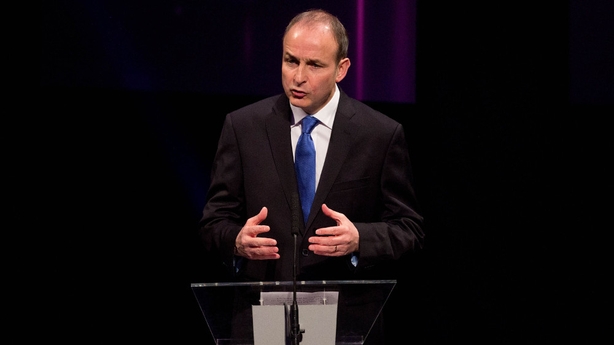 He said his prescription was to "take a large pinch of salt with everything Micheál says, remember that his ministerial record was a disaster, and that he cannot be trusted to keep the recovery going".
However, speaking on RTÉ News at One, Mr Martin said far more was achieved and the outcomes were more significant when he left as health minister, than the current situation after this Government.
He said: "If you look in terms of in-patient and day cases combined, in 1997 there were about 768,000 in-patient and day patients discharged, by 2009 that number had risen to 2.4 million, an 83% increase in line with best international practice."
Mr Martin said he established a treatment purchase fund, introduced breast check and the smoking ban.
He claimed Mr Varadkar had broken every target made in regard to waiting lists.