Parties are focusing on health, mortgages and community banking in the General Election campaign ahead of tonight's leaders' debate.
The RTÉ debate, involving seven party leaders, is taking place in the University of Limerick.
Taoiseach and Fine Gael leader Enda Kenny, Tánaiste and Labour Party leader Joan Burton, Fianna Fáil leader Micheál Martin, Sinn Féin leader Gerry Adams, AAA-PBP representative Richard Boyd Barrett, joint-leader of the Social Democrats Stephen Donnelly and Renua leader Lucinda Creighton will take part.
The leaders face between six and eight questions on various election issues in front of an audience.
This morning the Labour Party launched its election manifesto - the last of the main parties to do so.
Labour had already flagged many of its proposals, including the abolition of USC for those earning up to €72,000, free GP care for all, a rise in the old age pension and the introduction of a living wage of €11.50.
Labour Party deputy leader Alan Kelly has said support for Ms Burton "should not be underestimated". 
Speaking on RTÉ's News At One he said: "Joan Burton has been around a long time and is the biggest fighter I have ever seen."
Mr Kelly said the party will not be small in numbers after the election, describing Labour candidates as "fantastic".
He said: "The most stable government is a Fine Gael/Labour government and that the coalition will ensure a social recovery when re-elected."
Elsewhere, Fine Gael launched its health policy and Fianna Fáil is outlined measures to assist new home buyers and mortgage holders.
The Taoiseach is launched his party's health strategy in Dublin this afternoon. 
Mr Kenny has said he was "the first party leader to rule out a post-election deal with Fianna Fáil".
He said he has "done so on at least ten occasions in the last fortnight" and that he is happy to reiterate that position. 
He also has defended his party's overarching focus on economic recovery in the General Election campaign, saying it is the central issue for the future of the country. 
When it was put to him that voters might want a wider debate on the future of Irish society, Mr Kenny said the economy "was where the debate should be for all parties".
Taoiseach rules out post election deal with FF. Defends overarching economic focus by FG - says that's where the debate should be. #GE16

— Pat McGrath (@patmcgrath) February 15, 2016
Fine Gael says increasing capacity and providing universal healthcare are central to the plan. It is also pledging health service reform and says it would put an increased emphasis on healthy living.
The party is planning to spend €2bn on the sector over the next five years.
It claims it has made "real progress" in reforming the health service since taking office and says it would continue this if returned to Government. 
Fine Gael says research on "other funding models" for the health service, apart from taxation will be carried out if it is returned to office. 
The party said that, while the public health service will be funded from taxation for the lifetime of the next administration, other measures will be examined. 
Taoiseach arrives at Primary Care Centre in Dublin to launch FG Health plan...#GE16 pic.twitter.com/wbzKxFRzIT

— Pat McGrath (@patmcgrath) February 15, 2016
Fianna Fáil is pledging to introduce a range of measures to tackle high interest rates and mortgage arrears. 
Mr Martin has said personal attacks on him by Fine Gael and Labour were "a sign of panic from Government".
Speaking in Tralee where he spent the morning canvassing ahead of tonight's leaders' debate, Mr Martin said both Fine Gael and Labour were employing a strategy to "frighten the living daylights out of people to get them to vote for the two government parties".
Mr Martin was responding after both the Taoiseach and Tánaiste said Fianna Fáil "could not be trusted in government and couldn't be trusted with the economy", while Labour's Brendan Howlin said a hung Dáil "risked a second economic crash in this country".
The Fianna Fáil leader said the charges "smacked of extraordinary arrogance".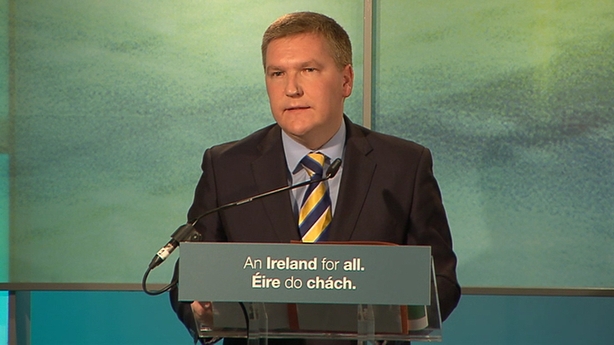 Speaking at a press briefing in Dublin, the party's finance spokesperson, Michael McGrath, said it was vital that legislation be put in place to protect bank customers, through the introduction of "enforceable Central Bank codes of conduct".
Mr McGrath also said his party's position in relation to a possible future coalition with Fine Gael has not changed. 
He said "the people would decide whatever was in the national interest", adding that he believed Fianna Fáil is doing better than what is being suggested in opinion polls. 
Sinn Féin unveiled an election billboard which it says highlights the Labour Party's broken promises, while the Social Democrats are focusing on community banking.
Sinn Féin leader Gerry Adams has accused the three main parties of having a "cosy, smug consensus" because they fear the growth of Sinn Féin. 
Kenny's Tory fear tactics won't work.
https://t.co/0cJUvl1SP0 #BetterWithSF #GE16

— Gerry Adams (@GerryAdamsSF) February 15, 2016
Mr Adams also accused the parties of scaremongering which he said "Fine Gael have been schooled in by the Tories in London" but he said it's not getting traction. 
Later, the attention will turn to Limerick where the second leaders' debate will take place.
Mr Adams said he is looking forward to tonight's debate but his tendency is not to get involved in the Punch and Judy show. 
The leaders' debate, which begins at 9.35pm, will be moderated by Claire Byrne.