A group of protesters opposed to water charges surrounded Taoiseach Enda Kenny as he arrived at the Events Centre in Cork today.
The Taoiseach came on foot, surrounded by gardaí, as protesters accompanied him along the road, towards the old Beamish building. 
Taoiseach Enda Kenny encounters water charge protesters in Cork #ge16https://t.co/Ycjcd0oL6T

— RTÉ News (@rtenews) February 12, 2016
Mr Kenny was at the venue to perform a sod-turning ceremony along with Tánaiste Joan Burton.
Meanwhile, Labour leader Ms Burton has said that she wants to see free "full GP care for all in the term of the next government".
The Tánaiste was announcing Labour's health strategy, which will focus on community health service, with €1.5bn earmarked for the primary health care services.
Reiterating Labour's plan to increase the number of GPs, Ms Burton said: "The system is far from perfect. But there have been significant successes."
Kathleen Lynch said that if Labour returns to government, it will finish the job of introducing free GP care for all.
Ms Lynch said: "The solution to overcrowding in hospital is in primary care."
Fine Gael announced its justice policy in Cork this afternoon. 
Elsewhere, Fianna Fáil campaigned on childcare and Sinn Féin announced plans for job creation.
Fianna Fáil has published its plans to make childcare more affordable, saying it would introduce a tax credit that would make it cheaper by up to €2,000 per child.
The 'Childcare Support Credit' would cover up to 40% of a parent's childcare costs for up to €5,000 for each child.
The details of the proposals were outlined today by the party's spokesperson on childcare Robert Troy.
Social Democrats housing policy suggests setting up a Department of Housing, Planning & Communities #GE16 pic.twitter.com/ZzyPC9HuI2

— Ailbhe Conneely (@AilbheConneely) February 12, 2016

The Social Democrats launched their housing policy this morning, committing to reducing waiting lists by 10,000 per year.
The policies include setting up a new Department of Housing, Planning and Communities to bring all housing-related policy under one minister.
Regarding newspaper reports about a potential coalition with Fine Gael, Catherine Murphy said she hadn't been approached and neither had her co-leaders Stephen Donnelly and Róisín Shortall.
The Green Party launched its General Election manifesto, which sets out an investment plan for the next generation.
In keeping with the election theme "think ahead, act now", its central focus is on the new National Plan which integrates economic planning, community development and care for our environment.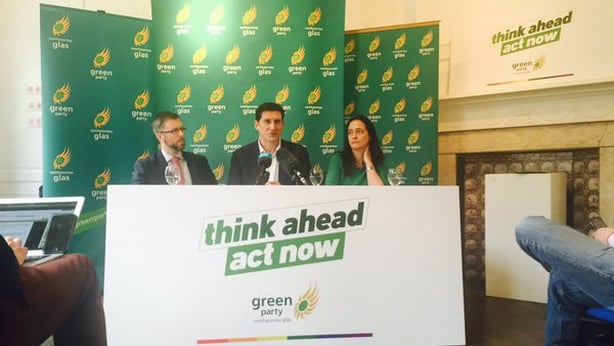 Renua Ireland leader Lucinda Creighton has said renewing towns will be at the heart of creating a more equal Ireland. 
Meath West candidate Peadar Tóibín has launched Sinn Féin's job creation proposals at the party's headquarters in Dublin.
Mr Tóibín said Department of Finance figures suggest 188,000 jobs will be created over the next five years.
The party is promising to ease the administration of the tax system for businesses and abolish upward-only rents.
The question of the party's stance on the Special Criminal Court, however, is never far from the surface.
In relation to Thomas 'Slab' Murphy's sentence hearing, Mr Tóibín said that he "doesn't have full confidence in the quality of a judgment not before a full jury" but added that he "believes in the legality of judgments without a jury".
#ge16 @Finianmcgrathtd accuses political parties of "intellectual snobbery" for
saying they won't talk to independents @rtenews

— Conor McMorrow (@ConorMcMorrow) February 12, 2016
At an Independent Alliance press conference in Dublin, Finian McGrath accused political parties of "intellectual snobbery" for saying they will not talk to independents.
A candidate for Dublin Bay North, Mr McGrath said: "There is a bit of intellectual snobbery going around from the major political parties saying they won't talk to independents."
Shane Ross added: "The purpose of this press conference is to point out that independents can work together and give great stability."
He cited the example of Australia where independents' charters "have worked over a long number of years".