Just a handful of journalists turned up for the Green Party media event on College Green this afternoon. Five years ago it was a party of government. Conor McMorrow of RTÉ's political staff asks what impact can the Greens make on Election 2016?
The Green Party stood at 2% support in yesterday's Sunday Business Post/Red C opinion poll.
But party leader Eamon Ryan is undeterred by this, saying: "We might surprise people."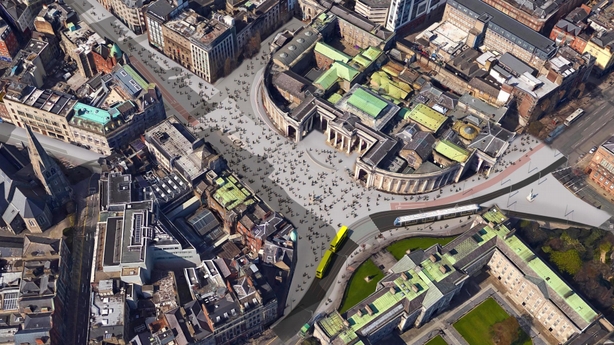 He endorsed the Dublin City Council plan to begin permanent traffic restrictions in College Green at this afternoon's briefing.
It's something he has been working on for 25 years, including in his former role as chairman of the Dublin Cycling Campaign.
He stressed the advantages of creating a calmer Dublin city centre. "Taking the cars and buses out of this section of College Green would turn this city around and create a new civic space."
The Greens also want to have the old House of Lords building taken back into public ownership from Bank of Ireland.
The plan does have its detractors but Mr Ryan has been here before.
He explained: "Every single time we have done the right thing in promoting pedestrian streets people have said beforehand that it can't work.
"It happened in Grafton Street, Henry Street, and when we changed the turning system at the bottom of Dame Street and George's Street.
"Every single time people said that it would not work. We have never gone back on any of those calls because they were the right calls at the time. Modern cities work best when you create a really good city environment."
The Greens have defied the detractors when it comes to making streets pedestrian only.
Can they walk that walk when it comes to defying the polls and winning Dáil seats?
"We are confident enough. We are on around 2-3% in the polls. In the past we have won six seats on 4% of the vote and if we can nudge that up a bit and we think we will, the election is going to be good for us. I am confident we can return some Green TDs to the Dáil.
"I hope we can take a seat here in my own constituency."
He also cited other candidates such as "Mark Dearey in Louth, Catherine Martin in Dublin Rathdown, Ossian Smyth in Dún Laoghaire, and Grace O'Sullivan in Waterford. We have loads of really good candidates. We might surprise people."
The party leader still looks best poised to take a seat.
But before that the party's attention will turn to the courts. On Thursday, The High Court will hear the party's legal challenge to the exclusion of Mr Ryan from a party leaders' debate on RTÉ on Thursday.
The party says Mr Ryan is entitled to be included in the debate, which is due to take place on Monday next, 15 February.