There is no double counting. There is no mystery. It's really simple. The net fiscal space is €8.6 billion, writes RTÉ's Economics Correspondent Sean Whelan.
This figure has not changed since last October, when it was published as part of the Budget. Nobody has obtained special information from the Department of Finance to suggest otherwise. Nobody has discovered anything new.
Fine Gael uses the €8.6 billion figure in its calculations of what might be feasible for the next government. Labour does the same. So does Fianna Fáil. So does Sinn Féin.
So why then are Fine Gael and Labour saying they will have €10.1 billion of fiscal space available?
Because since Budget day the Government has been told that a recalculation of its Medium Term Budget Objective (MTO – which is set every three years) has given it the option of running a structural budget deficit of 0.5% of GDP.
Translated into euro, this means the government could have an additional €1.5 billion of fiscal space in 2019. €8.6 billion plus €1.5 billion equals €10.1 billion – these numbers do add up.
The assumptions behind the numbers can certainly be challenged. And making a budget forecast five years into the future is fraught with danger. It is almost certainly wrong.
But you have to start somewhere, with something, to come up with a reasonable plan to get the public finances from A to B over the lifetime of a government. Otherwise you are flying blind, and will probably crash.
The planned recalculation of the MTO was flagged in the budget documentation. It was also mentioned at news conferences by ministers Brendan Howlin and Michael Noonan. It is not unexpected. It happens to all euro area states every three years.
The formal decision to allow the Government the option of a medium-term objective that allows a small structural deficit is taken by the Eurogroup Working Group, a meeting of senior finance ministry officials from eurozone states.
A formal decision is expected well before the Stability Programme update is published by eurozone states in April.
Fianna Fáil has said if it is in government it would retain the existing Medium Term Objective of a zero balance budget in structural terms. In other words, it would not use the additional fiscal space allowed under the rules for spending or tax cuts, but would use it to reduce debt. This would leave the party with a net fiscal space of €8.6 billion.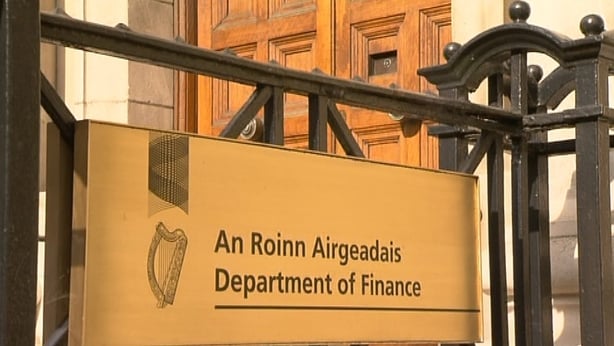 Sinn Féin is also using the Department of Finance estimate of net fiscal space of €8.6 billion. It has attacked other parties for having figures that do not add up – but it is using exactly the same figures, and is arriving at exactly the same number for net fiscal space – €8.6 billion.
This number was calculated by the Department of Finance last October, and the calculations included in the published budget documentation that has been available to everyone since 14 October, 2015.
It is still on the Department of Finance website, if you really must….
The Department of Finance calculations have been examined by the European Commission, the IMF and the Fiscal Advisory Council – which has published its own comprehensive analysis.
IFAC does not dispute the net fiscal space of €8.6 billion – but it is strongly of the view that government spending should automatically rise in line with inflation. This would reduce the net fiscal space to €3.2 billion if such a policy course was chosen.
None of the four main parties have chosen to do this. So they all stick to the €8.6 billion figure.
This means that all the parties are playing in the same ballpark. And they are playing on a pitch that has been marked out in the same way. How the space is used by the parties in pursuit of their goal (power) is the business of politics.
But the fact that they are playing on the same pitch, in the same ballpark, means the debate about the concept of fiscal space is starting to have an effect on the way politics is conducted.
It is now no longer good enough for parties to reel off a long list of plans to spend more and cut taxes without showing what they add up to, and how they might relate to the existing budget commitments.
Far from confusing people, the concept of fiscal space adds a little rigour and clarity to what passes for economic debate at election time.
The bottom line is, if everything goes as well as the Department of Finance hopes over the next five years, the next government could have a maximum of €10 billion to play around with. This is around 3% of planned government spending over that period.
If things do not go as well as hoped for, even this relatively small amount of money will not be available to pay for promises made in this election.
---
By Sean Whelan, Economics Correspondent