It started with the Irish Times/IPSOS-MRBI poll which showed a drop in support for outgoing coalition partners Fine Gael and Labour.
With the latter down to 7%, if that result is replicated on 26 February, Labour is in big trouble, writes Conor McMorrow.
There was a view within Fine Gael ranks that having reached the 30% benchmark in recent polls, the party  could tag on another 5% with a decent campaign.
Down at 28% today, Fine Gael's confidence will have taken a knock. Fianna Fáil increased its support to 21%, but the party remains at 11% in Dublin where it was decimated the last time around.
Dermot Ahern ponders the imponderable
Former justice minister Dermot Ahern has set the cat among the pigeons with his column in the Irish Daily Mail this morning. He floated the idea that Fianna Fáil should support Fine Gael from opposition on a case-by-case basis after the election.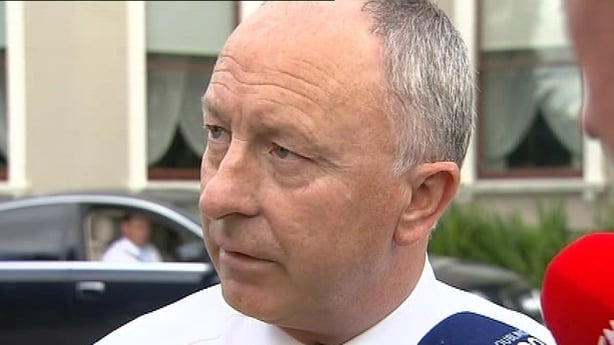 In what could be viewed as a 'Tallaght Strategy' for a new generation, he said it would be a Hobson's choice for Fianna Fáil but "might be for the right thing in the national interest".
Pondering the imponderable, he told RTE radio: "Fianna Fáil has a decision to make. Would it be better to swallow hard and go into government with Fine Gael or should they support Fine Gael in a grand coalition?"
But Fianna Fáilers were quick to dismiss Mr Ahern's column as "just one of our 20,000 members expressing his personal opinion".
Noonan warning over Fianna Fáil/Sinn Féin government
At the Fine Gael long-term economic plan launch, finance minister Michael Noonan said that the only alternative to a Fine Gael/Labour government is a Fianna Fáil/Sinn Féin government.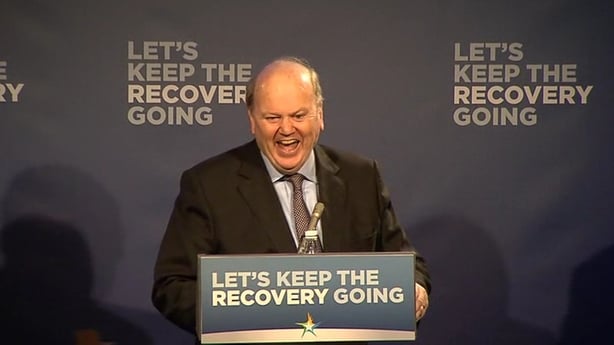 He said Fianna Fáil will say that it will never go in with Sinn Féin but added that he was around long enough to remember Fianna Fáil ruling out the PDs (pre-1989) and Labour (pre-1992).
"I don't believe that if they had sufficient numbers that they would resist the temptation of forming a government with the looser-left TDs. If that happens, Fianna Fáil has been notorious in their lack of policy development while Sinn Féin developed a lot of policies."
He warned against Sinn Féin's taxation policies and he argued that a Fianna Fáil/Sinn Féin arrangement where Sinn Féin is driving the policy "will not keep the recovery going".
The minister also made a joke at Sinn Féin's expense with a reminder of how the party aligned itself with Syriza in Greece and went over to Athens waving Greek flags.
"Those Greek flags  will be going out as spot prizes at Sinn Féin dances north and south in future," said Minister Noonan.
Fianna Fáil wants a "real rainy day fund" and warns: "This is not North Korea"
At Fianna Fáil's launch Michael McGrath labelled Fine Gael's "much hyped long term economic plan" as "back of the envelope stuff".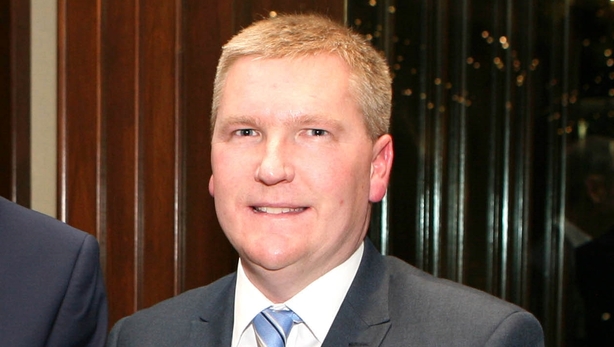 He said Fianna Fáil wants to have a real rainy day fund, adding the Fine Gael rainy day fund was merely a "slush fund".
Attacking the Taoiseach, the Fianna Fáil finance spokesperson added that it was "a sad state of affairs that the Taoiseach only took three questions during the first press conference of a campaign". He added: "This is not North Korea."
Thomas Byrne, senator and Meath East candidate, joked: "Five years ago Enda Kenny said 'Paddy wants to know'. Now he is saying Paddy can't know."
Coppinger attacks Tánaiste at AAA/PBP launch
Fine Gael and Labour are trying to "bamboozle the public with an avalanche of election pledges that they simply cannot keep". That was the message from Richard Boyd Barrett at the Anti-Austerity Alliance/People Before Profit general election launch today.
He urged people to opt for "a genuine left-wing radical alternative and leave behind a past of cronyism, tribal politics and injustice".
Socialist TD Ruth Coppinger said that one thing the grouping could confirm it was hearing on the doorsteps was the widespread sense of betrayal by the Labour Party.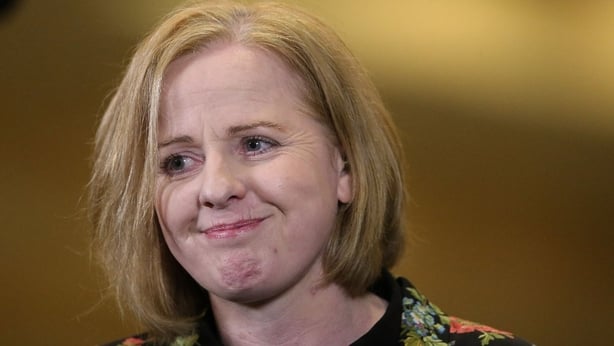 She said the party's Tesco 'Every Little Hurts' ad from the 2011 campaign was embedded in people's minds.
She noted that Joan Burton has asked people to let Labour "complete the journey". But the Tánaiste's constituency rival said working people have begun a journey and "now let's complete the journey of finishing off the Labour Party".
Ms Coppinger added that the messages of the Labour Party were "shallow and unconvincing".
She said that it could be the case where either she or the Tánaiste are returned to office. So she asked people to ensure that the Labour Party is "punished" in Dublin West and other constituencies.
It is understood that some private polling carried out in Dublin West by Fine Gael has pointed towards a battle between the Tánaiste and Ruth Coppinger for the last seat.
"Joan Burton has lost the battle in working class areas. I read in the papers yesterday that Joan Burton will be canvassing with police protection. What does that say?" asked Ms Coppinger.
Buoyed up by Labour's 7% poll showing in this morning's Irish Times, Councillor John Lyons said that this election was "the beginning of the end for the Labour Party".
There is a long history of splits in the Irish left groupings. But Socialist TD Paul Murphy pledged that this time it would be different as the AAA/PBP is a registered party in the Oireachtas. Only time will tell.
Greens warn against USC cut
Speaking at the Green Party election campaign launch, leader Eamon Ryan said a reduction in the controversial USC was not viable.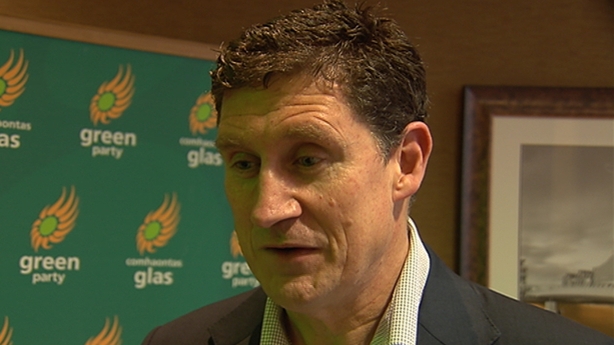 He said pledges to decrease the tax base and increase spending at the same time were "false promises".
He said the Green Party wanted to invest in housing, the health service and transport.
He added that despite numerous media debates in the past 24 hours, climate change was not raised and it was a priority for his party.
Director of Elections Ciaran Cuffe said the Green Party would campaign positively over the coming weeks.
John Bruton raises Chinese macroeconomics at Meath West FG launch
Former Taoiseach John Bruton took the "all politics is local" mantra to new levels today. He officiated at the launch of Fine Gael's Meath West campaign in Trim.
He started his speech by saying that he believed it was important that both Ray Butler and Minister Damien English are re-elected to the Dáil as part of Fine Gael's bid to win a majority government.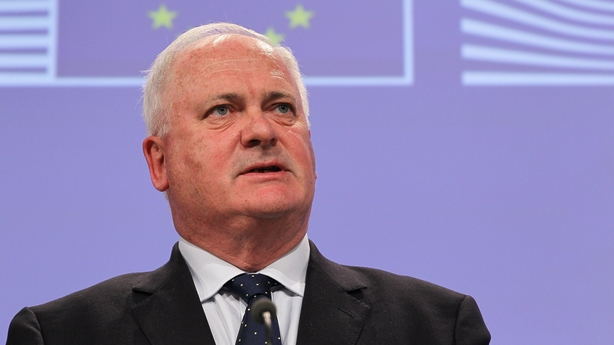 He also commended their hard work in the locality before switching his speech to macroeconomics.
He said: "The ageing of society in most of the western world, and in China, is going to put a dampener on growth prospects for countries, like Ireland, that export to those markets."
Labour two years quicker than Fine Gael in jobs pledge
The Labour Party may have had a poor poll result this morning. But its pledge on jobs is two years ahead of Fine Gael's target.
The junior coalition partner in the 31st Dáil unveiled a €2 billion plan to create a job for "everyone who wants one" by 2018 - the equivalent of 150,000 jobs, according to the party.
In recent weeks Fine Gael also pledged to create full employment, but it will be 2020 before it plans to get there.
The Labour plan unveiled today at the Boann Distillery in Ged Nash's hometown of Drogheda includes an increase in the minimum wage to €11.30 an hour and the creation of 50,000 apprenticeships.
The party is promising to protect the 12.5% corporation tax rate and reduce the Capital Gains Tax entrepreneur relief to 15%. There is also a measure to give self-employed people an earned income tax credit of €1,650.
Mathews' illness puts campaign in perspective
In the cut and thrust of an election campaign it's easy to over-emphasise the "he said/she said" nature of political spats. 
But news of Independent TD Peter Mathews' illness put things in perspective. First elected five years ago, Mr Mathews - who is seeking re-election in the Dublin-Rathdown constituency - has announced that he has been diagnosed with oesophageal cancer.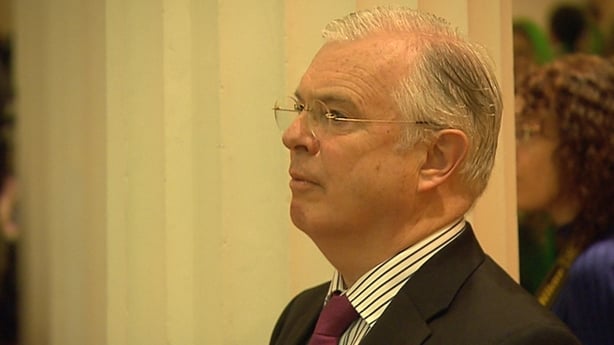 In a statement Deputy Mathews said he is to commence treatment in the next few days but will nevertheless be contesting for his seat in the election. He said he expects to be back in full health and "remains committed to representing his constituents".
Today was a good day for: Fianna Fáil. Up two points to 21% in this morning's poll, the party believes this broadly reflects what it is hearing on the doorsteps.
Today was a bad day for: The Labour Party. Sitting at just 7% in the Irish Times poll does not bode well for the party. Candidates will be hoping that the reality is closer to last weekend's Sunday Business Post/Red C poll which placed Labour at 10%.
---
By Conor McMorrow of RTÉ's Political Staff