The famous US political campaign mantra that "It's the Economy, Stupid" was the clear message from Taoiseach Enda Kenny at Fine Gael's first press conference of Election 2016.
Like the party's Ard Fheis two weekends ago, Mr Kenny kept repeating the message, "Let's keep the recovery going", writes Conor McMorrow of RTÉ's Political Staff.
He warned that "the recovery is fragile" and said that his party is about "giving people solid foundations to build their businesses, their lives and particularly, for their children's lives".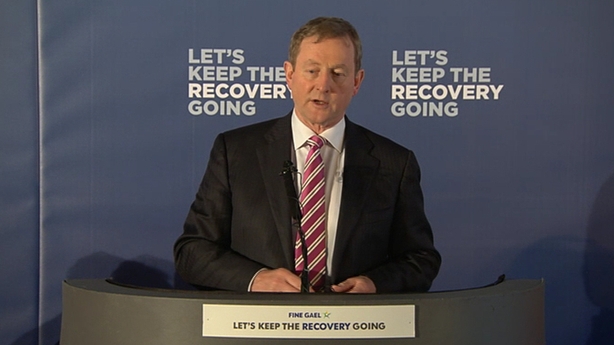 He said that Fine Gael's independently-costed long-term economic plan, offering people stability, will be published tomorrow and will help "to keep the recovery going".
In a clear indication of how Fine Gael is going to fight this three-week campaign, the Taoiseach said that "now is not the time to gamble with a recovery that is fragile".
He said that the election is framed around who is best placed to keep the economy recovering and pledged there would be "no return to boom and bust".
Earlier at the Labour Party event, in its plush new campaign headquarters on the seventh floor of the Bloodstone building in Dublin's "Silicon Docks", Minister for the Environment Alan Kelly used the other favourite Government phrase – "fiscal space".
So good is the recovery, he told reporters, that we were in "a negative fiscal space and now we are in positive fiscal space".
He also pointed out that political opponents are talking about the recovery but said "it's our recovery. It was through the work of the Government that this fiscal space is there".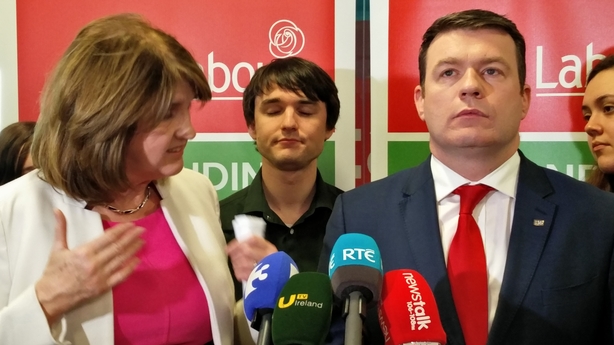 Tánaiste Joan Burton was asked about her relationship with deputy leader Alan Kelly and who is really the boss. 
The Tánaiste asserted her authority and said she is the boss, before adding, "he's an incredibly obedient employee".
---
By Conor McMorrow, RTÉ Political Staff