A senior researcher on the study of electoral systems has said that the chosen day of the week to hold an election makes almost no difference to voter turnout.
Dr Stephen Quinlan, Manager of the Comparative Study of Electoral Systems Project at the Leibniz Institute for the Social Sciences in Germany, said there was "very little difference" between the turnout for elections held in 1992 (68%, held on a Wednesday), 2002 (63%, Friday) and 2007 (67%, Thursday).
Speaking on RTÉ's Morning Ireland, he also said there is "no evidence to suggest that longer polling hours make a difference either".
He explained: "Ireland is one of the countries in the world with the longest polling hours but, if you compare us to New Zealand and Norway which have shorter polling hours, the turnout is very much the same.
"The factors that do make a difference are age, education and interest."
On the effectiveness of canvassing, studies show that "the reality is, if you have an interaction with a canvasser or candidate you're substantially more likely to vote," according to Dr Quinlan.
He added: "Younger people do vote less, older people vote more. You also see people who have higher levels of education voting more and you also see people with more levels of political interest voting more.
"They're the kind of three key factors that explain voter abstention and voter turnout."
Listen to Dr Quinlan's Morning Ireland interview here...
No political platforms on the platform - train chiefs
The Corporate Communications Manager at Iarnród Éireann has said they are "happy to facilitate canvassers" - just so long as they remain outside the station entrances.
Barry Kenny said: "It is important that commuters are not negatively affected during the election campaign and canvassing on the platforms will not be permitted."
He described the train station as "the modern church gate", meaning rules and regulations are in place for canvassers.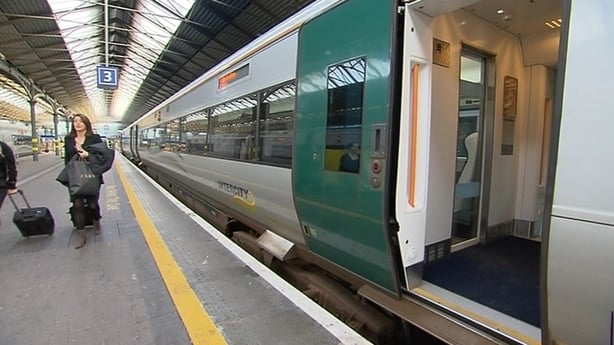 Mr Kenny insisted that candidates are "broadly very good at obeying these rules".
Mr Kenny told Morning Ireland that free-standing signage is allowed so long as canvassers remove it when they leave but warned that leaving posters on fencing or in car parks is forbidden.
He added that signs hung on railway bridges will be removed.