The Dáil has passed a motion of confidence in Tánaiste and Minister for Social Protection Joan Burton by 81 votes to 32.
The Government tabled the motion of confidence in response to a motion of no confidence put forward by the Independent Alliance following the appointment by the Tánaiste of David Begg to the position of Chair of the Pensions Authority.
There were fiery scenes in the Dáil as deputies debated the motion.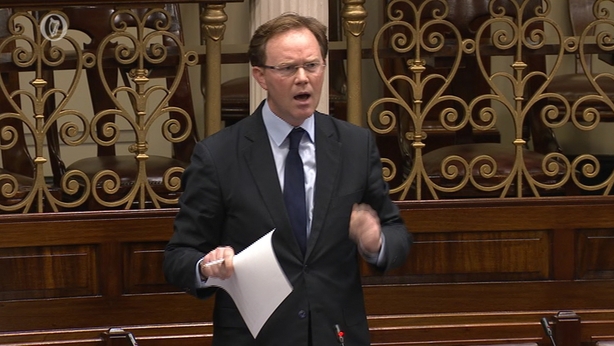 Labour TD for Kerry North-West Arthur Spring told the Dáil that Independent Alliance TD Shane Ross had sought the appointment of one of his "cronies" to a position.
Mr Spring said it would have been incredible that Mr Ross would have made an appointment, and he asked Mr Ross to name the person in the House tonight, otherwise he would name the person tomorrow.
He said that Mr Ross had just seen his own bomb blow up in his own face.
Mr Spring added that he did not think there was a single member of the public who has a problem with the appointment of Mr Begg.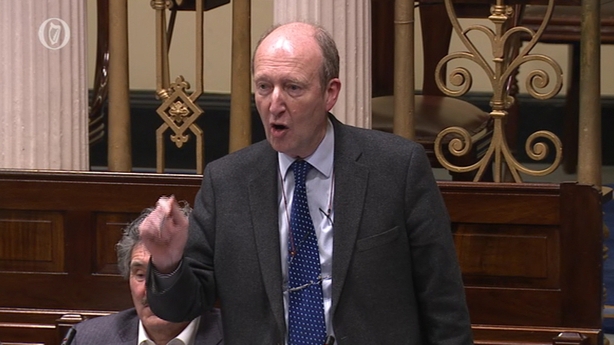 Mr Ross told the Dáil that he has suggested names of people as an alternative to cronyism and he would not be naming them in the House.
Mr Ross said he has frequently been asked to make suggestions about people who should be appointed.
He said that was because he has "been such a critic of the cronyism".
He said: "I am not ashamed of it but I am not going to name them all here tonight at the whim of Mr Spring."
Deputy Ross said they are on the record.
"What I have done is suggested names as alternatives to the cronyism and I will continue to do that because that is my job."
He said the debate is not about Mr Begg, but asked what divine right he has to bypass the process.
He said it is because he is a supporter of the Labour Party.
Mr Spring this evening said he is satisfied with Mr Ross' comments that he had suggested names of alternative people for semi-State bodies.
Opposition critical of Burton's record
Earlier, Sinn Féin TD Aengus Ó Snodaigh said the Labour Party may win the vote of its peers but in the eyes of the public it and the Tánaiste are guilty.
He said to use a ministerial secret clause to bypass an appointment to a State board in the dying days of a Government strikes at the very cronyism that she and Labour objected to.
Sinn Féin Deputy Leader Mary Lou McDonald said the Tánaiste looked after those closest to her, the elite.
She said Ms Burton partakes in the same old parish pump politics, her last hurrah, looking after Labour's interests.
Ms McDonald said what the Tánaiste did was just plain wrong and sends out the wrong signal.
Minister for Public Expenditure and Reform Brendan Howlin said Mr Begg's appointment has been welcomed by IBEC.
He said Mr Ross is the "arch hurler on the ditch" and the original advocate of wreckless capitalism.
Deputy Joe Reilly said Mr Spring's remarks to Mr Ross reminded him of the line let he who is without sin cast the first stone.
He said we should look at the record of the Tánaiste in government.
He said that is what will be assessed by people outside this House rather than cynical posturing.
Minister of State Ged Nash said Mr Ross has never let consistency get in the way of noisy guff.
He said this man is also on record as calling businessman Sean Quinn a genius.
Labour TD Michael McNamara objected to the charge that the appointment of Mr Begg to the Pensions Authority was carried out under a secret clause.
He said it was anything but. He said if you are going to headhunt without going through the public appointments then be open about it, which is what happened in this instance.
Independent TD Clare Daly said she had no choice but to contribute to the debate on behalf of the 15,000 people in the superannuation scheme in Aer Lingus.
She said people were gobsmacked when they heard Mr Begg was appointed.
She outlined details of a number of letters to Mr Begg when he was head of the Irish Congress of Trade Unions during the Aer Lingus pension talks.
She said the trade union and Mr Begg did nothing and that is his record.
Socialist/AAA TD Ruth Coppinger said Mr Begg retired in March and the Tánaiste gave the eulogy.
She asked what kind of cronyism is that - you appoint one of your own.
Minister of State Kathleen Lynch said Mr Ross had made scathing attacks on people in Aer Lingus.
Ms Lynch said the motion should never have been brought.
Independent Alliance TD Michael Fitzmaurice said this debate had come about because of cronyism.
He said the Tánaiste could not say that you made the appointment for the people. He said it was political cronyism.
Deputy Michael Healy-Rae accused the Tánaiste of being a hypocrite.