Sinn Féin Ard Fheis to coincide with 1916 centenary
Monday 18 January 2016 21.28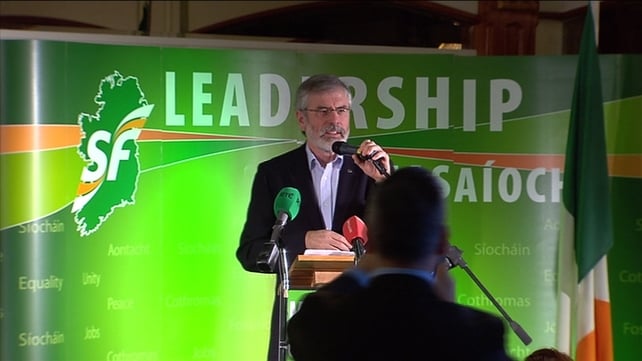 The Sinn Féin Ard Fheis will take place after the general election with Gerry Adams expected to deliver his televised leader's address on 23 April.
The keynote address at the conclusion of the conference coincides with the eve of the 100th anniversary of the beginning of the 1916 Easter Rising.
Fianna Fáil held its Ard Fheis last weekend at Dublin's Citywest Hotel and the Fine Gael party will have its conference at the same venue this Friday and Saturday.
The Labour Party conference takes place in the Mullingar Park Hotel the following Saturday, 30 January.
Taoiseach Enda Kenny has said he has decided a date for the election but he has yet to share it publicly.
The conventional wisdom in political circles suggests the Taoiseach will dissolve the Dáil in the week after the Labour Party conference, most likely on 2 February, with the election then taking place on Friday 26 February.
Sinn Féin had originally earmarked a date in early February for its Ard Fheis, but it postponed those plans amid fears it would be "gazumped" by the Taoiseach calling the election.
Although the party will not get its allotted half hour of Saturday night television scheduling for the party leader's speech before polling day, party sources are delighted that the televised speech will now coincide with the centenary of the beginning of the Easter Rising.
Sinn Féin was in discussions with RTÉ about the date for its televised leader's address in recent days.
A party spokesman confirmed to RTÉ News this morning that the conference will take place in the Convention Centre on Friday 22 April and Saturday 23 April.
"This Ard Fheis comes at a highly significant time for our party. We will also be having a reading of the Proclamation and some pageantry in front of the GPO on the anniversary - Sunday April 24.
"The Fianna Fáil Ard Fheis at the weekend was just a media event. Our Ard Fheis will have motions from the floor and election of officers unlike what happened at Fianna Fáil's event."
The spokesman also pointed out that the party Ard Fheis takes place just before the Assembly elections in Northern Ireland on 5 May.