Five members of the Oireachtas Committee on the Eighth Amendment, whose report the proposed Government legislation in an event of repeal is based have said the referendum is not about whether people want abortion in Ireland, because it is already in every county. 
The group were speaking at Together for Yes headquarters in Dublin, which was highlighting the number of women from each county in Ireland that have travelled to the UK for abortions between 2012 and 2016.
The Oireachtas representatives welcomed scrutiny of the proposed legislation by the Government, which was based on the Committees findings.
Committee Chairperson Catherine Noone said people want facts and information, and she said "scaremongering" is not helpful.
Fianna Fáil TD Billy Kelleher said the Oireachtas Committee substantially amended the Citizens' Assembly recommendations. 
"The Citizens' Assembly made a recommendation on 24 weeks, we looked at all the evidence but we felt 12-weeks was more appropriate to Irish society and the complications there in", he said. 
Sinn Féin TD Jonathan O'Brien said evidence around abortion pills was a determining factor in his change of view on the issue. 
He said he did not know what an abortion pill was before he sat on the Committee, and his two daughters aged 18 and 15 who knew more about them than he did, which he described as "fightening", he said. 
Labour's Jan O'Sullivan, who canvassed against the insertion of the Eighth Amendment into the Constitution in 1983, said if it is retained Ireland will remain where it has been since 1983, unable to intervene in difficult and personal circumstances. 
Fianna Fáil Senator Ned O'Keefe said abortions are not happening to a particular cohort of women. He accused the no side of ignoring people involved. "It's your neighbour, it's your friend, it's your cousin - all social classes of people".    
A short time later a number of psychiatyrists who are campaigning for a No vote held a press conference in Dublin city centre and described the use of the word "healthcare" for women by the repeal side as "misleading". 
In a letter, signed by 23 other psychiatrists, Professor Patricia Casy, Dr Martin Mahon and Dr Anne Doherty say that after 12 weeks, the proposed Government legislation will conform closely to the law in the UK, where a health ground must be offered as a justification for abortion, before and after 12 weeks which can be physical or mental.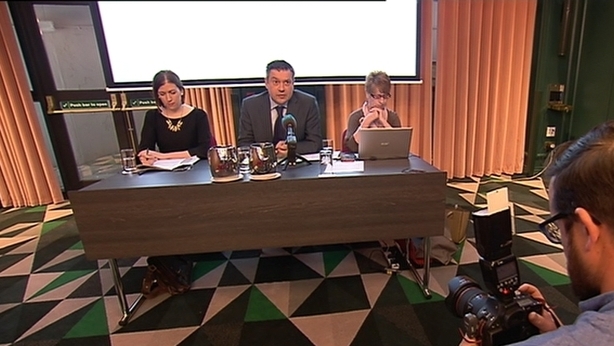 They say the so-called "mental health ground" concerns them because official UK statistics show that 97% of abortions occur under that ground.
Consultant Psychiatrist Dr Anne Doherty said in the case of repeal there "probably would be a role for teasing the mental health grounds out further", however she said in the heads of bill, from the 12-week period up to viability, needs the signature of an obstetrician and another doctor with no specification who that will be. 
"Someone who presents from 12-24 weeks of pregnancy who has mental health problems that are causing difficulty and distress should be treated and mental health problems as a term is extremely vague", she said. 
She said mental health problems is anything from mild stress upwards in the UK.
Professor Casey who initially accepted an invitation to give evidence to the Oireachtas Committee on the Eighth Amendment but later cancelled said she would have been a "fig leaf" for members to justify a claim that they had listened to pro-retain people and rejected their views.
"I wasn't going to be a ruse or fig leaf for anybody", she said. 
Considering the proposed legislation is based on the Oireachtas Committee's findings she was asked whether she had done a diservice to the public by not giving her evidence to the committee, however, Professor Casey said she was was in no doubt that her evidence would have been ignored.

Also this morning, the Association of Papal Orders, membership of which is confined to just over 80 lay women and men who have been conferred with a papal award in recognition of their service to the Catholic Church and society, issued a statement opposing the removal of the Eighth Amendment from the Constitution. 
The statement says repeal will create a "slippery slope" mandating legislators to "make it legal that only some unborn children will be entitled to the right to life".
The group concludes that rejecting abortion commits to offering real supports and real alternatives to pregnant women and fathers.
"In standing by the most weak, the most helpless and the most powerless among us, staves off, rather than enables the creation of an abortion culture that will only diminish all of us as a society", it says.
Claims over voter registration being examined
Minister for Housing, Planning and Local Government has said his department is examining reports that French students were incorrectly registered to vote in the forthcoming referendum. 
Independent TD Mattie McGrath said he had received "confirmation" that French students at university in Galway were "added to the referendum voting register despite being ineligible and despite having made no request to be added to the register of electors".
Mr McGrath claimed "the integrity of the register, and the integrity of the referendum is being challenged".
He called for an investigation to be carried out.
Minister Eoghan Murphy said a number of things have been claimed about people being "put on the register or taken off the register" but not all the claims were true.
"We have to be careful about spreading fake news on social and traditional media, but we are looking at the matter at the moment" he said.