State education authorities have sought to disassociate themselves from a group purporting to represent parents in ETB-run secondary schools which has been promoting meetings that oppose a new State Relationships and Sexuality programme.
The Department of Education and Education and Training Boards Ireland (ETBI) have told RTÉ News that they do not fund or recognise the ETB schools National Parents Association (ETBSNPA).
ETBI has also said that the group does not represent parents at its schools. However ETB Schools NPA has disputed this, telling RTÉ News that it does.
In recent weeks, the group has advertised on social media platforms a meeting billed as a 'Parents information evening' on changes to the school Social, Personal and Health Education (SPHE) curriculum.
The posts have implied that the meeting is a nonpartisan one, organised or supported by a parents' association.
However the meeting, which took place in Dublin last night, was in fact organised by a Christian fundamentalist group which strongly opposes the teaching in schools of issues to do with relationships, sexuality and issues such as gender identity.
Earlier this month, ETBSNPA advertised another meeting called 'The Development of Trans Theory in schools, what parents and teachers need to know and what they can do about it'.
The organisation states that it represents parents in all of the country's 271 ETB second-level schools and "provides support and guidance...by offering training and updates on educational matters".
However, Education and Training Boards Ireland said that it stopped funding ETB schools NPA three years ago, that it no longer has any affiliation with it, and that the organisation does not represent parents in the sector.
ETBSNPA President David O'Gorman said that the organisation continues to represent parents across all ETB schools. The group's social media pages feature photos of its president and deputy president along with prominent members of Education and Training Board Ireland.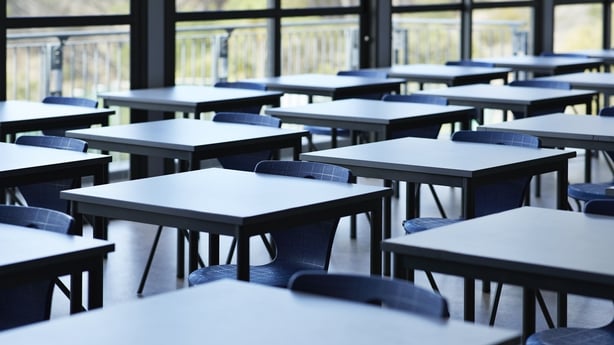 There are 16 Education and Training Boards across the country. The sector accounts for more than one third of all post-primary schools here. Most ETB schools are registered as multi-denominational in ethos.
Advertising last night's meeting, the ETB schools NPA stated that it was "aimed at parents who have concerns surrounding the new SPHE curriculum".
ETBI General Secretary Paddy Lavelle said that ETBI "does not share those concerns".
Mr Lavelle said "ETBI fully endorses the NCCA's revised SPHE curriculum as it is in line with our ethos as state, co-educational, multi-denominational schools underpinned by the core values of excellence in education, care, equality, community and respect".
He went on to say that "the ETB Schools' National Parents Association (NPA) is not recognised by the Department of Education as a representative body for parents of children attending ETB schools. The official body, recognised by the Department of Education, that represents parents of children attending ETB schools is the National Parents Council (NPC)".
Mr O'Gorman, who sits as a parents' representative on the Board of Kildare and Wicklow ETB, said that he was "taken aback" by this statement. "We are made up of the 32 parents' representatives on ETB boards. We represent all ETB parent associations," he said.
Asked by RTÉ News why ETBSNPA had advertised a meeting organised by a group that strongly opposes teaching many aspects of relationships and sexuality in schools, Mr O'Gorman said they had done so "because the topic might be of concern to parents".
He declined to say whether or not the organisation supported or opposed such teaching in schools.
Mandatory for schools to provide SPHE
A revised Social Personal and Health Education programme has this year been introduced in second-level schools for students in First Year. For the first time the curriculum addresses matters related to consent, gender identity and the influence of pornography.
Mr O'Gorman said ETB schools NPA believed that parents needed more information about the new programme. Asked his own view of the new curriculum he said he knew nothing about it because he had not had the time to look at it.
The new curriculum seeks to educate young people on the negative influence that pornography can have on behaviours and expectations. It also seeks to "fully integrate and reflect LGBTQ+ identities, relationships and families" across its teaching. While it is now mandatory for schools to provide SPHE, parents are free to opt their children out of any such classes should they wish to.
The new programme was developed by the National Council for Curriculum and Assessment and has been approved for use in schools by all of the main bodies involved in education here including the teacher trade unions and Catholic school management bodies.
Mr O'Gorman claimed that parents had not been consulted about its development.
However the NCCA ran an extensive public consultation process lasting four years, during which parents, students, and teachers engaged in focus groups and surveys. Forty-two written submissions were received as part of the consultation, from groups expressing a wide range of opinions.
On its social media pages, ETBSNPA advertises its connection with children's charity Barnardos.
Barnardos has confirmed to RTÉ News that last year it delivered a series of parenting webinars to the group.
It said that it "has no association or affiliation with any meetings being held regarding the SPHE syllabus in schools".
As well as looking at matters related to sexuality and gender, the new SPHE programme also addresses a wide range of other issues of importance to teenagers, such as substance abuse, fostering self-confidence, and young people's legal rights.
The Education and Training Boards begin their annual conference in Cork today. Mr O'Gorman said representatives of the ETB schools National Parents Association would be in attendance.