Student representatives at the country's largest university, UCD, have said the student accommodation crisis is now an "emergency", that the system has reached breaking point, but that the Government is not treating it with the attention and concern it requires.
As the country's colleges reopen for a new academic year, students attending UCD Freshers' Week events have described how they have already lost hope of finding anywhere to stay.
Second-year student Asia Fontanarosa spent much of last year homeless, couch surfing between the flats of various friends. She describes moving from place to place for weeks on end with all her belongings in a rucksack and a wheelie suitcase.
Late one night last year, when her arrangement for that night fell through, she went to the UCD library and contemplated finding somewhere to hide there to sleep. Fortunately, after texting friends one stepped in and invited her to come to her home for that night.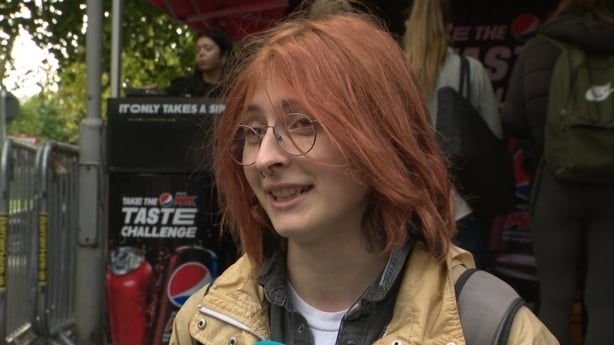 This year again, Asia has been searching for a place that she can call her own. She says 50 applications have yielded just three viewings. She describes long queues and little hope.
"My hope for finding an apartment or accommodation is really low," she says.
"I believe it's going to take me a few months."
When asked what she is going to do, she laughs and sighs.
"That's a good question," the student from Italy says, but she doesn't have an answer.
"Doing university like this is really not what I expected," she adds.
Ilaria Botros is also from Italy and also finding it impossible to find accommodation in Dublin. Beginning first year at UCD this week, it's the first time she has left her home and her family to live as an independent young adult.
Ilaria says no one even answers the emails she sends out in response to ads for accommodation. She even emailed churches to ask could she sleep temporarily on their floors, and one church told her that it was not the first such query it had received.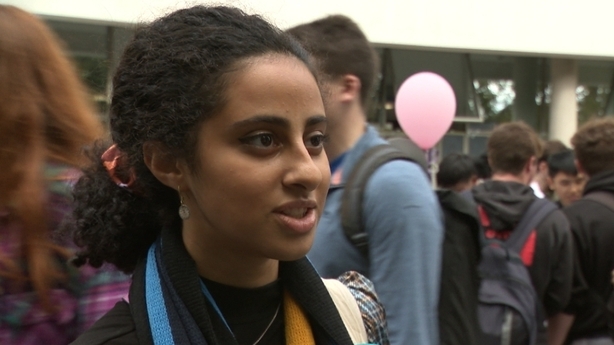 Ilaria has found a room in a home temporarily, granted to her "as a favour" (she is still paying rent for it) until 13 October. But again, when asked what she is going to do after that, her answer is the same.
"It's become kind of hopeless. The whole experience has put a real dampener on my college experience."
"I don't know. I don't know. I just don't know," she says.
"I didn't expect it to be like this. It's stressful because I cannot concentrate on university," she adds.
Mingling among students gathered outside the UCD Students' Union building, others talk about their "nana's", their granduncles, and other relations who have stepped in to offer a room.
It is far from ideal, and often the room is at a considerable distance from UCD, but at least it is a room.
Others speak of commutes that seem impossible.
The societies' tent is bustling with curious students and college societies attempting to entice them to join up. One Catholic society is offering a "free dinner" every Monday to members.
At the Harry Potter society stall Emma Coffey tells me how it takes her two hours each way to commute to college every day from Navan. She has to take two buses. To make her 9am lecture she has to get the bus at 6.40am and that means getting up at 5.30am in the morning.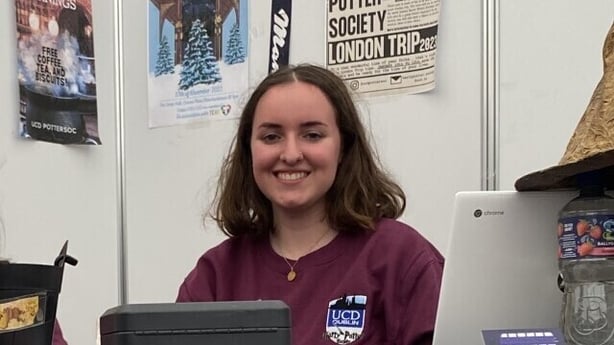 "I'm trying to make the most of it, but I'm exhausted most of the time," the final year student says.
"It is taking its toll and I can see the difference between me and the people who live on campus or just closer to UCD and only have to take one bus maybe. There's just a difference there."
Talking to these students it is impossible to forget that they have all also had their educational and social experiences of the past two years greatly marred by pandemic restrictions. And now this is their lot.
"I often think about moving to another country, because doing university like this, it's not what I expected, and it's not what I want."
Tyler Murphy also spends two hours each way commuting daily to college. In his case the commute is from Enniscorthy. Both Tyler and Emma have been forced to commute because they cannot hope to be able to pay for rent in the capital.
"I've been saving but the more I save the higher prices go," Tyler, also in his final year, says.
"It's become kind of hopeless. The whole experience has put a real dampener on my college experience.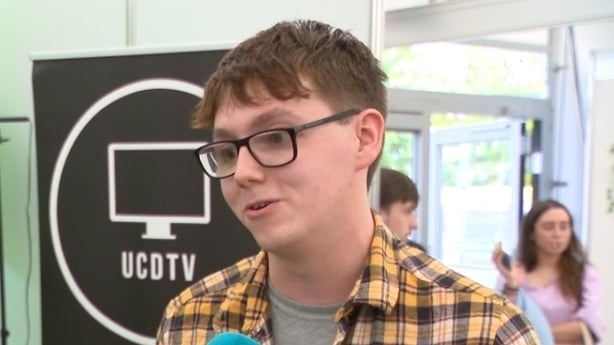 President of UCD Students' Union Molly Greenough says the situation has reached breaking point. She says it is an emergency but the Government is not treating it as such.
The union requested a meeting with housing minister Darragh O'Brien but said he turned them down.
"We were told his diary is booked up for the next few months, and that anyway it was the Minister for Higher Education Simon Harris's remit."
Molly Greenough disagrees. She is adamant that the student housing crisis is part of the wider housing crisis and as such is definitely a matter for the Minister for Housing. She sees Mr O'Brien's refusal to meet as evidence of the Government's disengagement with the issue.
Asia too worries that the crisis facing students is being "normalised".
"People like me, living in this situation, are unheard. We don't really have a proper voice because this problem has been normalised by Irish society.
"There doesn't seem to be anything happening to resolve it. I often think about moving to another country, because doing university like this, it's not what I expected, and it's not what I want," she says.
The housing charity Threshold has a stand at UCD's Freshers' Week. It advises on tenant rights once they have found a place to live.
Staffing the stand, Dagmar Himler says students like Asia or Ilaria who are getting by, bunking in with friends and moving from place to place, may not realise it but they are technically "homeless".
She says that over the coming weeks many of those temporary arrangements will come to an end as goodwill runs out, and then those students will face even more difficulty.
What will happen to those students then?