The Association of Secondary Teachers in Ireland has said it will ballot its members next month on possible industrial reaction.
Earlier, the Irish National Teachers' Organisation said it would also ballot its members on potential strike action "unless the Government [puts] a respectable pay offer on the table".
Both unions are recommending that their members mandate them to utilise all options up to and including strike action in order to secure pay rises.
The Teachers' Union of Ireland said its Executive Committee will meet tomorrow "and as we have previously stated, it is expected that we will ballot members in September on either a revised pay offer or on a co-ordinated public service campaign designed to achieve such an offer".
The teachers' unions comments follow a decision last weekend by the Unite trade union to ballot its public sector members on possible industrial action in the wake of rising inflation.
It comes after SIPTU last month said its members across the public service will commence a consultation exercise in advance of ballots for industrial action.
The Standing Committee of the ASTI today said its ballot will form part of a "coordinated campaign by public sector unions in the context of continuous high inflation and the failure of Government to make a sustainable offer at Workplace Relations Commission (WRC) discussions".
ASTI President Miriam Duggan said teachers and other public sector workers are trying to cope with hefty cost of living increases.
"A significant improvement in pay is essential to help offset spiralling inflation," she said.
"Teachers in common with other public sector workers are finding it difficult to make ends meet.
"It is very disappointing that the Government is showing such scant regard for public servants in light of all they contributed at the height of the pandemic."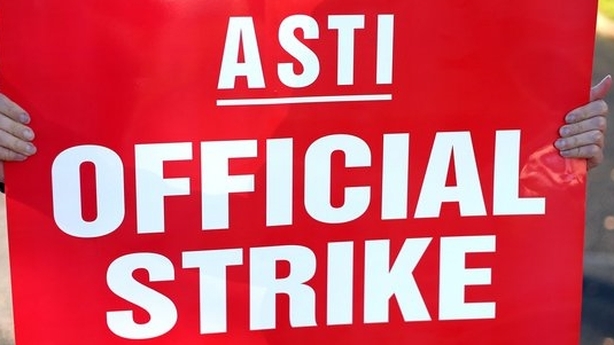 She added: "The Government must return to the WRC with a credible proposal for unions and their members to consider."
Meanwhile the Central Executive Committee of INTO has also decided to initiate a September ballot of all its members for potential industrial action.
Following the decision, INTO President John Driscoll called on the Government to "urgently return to negotiations with a respectable pay offer that unions could put to a ballot of their members".
He added: "This is never a decision a trade union takes lightly, and we are mindful of the disruption and distress industrial action can unfortunately cause members of the public we work with day in, day out."
The union stated: "As a member of the ICTU Public Services Committee, the INTO has supported efforts under the review clause of the Building Momentum agreement to secure a necessary pay uplift for public sector workers.
"This uplift is essential in light of skyrocketing inflation and the cost-of-living crisis.
"The union expresses its profound disappointment that the WRC talks process has stalled for the last two months, despite frequent statements from leading Government figures on the need to provide a pay increase for hard-pressed public servants.
"The union will be advocating that members respond positively [to the ballot], thereby mandating the union to utilise all options up to and including strike action in order to secure a fair pay rise.
The INTO said the 2.5% pay increase offer by the Government for 2021 and 2022 "would not provide sufficient protection for public sector workers, whose incomes have been decimated over the last 18 months".
It said its union members have only received a 1% increase in salary since the current agreement commenced in January 2021 – with Irish inflation rising by more than 10% in the same period.
"It will therefore be necessary for the union to begin the process of balloting our membership for industrial action, unless the Government increases its offer significantly in short order," it stated.
Meanwhile TUI General Secretary Michael Gillespie said: "Inflation has spiralled in the months since the review clause of the current public service pay deal was triggered.
"Any proposed pay increases must appropriately address the resulting severe cost-of-living crisis that is affecting society.
"Separately, for those teachers appointed since 2011, this cost-of-living crisis has been exacerbated by the pay discrimination that has seen them paid at a lower rate than their colleagues for carrying out the same work.
"The remaining elements of this pay discrimination must be resolved as a matter of urgency."