A notice pinned to a door post in the corridor of a Cork city school stopped me in my tracks last August.
RTÉ News was at Coláiste Éamann Rís to film and talk to some of the school's 140 new first years. The notice read "shared toilets".
This was a first for me; gender-neutral toilets, and in a Christian Brothers school no less.
It is three years now since Coláiste Éamann Rís went co-educational and the move has transformed this disadvantaged inner city, once boys-only, school.
By 2018, with just 260 students enrolled, the school was facing closure. But this year, Coláiste Éamann Rís has received almost that same number in applications for first year places alone.
It is now turning children away. Out of 250 applications, the school has only been able to make offers to 120 students for next year.
Coláiste Éamann Rís's shared toilets are symbolic of how this school has been transformed.
A symbol of its journey is a letter, written in pencil on a page of school copybook, and sent to the school in 2017 by nine-year-old local girl, Megan Hurley.
Megan's letter helped prompt the change that saved this school. "I think you should make Deerpark into a mixed school," she wrote (the school used to be called Deerpark).
"I want to do woodwork and hang with my cousins and family please write back (sic)."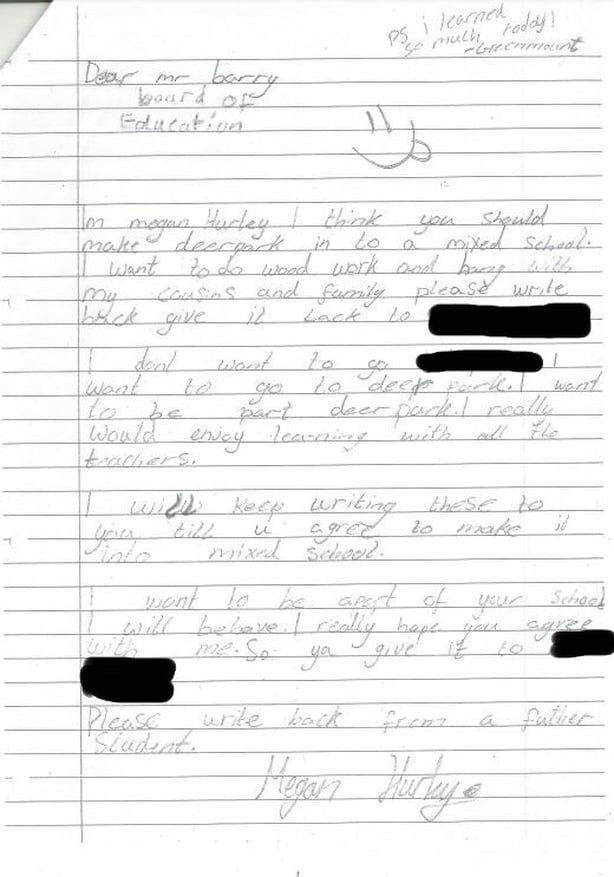 Coláiste Éamann Rís had already begun exploring the idea of going co-educational. Primary schools were telling staff at the school it was what parents in the city wanted, especially parents who had come from abroad.
In 2019, the school took the plunge and 12 girls enrolled that first year, among them Megan. The number of boys enrolling rose significantly too. That year CER saw its overall enrolment rise by 20%.
The following year, enrolment rose again, by 16%, and the number of girls attending rose to 108. Since 2019, the school has now grown by an incredible 73%.
Department of Education data on enrolments reveals a very different picture at single-sex schools nearby.
At a time of rising demographics in the post-primary school-going age group, the all-girl Presentation Secondary School in Ballyphehane, another DEIS school a ten-minute walk away, has seen its enrolment fall over the same period, from 252 in 2018 to just 191 now.
That's a fall of one third in three years. According to Department of Education data, just 20 girls enrolled in first year there in 2020. The school's figures for first year enrolment this year are not yet available.
At the nearest boys-only school, Coláiste Chríost Rí, enrolment has been dwindling too. Department of Education data shows its numbers have fallen by 11% since 2018.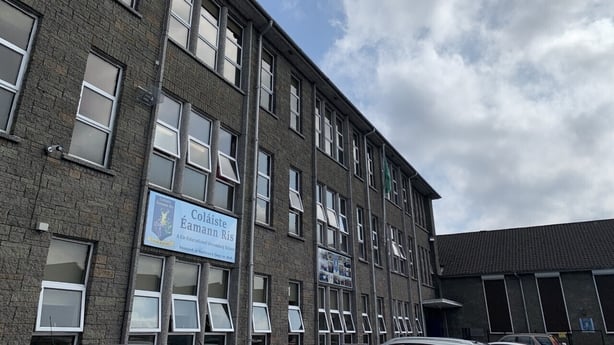 But Coláiste Éamann Rís is growing. This year it enrolled a total of 140 first years - an even mix of girls and boys, from 30 different primary schools. Ivy Boland is one of them.
"We didn't want her to go to a single-sex school and she didn't either," Ivy's father Sam said.
"There was a girls' school right across the road from her (mixed) primary school, but she was absolutely adamant that she did not want to go there."
Among the limited number of mixed schools they could consider, CER was the closest, but more importantly it was the one that felt right too.
"It just had that sort of hands-on progressive feel to it. We liked the fact that it had recently changed from single-sex to mixed. That was a big leap to take."
Ivy's parents were also impressed by a successful campaign the school ran two years ago, to prevent the deportation of three of its students and their past pupil brother.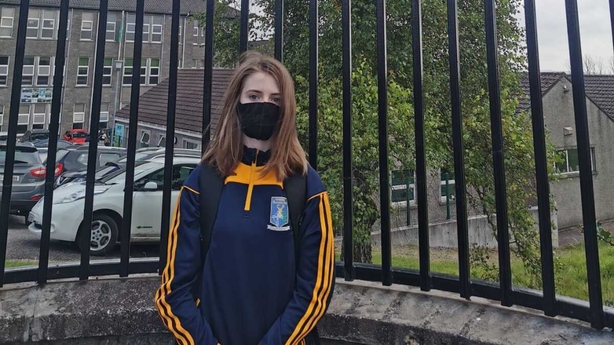 Ivy and her parents are not religious, but the fact that Coláiste Éamann Rís is a Catholic school "wasn't a huge issue", Sam said.
She has settled in and made friends, with girls and boys, and some kids who are non-binary. "It's really nice and lovely. All the teachers are really nice," she said.
Ivy reckons a girls-only school "would get a bit boring. I get along with both genders".
Sam looks on and contrasts his daughter's schooling with his own. "To me, in secondary school, girls were almost an alien creature and when I see Ivy and her mates, it's a lot more progressive," he said.
With the recent discussion of male violence towards women following the killing of Ashling Murphy, Sam feels very strongly that the benefit of mixed schooling, and progressive schools, is huge, not just for his own daughter but for boys too.
"They have tampons and sanitary towels in those gender-neutral toilets, and that's great for the boys, as well as the girls, they just have to get used to it. It's great for all of those boys who go to that school." (The school also has single-sex toilets).
'Go for it'
School Principal Aaron Wolfe said they were simply responding to a gap in the market. Despite growing demand from parents, there was no mixed English-language Catholic school in the south side of the city.
The situation is similar in many city and older suburban areas across the country.
While the majority of schools in towns and rural areas are now mixed, in these settled urban areas the old style single-sex religious run schools still prevail - the old Christian Brother, Loreto, Mercy and Presentation schools that this generation of teenagers' parents, grandparents and great-grandparents attended.
Many of them are DEIS schools and they provide the highest quality education and supports for their students. But their enrolments are falling or stagnant.
Aaron Wolfe says the decision to go co-ed is the best decision that his school ever made.
To other schools considering such a move he says "go for it". The step has led to profound and far-reaching change.
"It has changed everything, the culture, the ethos, the way we operate. This school was always an amazing school but this has re-energised us all. It has allowed us to reflect on how we teach, how we treat people."
Coláiste Éamann Rís has kept Megan's letter. There is one other line that jumps out from it.
"I will keep writing to you till you agree", she says determinedly. Just like Megan, the demand for mixed schooling, and things like gender-neutral toilets, is not going away.