The General Secretary of the ASTI has said there would be "a number of problems" associated with a hybrid Leaving Cert model this year.
His comments came after an online survey carried out by the Irish Second Level Students' Union found that 68% of Leaving Cert students want a hybrid State exam model this year.
Speaking on RTÉ's News at One programme, Kieran Christie said the ASTI does acknowledge that it is a difficult position for everybody, but they are "strongly of the view" that the established Leaving Cert should go ahead.
Mr Christie said adjustments have been made and "more could potentially be made" in relation to examination papers to account for the disruption to face-to-face teaching that has happened to this cohort of students.
He said a major element of the two previous processes was the necessity to build Junior Certificate results in, which would be a "major problem" this year.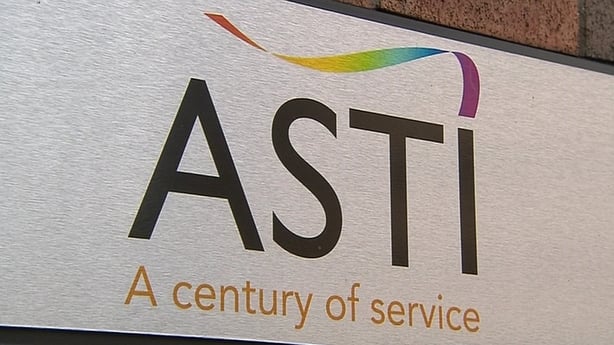 "Many of the students who would be Leaving Certs this year did not undertake the established Junior Certificate as we know it, so that data wouldn't be available," he said.
Mr Christie said that if a new apparatus in the form of a hybrid model is put in place, a lot of time will be put into devising new provisions and new examinations to underpin that model.
He said they feel the time would be better spent shoring up all the work that is being done building upon that to prepare for an established Leaving Cert.
He said he is sure stakeholders will be listening carefully to arguments made by the students, but they "firmly believe" that the established Leaving Cert is the process "by which their learning can best be vindicated this year".
He said there are "practical problems" and the hybrid model that took place last year is not on the table this year.
"We're in a difficult situation but our view would be that there is potential for maybe further adjustments to be made with regard to the papers that are being set and channel our energies in that respect," he said.
"Rather than trying to devise a whole new model that doesn't equate to what happened last year or the previous year."
The Teacher's Union of Ireland also reiterated its position that the traditional exams should take place, saying there is "no justification for offering additional options"
"The standardisation process was vitally important in the last two years, but cannot be replicated this year because more than half of students in some schools have no Junior Certificate data.
"In other schools, where there is no Transition Year programme, no student will have Junior Certificate data for the standardisation process.
"The TUI cannot agree to any standardisation process that would have some students using their Junior Certificate results, who have completed Transition Year, and other students having to use Junior Cycle descriptors for something they were never designed for."
The ISSU survey in which 68% of Leaving Cert students expressed they wanted a hybrid model opened opened when students returned to classrooms earlier this month and closed on Friday night.
Over 40,900 responses were gathered from students across the country, with one in three senior cycle students in Ireland responding.
The current plan is for this year's Leaving Certificate exams to return to their pre-pandemic format.
At the beginning of this academic year it was announced that adjustments were made in exam papers and in curriculum to provide for the fact that this year's exam students missed school in 5th Year - from January to the middle of March - as they were learning from home.
They will see more choices in questions in exam papers, for example in the Irish oral, where there will be only ten Sraith Pictiúr instead of 20.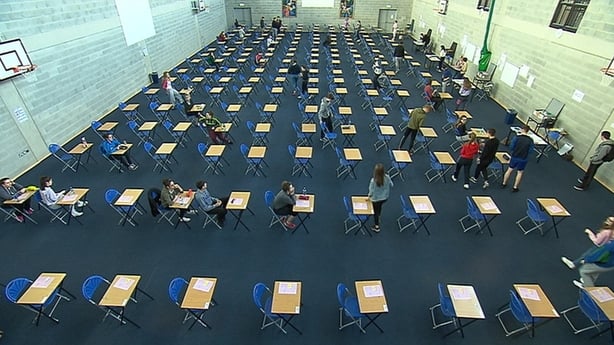 A hybrid Leaving Cert exam was available to the class of 2021, where students were offered accredited grades or also had the option of sitting an exam. They were then awarded the highest grade from whichever option they chose.
Taoiseach Mícheál Martin has said the option of offering a hybrid Leaving cert was not ruled out and a decision will be made by the Government in the next few weeks.
The Department of Education said last week that adjustments were made to Leaving Cert 2022 to take into account disruption to learning experience by students early last year, as well as any possible disruption this year.
An alternative set of Leaving Certificate exam will be run in 2022, shortly after the conclusion of the main set of examinations, for students who are unable to sit the main set of examinations for various reasons, including Covid-19 illness.
The National Association of Principals and Deputy Principals said last week that a hybrid leaving certificate should be offered, while both second level teaching unions, the TUI and the ASTI, have said that they want the exams to go ahead as planned, saying there is no justification for the hybrid model.
ISSU President Emer Neville said: "It has been made abundantly clear that students would like to see a hybrid model implemented for the State Examinations 2022. The ISSU State Examinations Survey for 2022 saw double the engagement from students than previous years.
"We are calling on the Department of Education to hear the voice of students, who are continuing their education in abnormal times. With the levels of disruptions, mental health pressures and classes missed, we are asking the minister to introduce a hybrid model for state examinations."
In the survey, students also voiced their concerns about missing classes, high absence rates of both students and teachers in the classroom and the pressure the current situation is putting on their mental health.