The Minister for Education has said it is a significant day for the more than 61,000 students who have achieved their Leaving Certificate in "remarkable and challenging times".
Norma Foley said that throughout the pandemic all students have shown resilience, in particular Leaving Cert students who have shown flexibility and determination and "today is a reward for them."
She also acknowledged the support of school communities and parents.
Speaking on RTÉ's Today with Claire Byrne, the minister said the students receiving their results are mindful that they lost 14 weeks of in-person learning over the two years of their senior cycle.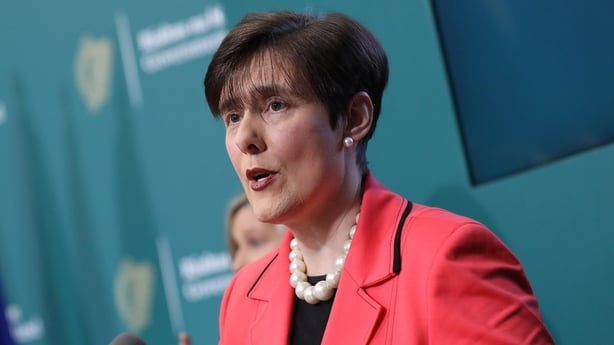 She said there is grade inflation but this last year was unique and different in that the students were afforded the opportunity to take credited grades, exams or both.
She said it is a significant achievement in the midst of a pandemic.
Regarding current Leaving Cert students, the minister would not be drawn on whether it would be a return to exams only for them, but described a "different environment" to last year.
"We remain flexible and innovative in the education sector as we did throughout the last 18 months."
"Going forward we are planning for students to be in school. We have a significant vaccination programme with staff being vaccinated and senior students," she said.
The Teachers' Union of Ireland congratulated students who received their results.
TUI President Martin Marjoram said the last 18 months have been difficult for them and commended their "resilience in uncertain times".
He said that while some students may be disappointed with their grades, they should not lose hope as now, more than ever, "education is a lifelong pursuit and there have never been so many options available to school-leavers."
He said: "In addition to third level options in Institutes of Technology/Technological Universities and Universities, students should also consider the wide breadth of choices in Further Education/Post Leaving Certificate (PLC) colleges around the country."
The President of the Union of Students in Ireland said they asking third level institutions to communicate timetables to students early, as there is a shorter time frame from when the CAO offers are announced on Tuesday and the beginning of term.
Clare Austick said students will need to organise accommodation and be told about how they will be engaging with their college work this year.
Speaking on RTÉ's News at One, she said colleges have been working with staff and student representatives to make sure that students can come back in a safe manner, but they can expect a more positive year ahead than last year.
Ms Austick said it will not be the same as before the pandemic, but there will be more on-campus lectures, tutorials, labs and a few social gatherings in clubs and societies and that "'students will certainly have an on-campus experience this year".
Guidance counsellor Brian Mooney said the CAO route to university is not the only way for students to go and there are plenty of other opportunities open to them.
Speaking on the same programme, he said universities accept a number of students who complete Level Five courses, "so you could be hundreds of points short of the course you're looking for this year, do a Level Five, and if you do well in that - get distinctions across your modules - you may get an offer in an earlier round next year."
He added that there are also different career path open to people who do not want to go to university, with opportunities for people in the trades, apprenticeships and traineeships.
"I would say to people, no matter what results you got today, whether you've applied to the CEO or not, there are wonderful opportunities," he said.