The Taoiseach has confirmed that a phased return to schools will get under way next Monday, March 1.

The phased return is part of the Government's revised plan for dealing with the virus, 'Covid-19 Resilience & Recovery 2021: The Path Ahead'.
The plan, which will see the country remain in Level 5 restrictions until 5 April, contains a roadmap for the return of all children to school and childcare, which will be kept under review. It was agreed at a Cabinet meeting today.

It will see Leaving Certificate students returning to school on 1 March. Primary school students from junior infants to second class will also return then.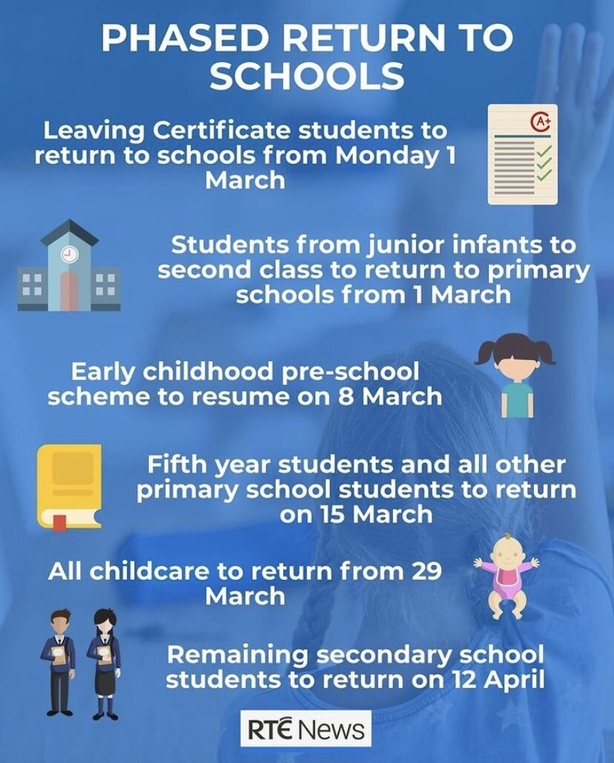 Remaining primary school students and fifth-year secondary school students will return on 15 March, subject to ongoing reviews.

All other secondary school students will go back to school on 12 April - after the Easter holidays.
Taoiseach says Level 5 restrictions will remain in place until 5 April. He says there will be a phased reopening of schools from 1 March; the reopening of childcare will be expanded from 8 March; non-Covid health and social care services will to resume | https://t.co/MljZdllgbe pic.twitter.com/W6aWY96iw2

— RTÉ News (@rtenews) February 23, 2021
Speaking at Government Buildings, Micheál Martin said the plan would see 320,000 pupils return to school.

The Taoiseach confirmed that from 8 March, the early childhood preschool programme would reopen for all participating children.
He said from 29 March, subject to public health advice, other restrictions would be lifted so that all other children can return to early learning and childcare services.
Speaking at a press briefing after the Taoiseach's announcement, the Deputy Chief Medical Officer Dr Ronan Glynn said it was essential that the reopening of schools and childcare was not taken as a signal to stop following the guidelines.
At the same briefing the Taoiseach was asked if the Government went against advice from NPHET that just junior school children should return to school first.
Micheál Martin said the Government was in "harmony with NPHET in terms of schools opening".
He continued that the return would be monitored and that everything going well more children will return.
He said "we've accepted NPHET's decision making in terms of now to 15 March.
Dr Ronan Glynn said: "we don't have the expertise or sector specific knowledge about classes, we were clear that it should be phased and open to review".
It will be next week before schools receive a guidance document, on the revised Leaving Cert, from the Department of Education.
A letter outlining the approach is to be sent to schools this week, followed by the guide next week.
The department said a "more detailed" analysis will be produced for both teachers and schools at a date after that.
It's understood a draft guide document was issued last Thursday to members of the Exams 2021 Advisory Group.
The deadline for receipt of their views was last night. Those observations are now being considered.
The Sinn Féin leader Mary Lou McDonald told RTÉ's Drivetime that she assumes agreement has been reached on re-opening schools.
She was reacting to a detail contained in a version of the Covid plan, released and published this evening, but not mentioned by the Taoiseach in his speech, "from the 1st March, Leaving Certificate classes and 6th year post primary are to return to inschool education, subject to final agreement".
She said she was "taken aback to hear that even this evening, that there might be any question mark over that".
Commenting on this evening's announcement, the Association of Secondary Teacher in Ireland said it is committed to the safe re-opening of second-level schools.
The union said it will continue to work with the Department of Education and public health officials to ensure the necessary arrangements and supports are in place.

The Teachers' Union of Ireland confirmed again it's support of the phased return to school.
In a statement the union said that it "must be recognised there is still considerable anxiety and concern among school staff, students and their families around the return to schools.
"In that context it is imperative that all safeguards and measures set out to protect health and safety in schools are adhered to."
The National Association of Principals and Deputy Principals said the clarity around the reopening of schools was welcome and that they believed the phased return was the right approach.
---
Read more
'End is truly in sight' - Taoiseach urges public to stick with measures
Live updates: Level 5 restrictions to remain until 5 April