The Minister for Education, Norma Foley, has said schools will not close early for Christmas - nor will they reopen later than planned after Christmas - as there is no evidence or recommendation from public health authorities to do so.
Speaking on RTÉ's News at One Minister Foley said strict following of public health advice "has served us well" since schools reopen, as she cited the lower Covid-19 positivity rate of 3% in schools, compared to the 10-12% positivity rate in the wider community.
She said schools, by being a controlled environment, "by their nature are safe environments".
"Following public health advice has served us very well in the school sector. And we will continue to follow and to adhere to public health advice. As that changes and evolves we will do similar, but there is no evidence, or recommendation from public health to do anything other than what we are doing."
The Minister was speaking after an outbreak of Covid-19 at a school in Co Kerry with all pupils being told to self-isolate.
Seventeen cases were identified at Scoil Mhuire in Killorglin, a mixed primary school with 386 pupils.
Minister Foley said she believes parents and teachers unions want schools to stay open.
"I have engaged with parents and with the representative unions and they have all been very clear in their desires that the schools would be open and that they would stay open, as they recognise the importance of them being open."
She said from the outset of schools reopening her department has made it clear that no school should need to make public health decisions about the status of their individual school.
"Every action within the school is influenced and is an adherence to the public health recommendation and advice. 
"We were very clear at the outset, and this was welcomed by school leaders, that no school leader would be asked to make a decision in terms of public health, that those decisions would be made by those who have the expertise, the experience and the wisdom, and I think that's right. I think that's the proper course of action, and we will not deviate from it."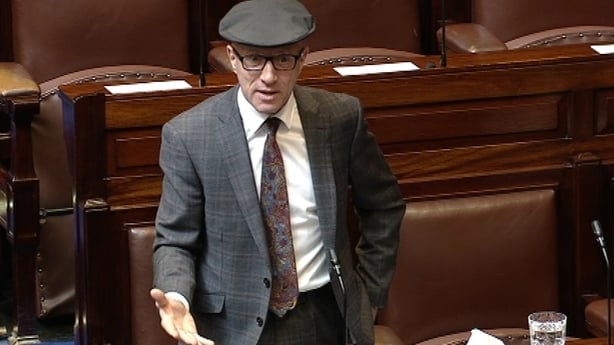 The Independent TD for Kerry, Michael Healy Rae has called for all schools in Kerry to close early for Christmas. 
Speaking on RTÉ's Drivetime, Deputy Healy Rae also called for principals to have the power to close their schools if they deem it necessary, due to levels of Covid-19 in their area. 
"Every principal in the country should have the autonomy to make up their own mind if they are concern over growth of the virus in their area.  I wouldn't want people going to school next week for the sake of a few days and putting themselves and their families at risk." 
He said he believes principals "can be relied on to act responsibly." 
He said he does not want to "blindly agree" with the HSE advice that some people should stay on their own at Christmas to reduce the risk of contracting Covid-19. 
Meanwhile, the principal of Portlaoise Educate Together National School is calling for it to be made mandatory that siblings of a close contact should not go to school. 
Speaking on the same programme, Sinead Harte said she was "relieved" when the public health doctors told her that "because the virus is spreading, from today on, if a child is deemed a close contact, that siblings of that close contact may not come to school until it has been confirmed that Covid has not been detected."
Ms Harte said Portlaoise Educate Together National School had 11 positive cases since Saturday. 
She said she has had to communicate the "devastating news of being a close contact to approximately 62 people over the last few days". 
Ms Harte believes that it "would make sense to have the option to close the school" where it is known that the virus "is in the school".
Speaking at HSE briefing, Chief Executive Paul Reid said positivity rates of contacts in the community four times what it is in schools.
In relation to whether schools should remain open, Mr Reid said he would leave it public experts who decide it on a site by site basis and they have been doing a remarkable job.
HSE's Clinical lead on Covid-19, Dr Colm Henry said significant outbreaks in schools are uncommon and he reminds people of the counter risks where the closure of schools caused harm particularly to early years education and to special needs children.