Minister for Education Norma Foley has said she will advocate for the best interests of those who work in schools when a vaccine for Covid-19 becomes available, but will "bow to public health" who will determine who will be prioritised to receive the vaccine.
Minister Foley was speaking on RTÉ's News at One after the primary teachers' union the INTO called for teachers and people who work in the education sector to be prioritised to receive a vaccine when one becomes available.
She said: "School staff and all those in the school environments are certainly giving their all and working in a frontline capacity but the determination in relation to that really rests with public health.
"Certainly, I will be advocating in the best interest of all who work in the education environments. But I would acknowledge that the final determination would be with public health. I will bow to the public health judgement and their determination."
The Minister said there is "no question" about funding being available to schools to meet Covid-19 related requirements.
She said provision will be made for funding until the end of December and also for funding from January until the end of the school year.
"There is no question of funding being made available to do with for any aspect of what is required. €226 million remains to be paid into schools beginning in January.
"Whether it's in terms of cost of heating or PPE the funding that had been made available until the end of December, will now be completed and the new additional funding in excess of €220 million will begin again next year from January to the end of the school year."
On the issue of ventilation in some schools, Minister Foley said there is ongoing engagement with public health and "updated guidance is currently with education partners for review".
She said the guidance issued to the schools has been clear that classrooms should be well ventilated, which she said involves opening windows prior to the rooms being occupied.
Minister Foley said there should be a balance between comfort and public health.
The Minister said she would be willing to allow primary schools to access substitutes.
"I have been clear from the outset that if there was a need to add capacity, I absolutely am very willing to do that."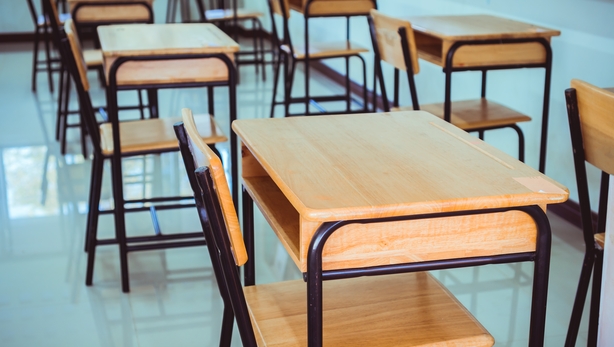 Trade unions representing teachers and other school workers have expressed concern at the quality of information being released regarding the incidence of Covid-19 in schools and among teachers, children and young people.
Representatives from four trade unions representing teachers and other school workers are addressing the Joint Committee on Education on the issue of the safe running of schools under Covid-19.
Kieran Christie of the ASTI told the committee that while the quality of information is improving, the union continues to have difficulty getting data.
The INTO has said that people would like to know more. John Boyle said that for instance nobody knows how many primary teachers have been diagnosed with the virus.
While the incidence of the virus being detected by public health authorities in schools is low, Andy Pike of Forsa said that quite a high proportion of cases were coming from school student age groups.
Call for vaccine priority for teachers
Primary teachers' union the Irish National Teachers' Organisation earlier called for teachers and all those who work in schools to be prioritised for receipt of a Covid-19 vaccine when one becomes available.
General Secretary John Boyle said such a move would give great reassurance to families and would give teachers confidence.
The union also said a strong message should be sent out to families who intend to bring their children abroad over the Christmas break that they will have to restrict their movements upon their return.
They warned, however, that some schools may be forced to close as a result of ventilation and heating problems.
Kieran Christie of the ASTI has told the committee that teachers are wearing their coats in the classroom and "if a period of very cold weather comes, many schools will have to close".
All three teacher unions have expressed concern, in submissions sent in advance to committee members, around the ability of schools to keep classrooms both well ventilated and warm over the coming months.
Studies have shown that good air circulation is vital in preventing the build-up of airborne particles of the Covid-19 virus indoors.
Unions say air quality metres should be installed in every classroom, to ensure that students and teachers are not forced to teach and learn in freezing cold classrooms.
The INTO has expressed concern that a grant given to schools last week, to allow for minor works to be carried out, will not be sufficient to allow them to install air-monitoring systems.
John Boyle has called for air monitors to be fitted in classrooms over the Christmas period, telling the committee that they are cheap and would alert a teacher when windows need to be opened.
He said he has heard "anecdotally" that air monitors would cost around €200 per room.
He also told the committee that while problems encountered by schools are now being dealt with more efficiently and effectively by public health officials, schools in border regions continue to encounter difficulties.
Mr Boyle said school principals in these regions need extra support because of "a disconnect" between the HSE and its Northern Irish equivalent the HSC.
He said school principals generally needed support at the weekends too. Complaining about teacher shortages, Mr Boyle instanced the case of one school that was obliged to try and find substitutes recently over a weekend because 16 of its teachers had been told to self-isolate.
He said schools were "scrambling around" looking for substitute cover and around 1,000 primary schools were struggling to find cover.
The teacher unions are also warning that additional funding for cleaning is needed. The INTO has told the committee that extra funding given to schools is totally inadequate and will be spent by Christmas.
The trade union representing Special Needs Assistants, Fórsa, has said it remains concerned at the lack of clarity regarding the provision of PPE to schools staff, and specifically to SNAs and bus escorts who accompany children with disabilities on public transport.
The union is concerned that many of these workers are not being provided with proper protective masks.
Workers who are providing intimate physical care to students are entitled to be provided with masks but Fórsa says this has led to a "ridiculous" situation whereby an SNA working side by side with a student for over six hours is only entitled to the protection of a basic grade mask when taking the student to the toilet.
The ASTI and the TUI have welcomed a new inspection regime to monitor the safe implementation of Covid-19 prevention measures in schools.
The TUI has called for the inspections, currently being piloted, to be rolled out nationwide. The union believes that a minority of schools are not adhering to public health measures.
The inspections are a joint initiative between the Department of Education and the Health and Safety Authority.
TUI moves away from idea of closing schools early
Meanwhile, the General Secretary of the Teachers Union of Ireland has distanced himself from calls to close schools early this Christmas.
Earlier this week, the union issued a general press release calling for "serious consideration" to be given to a proposal to close schools for the Christmas break on the afternoon of Friday 18 December, rather than on Tuesday 22 December.
At today's Oireachtas Committee on Education, Mr Gillespie said that the proposal to close schools early had not come from the TUI.
Instead, he said that the union was responding to press queries. He said that the idea was initially raised by a political party and there was an online petition.
Mr Gillespie said that the union believed the idea "merited consideration" because the Monday and Tuesday prior to when students start their holidays are not usually "high educational days".
In some cases, students might be doing their annual concert, choir performances and sometimes religious services.
He acknowledged that some TUI members were "upset" with the proposal to close schools early, however he said that some teachers agreed that the proposal merited consideration.
Michael Gillespie was responding to questions from the chair of the Oireachtas Education Committee Paul Kehoe, who said that he had received a number of calls from teachers including from the TUI who said that they were not looking for extra days off.
Mr Kehoe said that other workers in the public service would have been aggrieved had this idea been taken on board.
In their statement earlier this week, TUI said that closing schools early would "allow students and teachers to restrict their movements for a longer period before meeting vulnerable relatives" and would give a "much needed boost to the morale of all concerned".
Reporting: Emma O Kelly, Tommy Meskill