The Minister for Further and Higher Education, Research, Innovation and Science has said he is committed to working to reduce third level fees.
Speaking on RTÉ's Today with Claire Byrne, Simon Harris said the registration fee for students is "too high" and he would like to see fees addressed during his tenure as minister.
"I've been Minister for eight weeks and I would like to look at this over the lifetime of the Government, obviously we have a budget in October," Mr Harris said.
He assured that the SUSI grant system will be flexible to "take on board if a family's income has changed due to Covid-19."
Minister Harris said the student assistance fund has been doubled, and €15 million has been spent to purchase 17,000 laptops, which students can apply for through their access office, as he said, "each university will decide on their own criteria."
"The cost of education has risen," he said. "It is costing more to provide college education in a Covid environment, smaller classes, and longer opening hours."
Priority will be placed on classes that have a practical element, Minister Harris said, in relation to how much time third-level students are expected to be spending on campus, and also on first year students.
On the issue of college accommodation, he said new rules will help accommodate people, so that their housemates will also share the same lectures, so as to limit the number of contacts.
---
Read more: WIT to host all lectures remotely for academic year
---
Minister Harris said college authorities will be responsible for ensuring that rules are adhered to in terms of college accommodation.
He said timetables "are a real issue". He acknowledged the logistical challenge for third-level authorities, but said he hoped that "over the next fortnight, everybody will get their full timetable."
The Minister urged institutions to provide students with an indication of the number of days that they are likely to spend on campus, versus online learning, to allow a "level of clarity" to students who may need to book accommodation.
The Minister said he believes students were treated "a bit shabbily in the last lockdown", as he said they should get refunded for accommodation if there are further closures.
"We need to make sure that if there are further restrictions and the colleges are closed, that all students get refunded."
On the issue of Leaving Certificate results, Minister Harris said CAO will make offers on the 11 September.
He said Minister for Education Norma Foley is refining the standardisation process and is due to update cabinet tomorrow.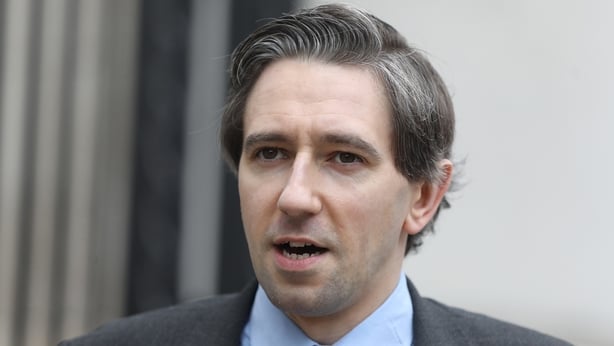 The Minister said he is trying to create more college places especially in areas where there is a "societal need" he said, like in health, education and technology.
In relation to the calculated grade system, Minister Harris said, "there cannot be a change in the results after they are published."
He explained that there are differences in the UK system than what is taking place here.
"In the UK they gave grades, in Ireland students are given a precise percentage. In the UK there was too high a focus on historical performance of a school whereas in Ireland there is real primacy in the teacher's estimated mark."
The Minister said the new regulations in terms of the number of people that can gather indoors "will not apply" to the numbers in a third-level lecture hall, as education is deemed "essential."
Masks should be worn where it is not possible to maintain a two-metre distance or in congregated settings, he said.
Colleges will be treated as any other workplace if there is a positive case of Covid-19, the Minister said.
"All close contacts will be traced. Colleges will be keeping attendance logs for each lecture."
He said it will be determined by public health authorities if a third-level institution should close as a result of a confirmed case of Covid-19.
"Let's be honest. There will be cases of Covid-19 in our colleges. We shouldn't panic. If it is required, public health authorities will step in and carry out a risk assessment."
He said the student assistance fund will provide support to students for connectivity to access their classes online.
"This is not a perfect scenario. We are trying to maximise the time attending college without risking the health of students and of those working there."
He said the undertaking of internships will be decided "on a case-by-case basis", and will be decided upon using the public health advice available.
He cited the example of nurses, who spend a significant about of time on work placement, "and we need them back", he added.