A number of postgraduate students at the University of Limerick are protesting after college authorities did not refund students for rent they had already paid for accommodation.
The students, who are members of the Postgraduate Students Union (ULPSU) said that many students were forced to leave their accommodation and return home as a result of the pandemic.
UL students are owed an estimated €3m from the college.
ULPSU President Abraham Agboola said it was an injustice for the UL authorities to continue to withhold rental payments when students did not complete their time at their accommodation, and when other third level colleges have refunded rent.
He said UL put a further twist on their appeals for refunds when they were told the duty to refund monies paid lay with the licensee, Plassey Campus Centre PCC, and that students must now engage with them.
Mr Agboola said this is causing further delays for students who are anxious to get their money back, and it is now time for UL to do the right thing.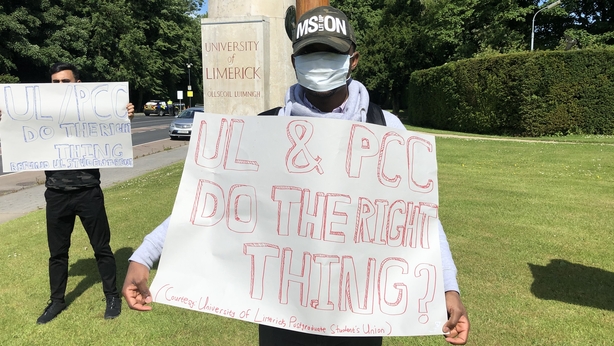 Other colleges have refunded students, and the Minister for Education, Joe McHugh, has urged UL to do the same.
In a statement, UL said the governing authority has recommended that Plassey Campus Centre, which manages the student residences on campus, return rental income to the students who left their accommodation on foot of the Government's decision to close the university campus in March. This recommendation will be considered by PCC in due course.
The statement added that UL, like other universities, is now facing extraordinary financial challenges.
It said losing summer and foreign student income will bring huge deficits, and government support for the higher education sector will be needed so that UL can play its part in any economic recovery.