A 17-year-old Syrian refugee who has become the recipient of a new State scholarship for students, has spoken of the great welcome and support that her family have received from Irish communities since they arrived here three years ago.
Suaad Alshleh is a first year medical student at the Royal College of Surgeons and was awarded the Professor William C Campbell bursary, worth €5,000, today.
Suaad came to Ireland with her mother at the age of 14, seeking refuge from the war in Syria. Her father joined them shortly after.
Suaad spent her first year here in living in Direct Provision with her mother.
"It was incredibly difficult", she tells RTÉ News. "It was probably the toughest time of my life." Suaad says thinking about that time brings tears to her eyes "so I try to block those months from my memory".
She says the thing she missed most during that time was her mother's cooking, which she says would have brought her "comfort".
Suaad's mother and father are both engineers but Suaad says she has always wanted to be a doctor.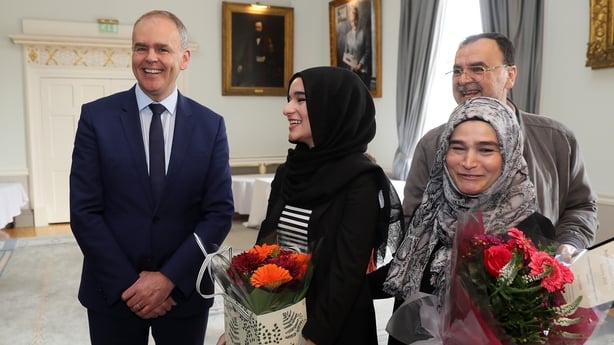 Although living in Portlaoise, Suaad chose a school in Mountmellick - the community school there - because it was the only one that offered Chemistry as a Leaving Certificate subject.
Suaad praised the Irish people saying she has never felt anything other than welcome and support here, especially at the schools she attended, in Mountmellick and before that, in Monaghan.
"When I was in Monaghan I looked like an alien", she says, laughing.
"For many of my classmates and friends, I was probably the first person they would see who looked like me, who wore a scarf. But people were very accepting, and I was very happy there."
We need your consent to load this rte-player contentWe use rte-player to manage extra content that can set cookies on your device and collect data about your activity. Please review their details and accept them to load the content.Manage Preferences
"I have not faced any added difficulty because of how I look or where I'm from, and I think that is a wonderful thing about Irish people", she adds.
"Even the people in the Direct Provision centre", she says,"they understood it was very tough and they helped me get through it."
Suaad says she wants to be a role-model for other children facing adversity, including those living in Direct Provision. "Never lose your ambition and work very hard", she says.
Referring to people who she said might feel "nervous or anxious" about refugees moving in to their communities, Suaad says she would say to them "please, these people are escaping from life threatening situations. It is very difficult for them."
She says communities should remember that they can touch the lives of individual refugees in a transformative way. "I am an example of that", she says. "And I know I will be working for the rest of my life to repay that to the communities that supported me. I am very grateful."
Suaad's parents, Wesam and Issam looked on with clear pride as their daughter spoke to Irish journalists this morning.
Her mother told RTÉ News that Suaad means 'happiness' in Arabic. "We are very happy today," she said.