The Higher Education Authority has published the most detailed breakdown ever of the socio-economic background of students attending higher education institutions in Ireland.
The information confirms that people who come from wealthier backgrounds are more likely to go to college.
It also finds that students from wealthier backgrounds will immediately go on to earn significantly more than those from disadvantaged backgrounds.
Nine months after graduation the average student from an affluent background will be paid around 30% more than one with the same qualification from a disadvantaged background.
The study confirms that students in high-end healthcare courses, such as medicine as well as business, finance, and engineering programmes, are the most likely to come from affluent backgrounds.
It is the first time the authority has gathered such detailed information, reached by combining student PPS numbers and home addresses with a Census geocoding system, which measures affluence and deprivation levels in neighbourhoods across the country.
Every third-level institution in the country, except Trinity College Dublin, has been included.
It finds that the undergraduate population at the country's institutes of technology is the most representative.
The former Blanchardstown and Tallaght IT's, now part of Technological University Dublin, have student bodies most reflective of the overall socio-economic make up of the country.
Letterkenny Institute of Technology caters for a greater proportion of students coming from disadvantaged backgrounds than any other third-level college.
However, one institute of technology, IADT in Dún Laoghaire, has the highest proportion of affluent students compared to any other college, with 35% of IADT students coming from backgrounds classed as "affluent".
UCC, UCD, and the Royal College of Surgeons all have the lowest proportion of students - 5% - coming from disadvantaged backgrounds.
The HEA points out that in most cases the socio-economic profile of a college reflects the socio-economic makeup of its local population.
The study is based on 2017 enrolment data. The HEA will now compile the same data on an annual basis so that trends and performance can be established and analysed.
The Higher Education Authority says Trinity College will be included in future tables. It says college concerns over data protection, which have now been answered, led to Trinity's non-participation this year.
The data will inform the development of programmes to improve access for students and to shape policy related to access funding for colleges.
The tables allow for a refined analysis of who goes to college.
They include detailed maps breaking down participation in third-level by neighbourhoods. Those maps reveal pockets of deprived inner-city areas with the country's lowest participation rates.
They include areas such as Blackpool in Cork City and the St Mary, and O'Malley park areas of Limerick City.
All three areas would have high levels of deprivation. The data shows that in 2017 just seven people from St Mary's Park were attending higher education.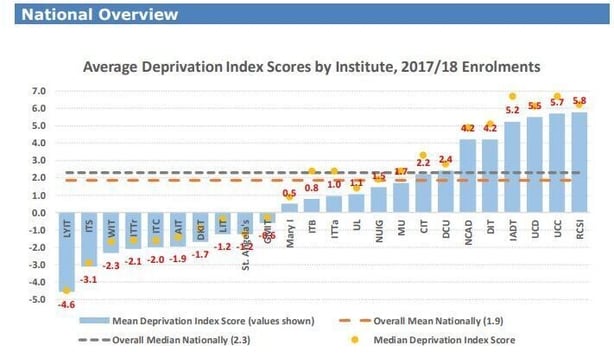 The tables show that while on average 19% of third-level students come from affluent backgrounds, this jumps to 36% in the case of medicine.
While 10% of the overall third-level student body is classed as "disadvantaged", this falls to just 3.5% among medicine students.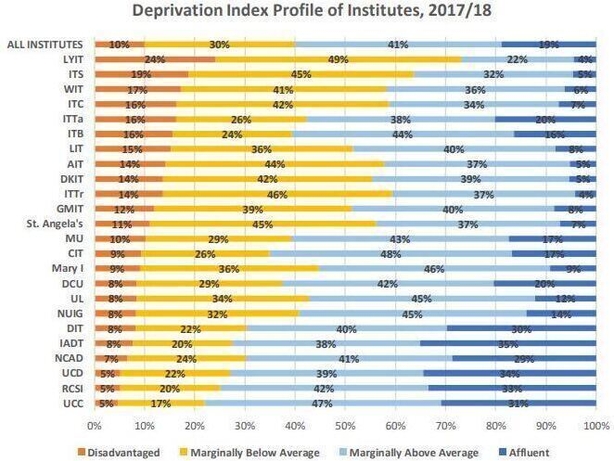 Head of Access Policy at the HEA Caitríona Ryan said: "The work provides a new type of analysis and type of information that we did not have previously, and this will support institutions to develop more targeted approaches to widening access in their regions.
"It is new data and creates a new baseline; improvements and trends will be tracked over time as we collect this data on an annual basis."
The detailed information, with breakdowns for each higher education institution, will be published on the HEA website.