Minister for Education Richard Bruton has answered criticism that there is no money for 42 new schools set to be built by 2022 saying funding is in the National Development Plan.
Speaking on RTÉ's News at One, he described it as "good planning" and said more school places than ever before are being delivered.
"We have to, as a prudent country, plan for a growing population which will particularly expand at secondary level."
Outlining the costs, Mr Bruton said: "Roughly speaking for 1,000 pupils at secondary level, it costs around €20m and for a primary school of around 200 pupils, it costs €5m."
We need your consent to load this rte-player contentWe use rte-player to manage extra content that can set cookies on your device and collect data about your activity. Please review their details and accept them to load the content.Manage Preferences
He said some of the new schools will start in September 2019 and will build to a full capacity over a number of years.
He admitted that in many cases these schools will start in temporary accommodation and said before that there will be a patronage process, adding that "we are trying to promote greater diversity and this is a way of doing that."
Mr Bruton said 340 projects have been built since 2011 and these include refurbishments, but the announcement of 42 new schools does not mean other planned school refurbishments are being put on hold.
Earlier Fianna Fáil's education spokesperson said the figures announced do not add up.
Thomas Byrne said he is concerned that the finances are not available.
---
LISTEN: Emma O Kelly reports on new schools
---
Speaking on RTÉ's Today with Richard Curran, he said: "It is extraordinary that this will happen, that the numbers haven't been calculated and it hasn't been done with a supplementary estimate."
The new schools are expected to be built to help meet unprecedented demand for school places caused by Ireland's demographic boom.
The majority of the new schools will be in the Dublin city environs, with 16 additional primary schools and ten second-level schools planned for the capital.
It is hoped that half of these new primary schools will open in September 2019.
However, there is a lack of clarity about the school rebuilding programme, with 575 applications for refurbishment pending.
Mr Byrne said Minister Bruton has an urgent duty to go to the Minister for Public Expenditure and demand significantly more money for capital expenditure "as this particular announcement eats up his entire budget for one year."
Mr Byrne said a quick calculation of costs to build the 42 schools equates to the entire cost of the capital budget for 2017 - €519m - which he says does not include land costs.
The plans are based on nationwide demographic assessments carried out by the Department of Education.
Demand for additional school places and new schools has been constant for the past decade and more as a result of the growing population.
The number of school-going children has increased by almost 10% or 82,000 in the past six years alone.
While enrolment at primary stage has now peaked, second-level enrolment will continue to grow.
It is expected to surpass 400,000 students for the first time by 2025. There are currently around 360,000 second-level students.
The planned primary schools include three in Co Kildare. New schools in Leixlip and in Maynooth are scheduled to open in 2019, while a new primary school in Naas is proposed for 2021.
New primary schools will also be established in 2019 in Dunshaughlin, Co Meath; Cork city, and in Kilcoole and Bray in Wicklow.
Additional primary schools are also planned for Kilkenny city, as well as Cork city and nearby Carrigaline.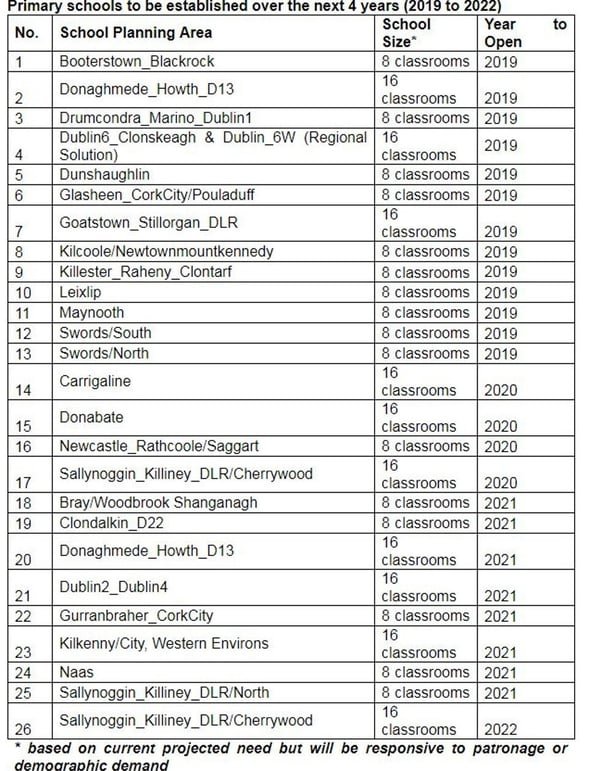 As well as ten new second-level schools for the Dublin city region, there are also plans to establish new secondary schools in the Galway city/Oranmore district, the Laytown/Drogheda area, Enfield in Co Meath, Ballincollig, Co Cork, the Kilcoole/Greystones area of Co Wicklow and Wicklow town.
The schools planned at second-level will cater for a total of 12,700 students when fully operational.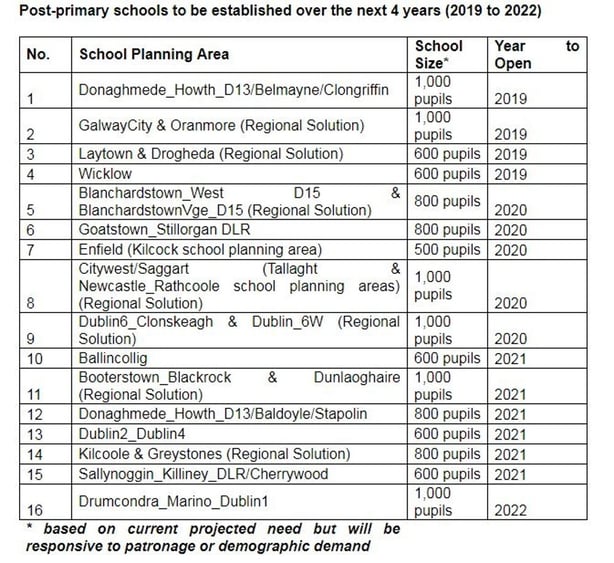 Minister Bruton said the requirement for new schools would be kept under ongoing review.
Mr Bruton said it would have particular regard to the impact of the increased roll-out of housing provision to meet balanced regional development as outlined in Project Ireland 2040.
The department will also continue to monitor areas where existing schools may need to be expanded in order to meet the needs of the local population.
Approximately 40% of extra school places are delivered by extending existing schools.
The ethos of the new schools will be determined through a process to be run by the Department of Education.
It said the preferences expressed by the parents of pre-school children will be a key determinant of the successful patron. An online system for gathering parental preferences is to be established.
In a statement, the minister said the country was creating more school places than at any other period in its history.
The minister said that these new schools, together with large-scale projects, such as school extensions, would serve to meet education needs over the next four years across the country.
How many of the proposed schools have sites available, purchased or even looked at? What about the dozens of schools already established without sites?

— Thomas Byrne (@ThomasByrneTD) April 13, 2018
The new schools announced today are additional to new schools already announced for September 2018.
One new primary school and six new post-primary schools have already been announced to open in areas in Dublin and in Limerick city this year.
Deputy Byrne said he finds it shocking that when the Department of Education announced a capital plan in December 2015, none of these schools were on it, "and then the idea that 42 schools are coming as a surprise to the department this year, that they weren't aware of last year, or the year before when they published the capital plan, is extraordinary."
He said this announcement does not give "any confidence" in the Government when it comes to forward planning.
He said there is a huge number of questions and the department has many other commitments in its Capital Programme "which are all under pressure with a lack of announcements.
Mr Byrne also raised the issue of certain areas like Ashbourne in Co Meath, which he said is not on the list for a new school despite there being significant pressures there.