The General Secretary of the Catholic Primary Schools Management Association has said the Minister for Education needs to put in place a strategy to reach out to every qualified, registered teacher who is not in a classroom and urge them to return, either from abroad or retirement.
Seamus Mulconry was responding to concerns raised about the shortage of substitute teachers in primary schools.
Schools returned yesterday after the Christmas break and are already reporting difficulties in finding teachers to provide substitute cover and to teach certain subjects in the case of second level schools.
Today, the Department of Education and Minister for Education Richard Bruton acknowledged the difficulties in finding substitutes.
However, the department also stated it believed there was no issue with recruiting extra teachers.
This evening, the managers of catholic primary schools have called on Minister Bruton to accept that there is a problem.
Mr Mulconry said Mr Bruton needed to admit this and take ownership.
He said the reasons for the shortage were not fully understood but that teacher migration is a large factor.
Mr Mulconry called on the minister to put in place a strategy to address what some school management bodies are now calling an impending crisis.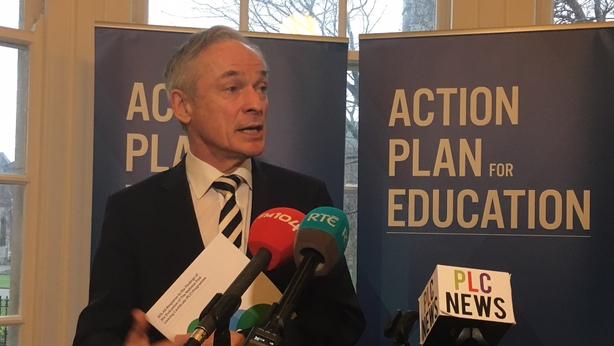 Mr Bruton had earlier acknowledged there is a particular problem in getting substitute teachers to fill short-term needs in an economy with strong employment.
The minister said he is looking at suggestions put forward by various groups, including extending the period that a teacher on a career break can work and making sure people who have retired get the opportunity to do substitution work.
He said the overall picture in the education system is that the Government is rapidly growing the number of teachers in employment.
Mr Bruton was responding to the Irish Primary Principals' Network, which called for the Department of Education to show flexibility to address the "severe shortage of substitute teachers".
Speaking on RTÉ's Morning Ireland, CEO of the IPPN, Pairic Clerkin said recent surveys by the network, showed up to 36% of schools were unable to source a substitute teacher on ten or more occasions since September.
He said: "There are a number of solutions which include pay equalisation among newly graduated teachers and existing staff, as well as extending the cover of substitute teachers, which is currently capped at 90 days when they are replacing teachers on career break."
Mr Clerkin said there is also need to encourage some retired teachers to re-register with the Teaching Council and for graduates to stay in Ireland.
He said: "We need to keep our graduates in the country. They are being actively recruited by other jurisdictions at the moment. They are highly regarded abroad, but they're needed at home."