Irish third-level students pay the second-highest college fees in Europe, according to a study published by the European Commission.
The review compares charges applied across 42 European education systems, concentrating on charges for 'first cycle' or undergraduate higher education courses.
It finds that when it comes to undergraduate courses Ireland comes second only to the UK in terms of the high fees it requires most students to pay.
Undergraduate students here are charged fees of €3,000 per year.
The report finds that 11 systems charge no fees at all for first time undergraduates, including Germany, Denmark, Finland, Greece, and Croatia.
A further 14 education systems charge less than €1,000 per year.
These include France, which charges students just €184 per year, and Austria which charges €725 per year.
Another large tranche of countries charge between €1,000 and €2,000 per year, including Spain, Italy, the Netherlands, Poland, and Portugal, which charges undergraduate students €1,063 per year.
While third level undergraduate education in Scotland is free, the rest of the UK charges students up to just over €10,000 per year.
The UK operates a student loan system, and no longer offers maintenance grants to low income students.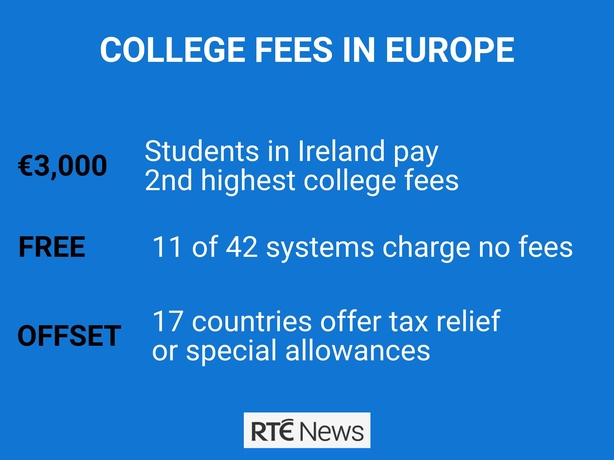 The study also finds that many European countries offer students and families tax relief to help offset the cost of college.
Many countries also continue to pay child or family allowances for children in full-time education up to the age of 24 or 25.
In all, a total of 17 European countries offer families tax relief or special allowances or both to help offset the cost of attending college.
In Ireland the children's allowance ends at age 18, and no tax relief is available on the fees of €3,000 that most students pay.
Tax relief is available here on any sum beyond €3,000 that is paid at a private non-State funded institution.
The countries that offer tax and child allowances to all include Austria, the Czech Republic, France, Switzerland, and Portugal.
In Denmark students do not pay fees and students who live away from home receive grants of €800 per month.
In Germany there are no fees and all students are entitled to a combination of grants and interest free loans of up to €735 per month.
Luxembourg charges €800 in fees and offers grants of up to €2,000 to all students.
Italy charges students €1,300 in fees per year and gives tax allowances for parents.
Like Ireland, many countries operate grant and fee waiving systems for low income students.