The State Examinations Commission has contacted more than 5,000 supervisors of the Leaving and Junior Certificate exams reminding them of their obligations relating to the security and confidentiality of the examinations process.
The reminder follows a security breach this morning which saw the Leaving Certificate Higher Level Irish Paper 2 shared on Facebook shortly after the exam had started. 
In a text message sent to all supervisors shortly before 8pm this evening, the SEC reminded them that examination papers remain confidential until the completion of that examination in their centre.
The message goes on to say: "Any candidate who leaves the examination before the scheduled completion time must return the examination paper to you. Examination papers must not be released from the centre for any other reason (e.g. to the staff room)."
The Leaving Certificate Irish Higher Level Paper 2 took place this morning.
Shortly after the exam began photos of the paper were posted on a Facebook forum used by teachers of Irish.
More than 3,000 people are members of the group.
It is closed to other Facebook users, but people can share the information contained in it with others.
The State Examinations Commission told RTÉ News it is satisfied the breach took place after the exam had started, and at a time when no latecomers would have been allowed entry.
The photos were posted shortly after 10am, so, according to the SEC, the exam would not have been compromised for students sitting it.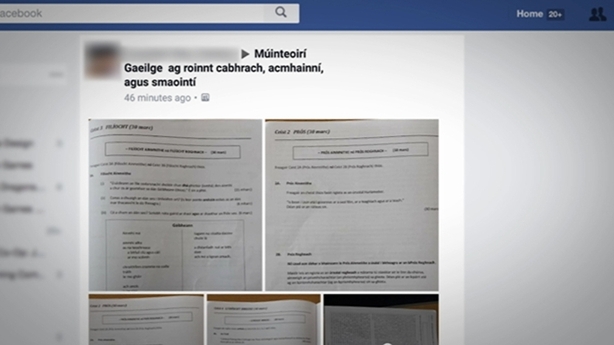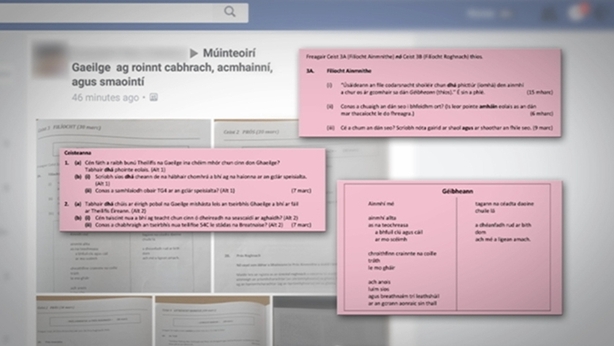 "The SEC says initial investigations suggest that the person who posted the photos is not a superintendent at an exam centre.
SEC rules stipulate that it is forbidden to bring any paper out of an exam centre until the exam has ended.
In practice, students who hand in their exam and leave the exam centre shortly before the official finishing time are frequently allowed to bring their exam paper with them.
But it is highly unusual and against all protocols to remove a paper from a centre as early as 10am.
The SEC is investigating how the breach occurred, and its implications for future security.
Should someone for instance post a photo of an exam paper, or share it through email or other electronic means, before 10am, at a time when latecomers can still enter an exam centre, then this would be more serious.
This morning's paper covered prescribed poetry and prose.
The Facebook posting was removed this afternoon, after the incident was reported by RTÉ News.
The photos were posted to a Facebook page called 'Múinteoirí Gaeilge ag roinnt cabhrach, acmhainní, agus smaointí'.
This translates as 'Irish Teachers sharing help, resources, and thoughts'.
Some contributors to the forum are this evening suggesting that a fuss is being made over nothing.
One poster writing "God help us! After the exam had begun, and not a single student saw it. Settle down Lads!"