Three tourists from the UK have been taken to hospital following an assault in Dublin city centre last night.
Gardaí said the men, all aged in their 20s, were taken to St James's Hospital following the incident on Fownes Street Upper, in Temple Bar, at around 10.05pm.
Their injuries are understood to be serious but non-life threatening.
No arrests have been made.
The three injured men are members of amateur soccer club St John's Sports from Aylesbury in England, which had travelled to Dublin to play a pre-season friendly against a team from St Kevin's FC in Whitehall.
However, the match, which was due to be played today, was called off in the wake of the incident in Temple Bar.
Neil Fox, a spokesperson for St Kevin's, said "as a Dubliner, it's totally disgraceful".
He said following what he described as an unfortunate incident, the club took the decision to invite the visiting team to St Kevin's grounds this afternoon.
Speaking to RTÉ News, Mr Fox said the team were also hosted in a local bar afterwards "to show a good reflection" of Dublin and to show that such anti-social behaviour is down to a small minority of people.
Gardaí at Pearse Street Station are appealing for witnesses to come forward.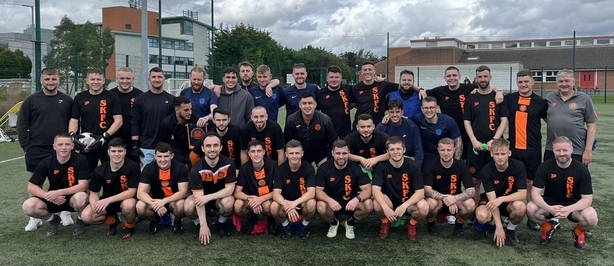 Safety concerns in the city centre have been raised recently following a number of high-profile assaults.
In late July a US tourist was attacked in a robbery on Crow Street in Temple Bar. Three people have been charged in relation to the incident.
Meanwhile three teenagers are before the courts in relation to an attack on a 57-year-old American tourist in mid July.
Stephen Termini sustained severe head and facial injuries, including damage to one of his eyes, in the attack on the corner of Store Street and Talbot Street.
Minister for Justice Helen McEntee recently announced a new funding package of up to €10 million, specifically targeted at increasing garda visibility in Dublin.
The minister said the money will provide for 240,000 extra garda hours, or 20,000 extra garda shifts, putting more gardaí on the streets in the capital until the end of year.
Fine Gael Councillor Ray McAdam described the Temple Bar assault as "deeply concerning and deeply worrying".
The local representative said it highlights for him "the need for the visible garda presence in the city to be further increased".
"We've seen in recent weeks that the Government has provided an additional €10 million towards policing in the city," he said.
"We now have more garda recruits assigned to individual stations here in the city. We need to make use of those resources and that manpower."
Councillor McAdam has called on the Garda Commissioner to "introduce new targeted public order patrols from at least 6pm every evening, incorporating an area from Talbot Street, O'Connell Street over to Capel Street, here into Temple Bar and then to the Grafton Street area."
"Dubliners and tourists alike must feel they have a sense of security, that Dublin is a safe place to be in and to experience," he said.
The Fine Gael councillor said "there's no doubt there is a great concern about public safety in the city centre and we have to tackle that".
"We have seen too much in recent weeks of the negative stories of Dublin, we need those Dubliners and tourists alike to have a positive experience and by increasing garda visibility we can do that," he added.