'Tis the season of overconsumption, as Christmas brings a shopping frenzy like no other.
From festive jumpers to fast fashion t-shirts, tonnes of mass-produced clothing items will be finding their way into Christmas stockings and under Christmas trees.
With all the resources, carbon emissions and waste associated with the holiday, it's little wonder that some environmentalists describe it as "the world's greatest annual environmental disaster".
This year, as the cost-of-living crisis bites, an increasing number of people are looking at ways to waste less and spend less, while still enjoying the festivities.
In Dublin, the Change Clothes Crumlin project has been running a series of swaps and workshops to show how clothing and fashion doesn't have to cost the earth.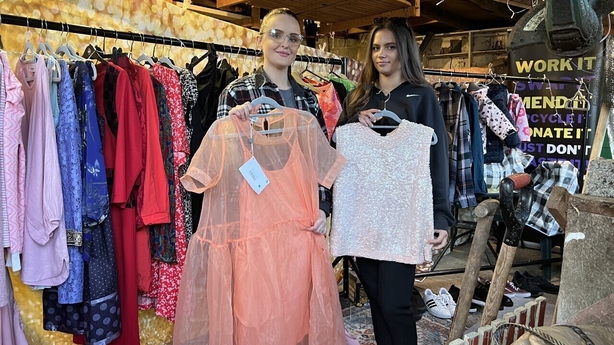 Founder Mary Fleming said: "Change Clothes Crumlin is a creative clothing reuse hub here in the Crumlin area. We offer swap shops, creative upcycling workshops, and generally, just a social space for people in the area to come and learn a bit more and have fun."
The fashion industry is responsible for up to 10% of global emissions.
Three out of five fashion garments end up in landfill within a year.
Swap shops allow people to share and reuse unwanted clothes rather than discarding them.
"I'm 32 now and when I was around 25 or 26 I would have consumed an awful lot of fast fashion. I was lucky enough to go on a trip to Kenya with my mam. And I saw the textile mountains there myself first-hand. I made the link between what I was doing at home and the impact that was having on countries abroad and people."
With our large swap shops that we are running at the moment, you bring an item of clothing, you receive one token for that and you take an item back and it's simple as that," Ms Fleming explained.
The project is one of seven climate action projects which have taken place in Crumlin this year as part of the Crumlin Taking Action Together programme.
Local residents were encouraged to participate in creative and innovative climate initiatives.
Ms Fleming said: "During our three pilot events, we had nearly 200 people attend. We had over 860 swaps made as well in the first week of existing. So, when you think about the amount of carbon that saves, the amount of stuff that's not gone to landfill because of that. It's just amazing."
Oileán Carter-Stritch works with Change Clothes Crumlin.
The 22-year-old was Ireland's official youth delegate at last month's UN climate summit, COP27.
She believes communities have an essential role to play in climate action.
"COP27 made me feel like the world is ending. You know, it's another year of us going around in circles. And we are not coming up with anything particularly meaningful. It's another year of us all pushing the blame off on to each other. It's another year of us ignoring the needs of nations who are really suffering because of developed nations overconsumption.
"You're feeling demoralised. It's scary and it's sad. That's why initiatives like this are really important.
"The system is there and the governments are there and they will do what they are going to do. And it's our job to put pressure on them but it's also our job to keep ourselves motivated in the bigger picture.
"While initiatives like this have many, many good aspects, to me, the most important one would be that it keeps motivation going for the fight for climate justice."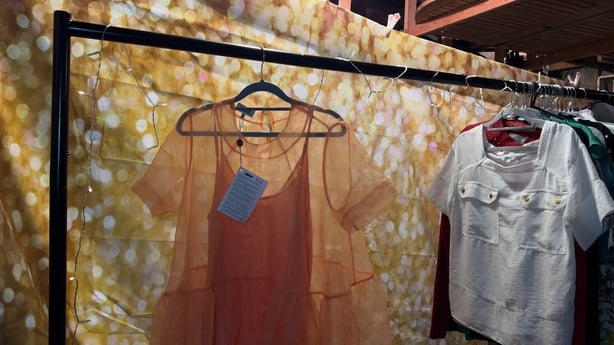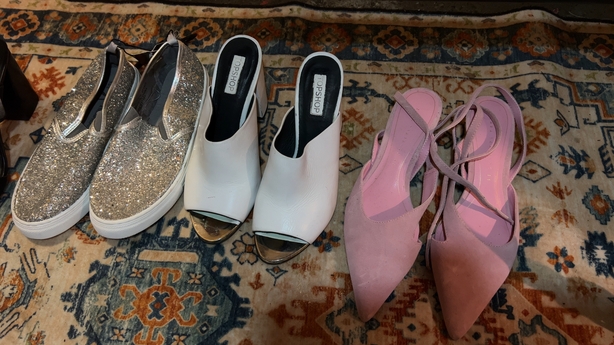 Change Clothes Crumlin has been operating out of a garden shed at Ms Fleming's parent's home.
They are running their pre-Christmas swap shop today on the grounds of Scoil Íosagáin in Crumlin.
However, Mary hopes the success of the project will ultimately result in it becoming a more permanent enterprise.
"Activities like Change Clothes Crumlin can actually drive huge change. In 2025, we actually have a new directive coming in from EU level. We won't be able to dispose of textiles anymore. So, we really need to think about alternatives to that and how we're going to manage when that directive comes in. Perhaps, having a network of swap shops across Ireland might be one of the answers."
In our 'Climate Heroes' series of reports, we shine a light on the people who are stepping up to protect the environment and tackle climate change. While these people come from all walks of life, they share a common purpose to improve the world around us.