Philip Egan has driven a taxi at night in Dublin for 40 years and said the average taxi driver is now aged in their 60s.
"My dad drove a taxi and I followed the route," he said, adding that the family tradition has not continued to the next generation. "None of my kids will drive a taxi."
As secretary of Irish Taxi Drivers Federation, Mr Egan does not believe it is the taxi regulations or the €250 licence fee that are the biggest barriers to younger entrants, but the lifestyle.
"It just looks like the younger generation are not willing to work the Friday or Saturdays," he said.
Speaking on the same programme, he said he believes the main reason for the current taxi shortage is that Dublin Bus, Luas and DART together bring huge volumes of people into the city on weekends, but do not bring them home after certain times.
"It's up to the Government and the powers-that-be to make a collective decision.
"If bars and restaurants want people out until 4 or 5 in the morning, they'll have to give them a way to get home," he said.
Dublin Bus, Luas and DART operate late schedules for nights over the Christmas period but Mr Egan said this has to be all year round.
"You need the buses running through the night, you need the Luas to run through the night. You need the DART running through the night, not just for Christmas but all year round."
According to the The National Transport Authority (NTA) there are currently over 25,300 Small Private Service Vehicles (SPSV) licenced drivers in Ireland, with 15,077 of these in Dublin.
Chief Executive of NXT Taxis Vincent Kearns said, however, that the numbers driving cabs could be much lower. He said many companies and drivers were forced out of the business during the Covid-19 pandemic, but some of these still held valid licences.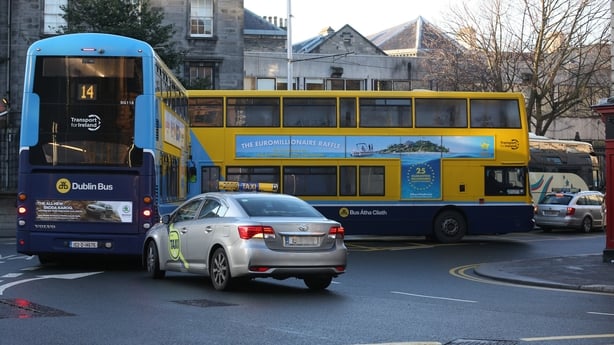 "We are probably about 30% down in our driver numbers, so there's 30% less vehicles on the road," he said.
Mr Kearns said he was concerned that the industry was failing to attract enough new young replacements.
"For that to happen there needs to be easy access to the profession," adding that a driver should be able to apply, be vetted and do the test within one or two months.
"Currently it could take eight or ten months. When people are switching jobs they won't wait around eight or ten months for a licence".
Uber, the app-based taxi company, has just launched a service in Cork and is recruiting new drivers in Cork, Limerick and Dublin.
---
Driver shortage hitting public transport - NTA
---
Uber's boss in Ireland Kieran Harte said that despite having thousands of drivers working this Christmas, meeting the demand for cabs will be a challenge.
"We've grown a lot over the past year. We're really hoping to grow and have more reliability on the app, but we're certainly forecasting this Christmas is going to be the most challenging one yet".
Mr Harte believes many more weekend drivers would come forward if current requirements for the type of vehicles new drivers can use were relaxed.
"It needs to be a make and model that can be modified for wheelchair accessibility. That puts a challenge on the number of vehicles that are available. It's a different commitment for new people to join the industry than it is for people who are already in it.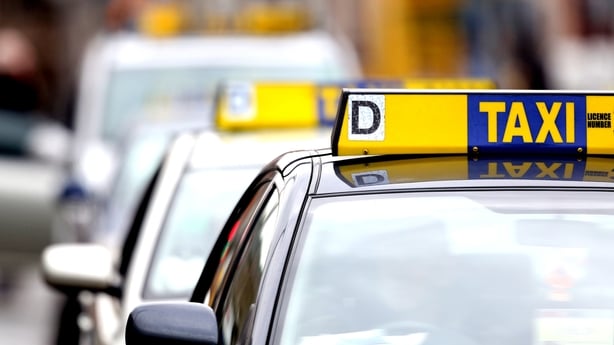 "A platform like Uber allows people to come on and drive maybe only Friday and Saturday evenings. If you lower those barriers we will find that a whole lot more people will come on and drive when we need them the most".
The high demand for taxis on weekend nights has meant that customers who have booked an Uber may find it has been cancelled without warning - something Mr Harte said is unavoidable.
"One of the challenges is drivers are their own independent operations and for many good reason might see someone flag them down and prefer to start the fare there rather than five minutes later."
Mr Kearns said that on any given night one in three customers will be told there is no car available.
The NTA recently ran a 10-week recruitment drive, which it said had already shown positive results.
But for real change, Mr Kearns - who is a former industry representative - said there needs to be a clear roadmap for the industry.
"We need a six-month plan for the immediate short-term fixes. Then we need a three to five-year plan so that people who are willing to come in and invest in a new electric vehicle know there is stability, and they can make a living."
Like most taxi drivers Philip Egan has adapted to the booking apps. Many of his fares come through the Free Now and Bolt apps.
"At 60, I'm not great at the technology. For every job Free Now or Bolt gives me, they get 15%."
He said 90% of passengers pay by card in advance of being picked up.
"When the job is done you press a button and you get paid every Tuesday."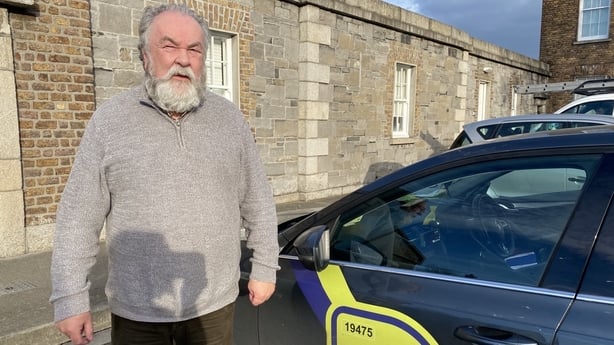 Mr Egan said most night-time passengers are great, but as he gets older he is becoming "more wary."
"You do hear some horror stories," he said.
His father retired two years ago, aged 88.
"He was over 50 years driving a taxi. I don't think I'll be driving at 88!"