The Bretzel Bakery in Dublin is feeling the heat.
It's morning time in its Harold's Cross kitchens and the ovens are on full tilt.
This is a 24 hour operation and, given the weather outside, the bakers here are well used to high temperatures.
But an increase in costs has impacted the bakery's business hard.
"We're getting hit from all sides," said Bretzel's Managing Director Dymphna O'Brien.
"We've noticed that across the board, everything has gone up. Raw materials, oil, electricity, delivery and motor expenses, diesel - everything."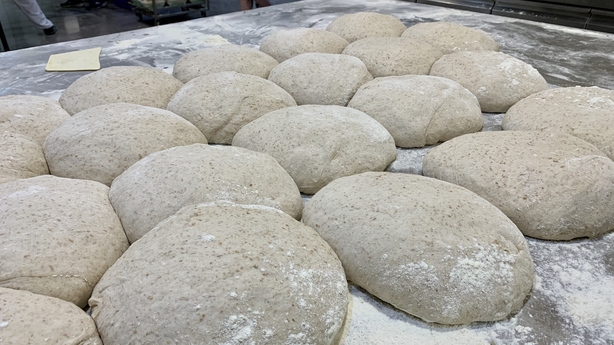 She has seen rising costs before, but not like this. "In previous years, we would have noticed a slight increase. But this year, it was dramatic. Packaging went up 40%."
This meant the Bretzel had to increase its prices - breads up 15% and pastries up 20% since May.
For example, its white sourdough loaf has gone from €3.99 last year to €4.50 now in shops.
"As a company, we've come out of a very rough two years ... we had no choice but to put up the prices. We haven't passed everything on, but we've had to do it to remain financially viable," said Ms O'Brien.
Meanwhile at Liberty Market on Meath Street in Dublin's south inner city, shoppers were out looking for bargains, fully aware of the rising cost of living.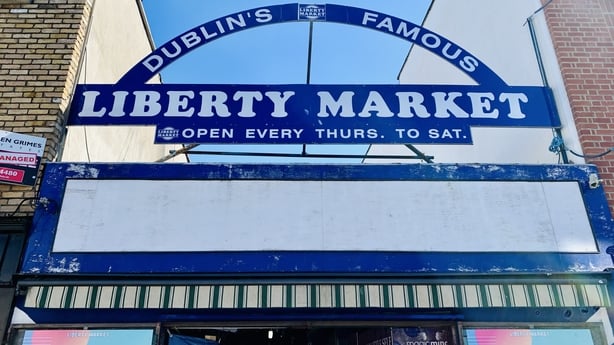 The market has been here since the 1970s - a time when inflation had a similar grip on the country.
One woman out buying an outfit for a newborn told RTÉ News: "All I seem to be doing nowadays is topping up electric meters. You can feel the crunch coming in."
Another customer is acutely aware of inflation. "'I'm definitely conscious of it," she said. "Especially with what's coming down the tracks in terms of the rising costs of gas and electricity."
But stallholders are feeling the strain too.
Larry Mooney has been in Liberty Market for 40 years, selling wool. He's noticing customers are cutting back on their spending.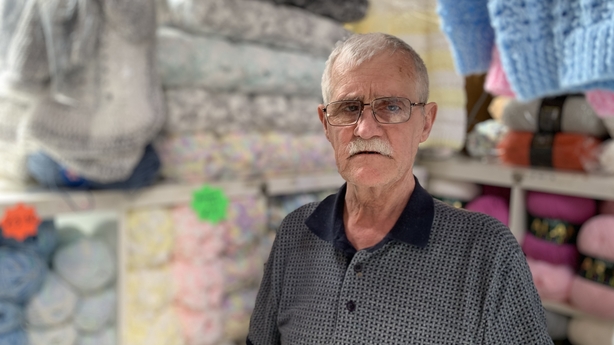 "Business has not been great for the last 10-12 weeks," he said.
For the first time in six years, he's had to put his prices up because suppliers have done the same to him.
A ball of wool which used to sell for €2 is now €2.20.
"The people just don't have it (money). Most of my customers are pensioners and they say 'Larry, I don't have it. And I say 'I know you don't.' So, I try keep prices down as much as I can."
For fellow stallholder Alan Swan, it's a similar story. He sells shoes and slippers and is noticing a reluctance from customers to part with their money.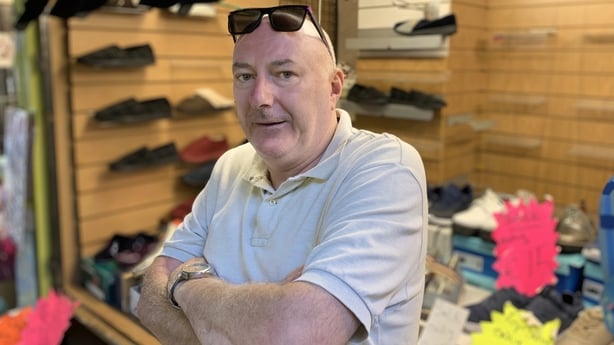 "You can see here, there are no customers in here ... it's just people aren't spending any money," he says.
"They're not out and about. They seem to be worried and holding on to their few quid for the fundamentals... There's no spare money around at all at the moment," he said.